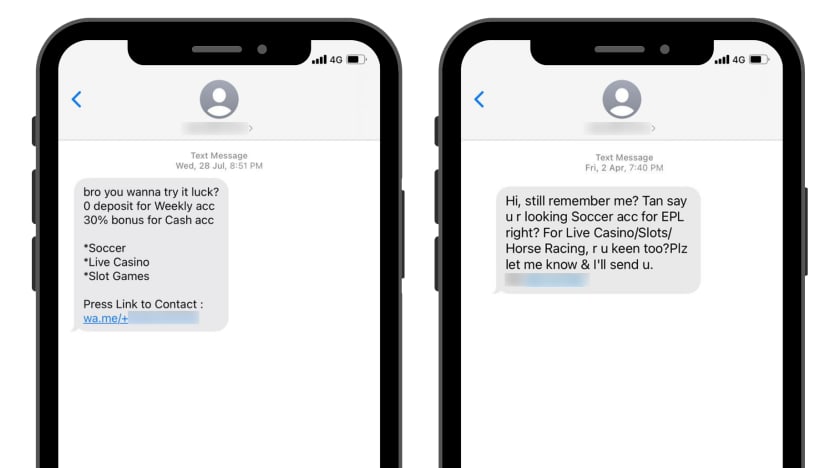 SINGAPORE: The demonstration URL, comprising solely of random numbers, to this illegal sports betting website was as dubious as it could get.
A successful login led to the main interface, which was designed in soothing blue, red and grey, but still managed to produce a sensory overload.
The menu on the left listed a multitude of sports, from football to chess, while the main portion in the middle showed the different matches users could bet on for that sport, from the major leagues to obscure friendlies in little known countries. 
Littering the screen was a plethora of numbers, indicating different odds, and tiny buttons that allowed users to place a wager, watch the match or add it to their favourites. Each time a team scored, a pop-up appeared with a little jingle.
But the right side of the screen was what stood out the most. It was filled with large, colourful banners that led to different types of gambling "mini games". The main toolbar at the top had a prominent button, with a fiery symbol no less, directing users to an online casino.
The website clearly did not want users to stop at sports betting.
In the 2020 Gambling Participating Survey released on Jul 29, 0.3 per cent of gamblers said they took part in online gambling. This category refers to illegal betting sites.
While this figure seems insignificant, the National Council on Problem Gambling – which conducted the survey – acknowledged that the survey as a study tool could only capture "self-professed" behaviour rather than actual behaviour.
Social desirability may also have led to under-reporting of gambling participation, the council said.
Addiction specialists told CNA that the numbers could be greater, as gamblers who used these websites could fear seeking help due to their illegal nature, or if they were getting help, not tell their psychiatrist about it.
GETTING HOOKED
One gambler, Meng (not his real name), managed to escape the clutches of these illegal betting sites after attending weekly support groups with Arise2Care, a community agency focused on gambling recovery.
Meng, who is in his late 40s, started dabbling in these sites after a colleague referred him to one of them and requested that they pooled cash for a "sure-win" bet. "I explored the platform myself afterwards," he said.
Meng found himself betting with these sites, as opposed to legal online products by Singapore Pools, due to the added variety of betting modes and matches around the clock.
"The platform includes all soccer games from around the world, from cups in Malaysia to Europe," he said. "Being a chef, I usually end work at odd timings, so the platform is much more accessible than Singapore Pools."
The website also gave him S$1,000 worth of betting credits to start with, which could also be conveniently used to play online casino games, he said.
Meng says he got an adrenaline rush by gambling on the website, pointing out that it gave him the chance to win more with each bet.
"It was an escalating thrill, because the specific platform allowed me to double my bets every time I won," he said.
Meng said he spent $1,000 to S$2,000 per bet on average. Sometimes he struck lucky, with one weekend betting on football matches in 2016 earning him S$20,000.
But the good times did not last, and Meng soon started owing huge sums to illegal bookies and loan sharks.
"I realised I needed help after I saw my wife fall into depression," he said. "As I have two dependent children, she needed to support the family entirely because my salary is used to pay off my debts."
Meng said he used these sites from 2008 to 2010, and from 2018 to 2019. He added that he has not gambled since quitting just over a year ago, after vowing to be "accountable" to himself and his counsellor.
ALLURE AND ENTRAPMENT
Dr Thomas Lee, consultant psychiatrist at the Resilienz Clinic which counsels gambling addicts, said he has seen clients who gambled online with illegal websites.
These websites have elements that could make them more addictive than traditional gambling products, he explained.
For instance, he said the websites are designed to overload users' senses and "entrap" them, much like gambling in an actual casino.
The websites also incorporate live elements to enhance the experience, including a real-life dealer handing out cards at a virtual table with players from around the word, he said.
"It's almost like walking into an actual casino where all your sensory organs are being bombarded," he added. "Once you're trapped, you lose track of time, you lose track of how much you spend, and you lose eventually."
Furthermore, Dr Lee has seen sports betting websites that push a pop-up every time a user cashes out their winnings, encouraging them to try their hand at the online casino next.
"That's how some of my clients get hooked," he added. "There are so many tactics. They actually partner with real overseas casinos to do these kinds of things."
Mr Andy Leach, director of addiction services at Promises Healthcare, said the illegality of these websites contributes to a nervous system response that gives a sense of "thrill and excitement".
"This process can become addictive – the heightened sense of anticipation, the raised heartbeat, the sweaty palms, the excitement of the prospect of reward, the release of the neurotransmitter dopamine," he said.
"A release is sought and eventually becomes pathological in its seeking."
CRIME SYNDICATES RUNNING BETTING SITES
Still, there are serious legal consequences for users of these websites.
Under the Remote Gambling Act, those caught using an illegal remote gambling service could be jailed for up to six months, fined up to S$5,000, or both.
Anyone who provides such a service, whether from Singapore or overseas, could be jailed for up to seven years, fined between S$20,000 and S$500,000, or both.
The police told CNA that remote gambling is of concern as such activities are more elusive in nature.
The police also conducts regular enforcement operations targeted at online gambling activities, and investigates offenders under the Remote Gambling Act, a spokesperson said.
The Act also allows authorities to block unauthorised websites that promote, facilitate or advertise remote gambling.
Despite that, the spokesperson said it is difficult to detect and investigate all illegal remote gambling activities as the Internet provides anonymity, while websites could be hosted on overseas servers.
"Illegal gambling syndicates could be concurrently operating several illegal gambling websites, and syndicate members could mask their actual identity under different user IDs on the websites," the spokesperson added.
"These websites may be run by syndicates operating locally or overseas."
On Aug 2, the leader of a remote gambling organised crime group was sentenced to five years and five months in jail and fined S$300,000.
Permanent resident Lim Beng Tiong, 57, had hundreds of agents and punters who placed bets in a website he operated. Court documents stated that the website collected between S$3.76 million to S$4.32 million in illegal bets from January 2013 to November 2016.
The police spokesperson advised anyone with information on illegal online gambling activities, including those who get text messages advertising these activities, to call the police hotline or lodge an electronic police report.
"All information provided will be kept strictly confidential," the spokesperson said.
ROAD TO RECOVERY
For online gamblers who have sought help for addiction, Dr Lee said they will undergo cognitive behavioural therapy to change their beliefs towards gambling, similar to the treatment in other forms of gambling addiction.
Clients will also learn how to manage their gambling urges so they do not relapse. This includes external triggers like seeing a football match on television or getting invited to the casino, and internal triggers like stress, anxiety or boredom.
Mr Leach said the process of treating any addiction is down to the individual and their willingness to change, with those who are still contemplating whether to quit taking longer to recover.
"As a rough rule of thumb, clients that we work with should be engaged in some program of recovery, moving from intense engagement to less so as they progress, for at least 18 months," he said.
Dr Lee said full recovery could take years, especially as people are often very attached to their mobile devices, which is all it takes to revisit an illegal betting site.
"It really takes a long time to have someone maintain that state of abstinence," he added.