SINGAPORE: The annual Christmas light-up along Orchard Road will return on Nov 13 with both physical and virtual elements, as businesses along Singapore's prime shopping belt hope for "a return to normalcy".
For seven weeks until Jan 2, Orchard Road will be lit up by glittering arches of lights adorned with floral designs, while featuring an array of "immersive attractions", said the Orchard Road Business Association (ORBA) on Tuesday (Oct 19).
For the first time, the side wall of Mandarin Orchard Singapore will be transformed into a "a wall of wonder".
From Nov 1 to Jan 2, a 10-minute, three-dimensional (3D) projection mapping show will come on every night between 8pm and 10.30pm. Visitors can download a mobile app called PopAR to enhance their viewing experience with immersive augmented reality effects.
In addition, the digital wall will feature a special countdown segment on the eve of Christmas and New Year's Day, including augmented reality fireworks at midnight.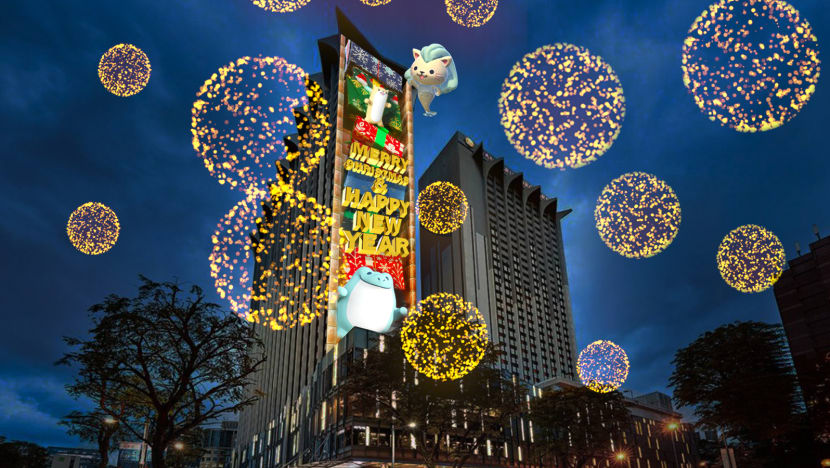 Among other initiatives, ORBA said it is partnering e-commerce platform Lazada Singapore to create the first-ever Orchard Road dedicated campaign page. 
This will host iconic Christmas sales such as Cyber Monday, and will feature digital goods from various brands along Orchard Road and exclusive promotions for Mastercard cardholders.
This year's light-up event will also retain some virtual elements that were started last year due to the COVID-19 pandemic.
For instance, people can opt for a virtual tour via a microsite that promises 360-degree views of the 3.1km stretch from Tanglin Mall to Plaza Singapura from Nov 19.
ORBA, in its press release, said this year's virtual tour will have "better video quality and greater immersion with augmented reality features allowing for enhanced interaction and sound this year".
Viewers can also look forward to performances by local buskers and musicians at 10 hotspots along the virtual tour.
The country's high vaccination rate has given organisers some confidence in bringing back physical elements to the light-up this year.
ORBA chairman Mark Shaw said: "While we hope that the Christmas light-up will bring more people to Orchard Road, I think it's also important to at this point keep our social distancing protocols in place and open up in a safe fashion.
"So we hope that the digital aspects of the light-up will help to bring awareness to Orchard Rd and (allow people to) enjoy a sort of socially-distanced celebrations."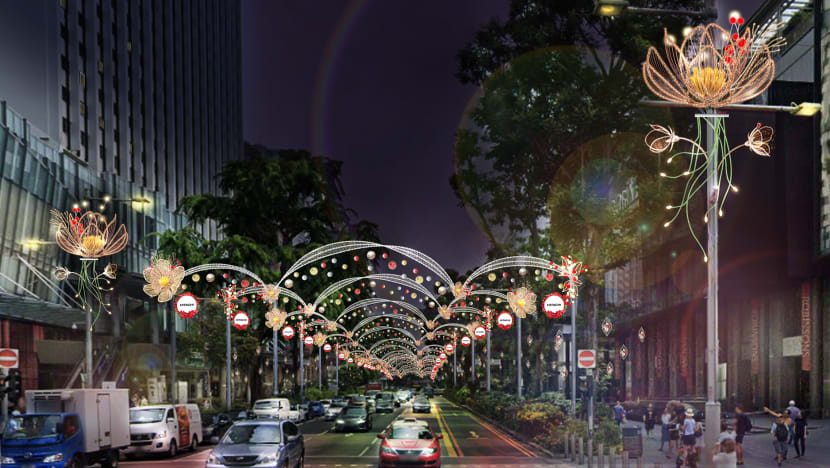 Now on to its 38th year, the festive light-up along Orchard Road this year will take on the theme of "Christmas in Bloom".
For instance, the main arch at the Scotts-Paterson Road junctions will be decorated with a burst of colourful lights alongside red and rose gold poinsettias, a traditional Christmas flower that symbolises purity and mirth.
Moving further along, the Cairnhill junction to The Atrium@Orchard stretch will have blooming white Christmas roses against champagne gold light arches.
The light-up ceremony, co-organised by ORBA and Community Chest, on Nov 13 will be officiated by President Halimah Yacob. Similar to last year, this will be live-streamed on Community Chest's Facebook page from 7pm to 8pm.
Mr Shaw said this year's light-up hopes to send "a message of hope" following another challenging year for businesses along the shopping belt.
"We are excited with this year's Christmas on A Great Street despite a long and arduous year where our members saw significant disruptions to their business," he added.
"We believe Christmas and the New Year is an ideal time for us to focus on hope and goodwill and to remind ourselves that despite the challenges we face, we have much to be thankful for, and to look forward to."
With vaccination rates in Singapore crossing the 80 per cent mark and the economy poised for a gradual reopening, including an expansion of vaccinated travel lanes that could boost the number of incoming tourists, Mr Shaw said there is "light at the end of the tunnel".
"We're hoping that as we hit this vaccination milestone and we become more COVID-resilient, that regulations will ease up so that businesses can have more customers," he told reporters following a press conference held at Scotts Square on Tuesday.
"I think we've all hung in there for about 18 months now and I don't think it's much longer before we see some more light at the end of the tunnel."
Asked if there are any challenges in implementing the new vaccination-differentiated rules that will bar those unvaccinated from entering shopping malls, Mr Shaw noted that while "slightly longer queues" may be expected at entrances, mall operators have had a week to practise the new protocols.
"Most of us, I think, have it under control," he said.
Noting that the annual light-up is a signature year-end event for Orchard Road, Ms Serene Tan, director of retail and dining at the Singapore Tourism Board, said: "There's much to discover both physically and virtually, from the dazzling decorations to the latest brands and experiential offerings.
"As we journey towards becoming a COVID-19 resilient nation, we invite everyone to enjoy the festivities and rediscover the exciting offerings at Orchard Road safely and responsibly."