Singapore's orchid export value in steep decline; growers lament insufficient space and rising costs
Since NParks began managing the local orchid industry in 2018, the statutory board said it has been stepping up efforts to help growers adapt and thrive, especially in a land-scarce country.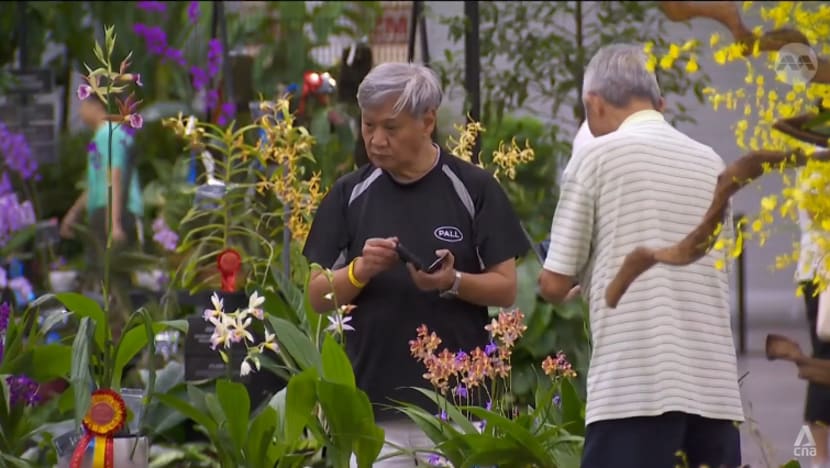 SINGAPORE: The local orchid industry has lost two-thirds of its export value in the past decade, prompting growers to change their business models and invest in new technology in order to keep their businesses from wilting.
The value of Singapore's orchid exports shrivelled from about S$23 million in 2013 to S$7.5 million last year.
Since the National Parks Board (NParks) began managing the local orchid industry in 2018, it has been stepping up efforts to help growers adapt and thrive, especially in a land-scarce country.
This includes refining the system of bidding for agricultural land, advising them on how to specialise, funding the use of technology, and finding ways to adapt for the future.
Singapore's orchid sector is in the spotlight this week as the country hosts the current edition of the Asia Pacific Orchid Conference, where experts, academics and professionals are gathering to share knowledge and exchange insights.
CHALLENGING ENVIRONMENT
There are 17 orchid growers operating in the country today, according to NParks.
One such grower Jack Lim said he is switching up the types of orchid he cultivates, and methods of growing them in order to maximise output and minimise cost.
His firm Yik Zhuan Orchid Garden is currently relocating from its current site in Lim Chu Kang to a smaller plot, and Mr Lim is taking the opportunity to make these changes during the transition.
He is shifting his tropical orchids production to another farm in Malaysia, and focusing on growing temperate orchids locally.
"In the near future, I believe we are more inclined towards growing orchids in greenhouses and growing temperate orchids. We believe there's a huge potential in it, and of a higher value for us as a commercial grower," he said.
Like Mr Lim, another grower Teo Woon Cheng is also upgrading his orchid nursery setup.
His greenhouses are now equipped with voice-activated lights and a temperature monitoring system, which help maintain consistent growing conditions, and create better blooms.
He said continued innovation is necessary to keep output at the current level amid a challenging environment including climate change, which affects production, and rising expenses.
"It's been a very difficult time because our land cost has gone up. Electrical costs have gone up almost three times. Labour, raw material, shipping costs, everything has gone up. But the pricing of our orchids did not really go up in a proportionate manner," said Mr Teo, who is the director of Woon Leng Nursery.
"Back in the 1980s, Singapore used to be one of the largest exporters. However, due to those factors, our products are no longer that competitive in the worldwide market."
He has also turned to online and social media platforms to showcase his flowers and appeal to a wider audience.
"During the COVID-19 pandemic period, we diversified to have a wider product range, including rarer (species). We also ventured into other digital platforms such as Facebook, Shopee, Lazada, Instagram, and more social media."
One of the biggest issues facing the industry is short land rental periods, added Mr Teo. This hinders the growers' planning and limits the creation of new hybrids, as cultivating them typically takes four to five years.
SPACE CONSTRAINTS
Fellow orchid grower Zhuo Hongyi said that space constraints in tiny Singapore is another problem, as orchids do not always thrive in smaller plots.
"We (tried) vertical cultivation, but it doesn't work. When you stack the plants up, the aesthetics of the plant drops, and the yield also drops because of insufficient lighting. You will end up with undesirable products that the market doesn't want to buy," said Mr Zhuo.
To maintain the standard of Singapore's heritage orchids and continue making new hybrids, there needs to be the "right ingredients" for farming, he added. This includes space, time, and continued government support to keep the orchid industry blooming.
NParks said it is working with growers to optimise Singapore's land space, of which only 1 per cent is allocated to agriculture, for both food and non-food farmers.
"We know there are issues with business continuity and innovation. We know that (land) tenures is an area (of concern), and we have worked with them to refine this. How do we intensify the use of land?  How do we adapt to, let's call it 'the Singapore constraints'? We are prepared to help (our growers)," said Mr Chong Whye Keet, director of industry development at NParks' Centre for Urban Greenery and Ecology.
Growers said there is a bright spot, with an increasing demand for the plant in the international market.
"We will do what we can to stay in this trade because orchids play a very important role in Singapore, with our national flower being the hybrid orchid Vanda Miss Joaquim," said Mr Teo.
ORCHID CONFERENCE AT EXPO
Despite woes plaguing the local orchid cultivating community, Singapore's growers swept the top prizes for orchid specimens and landscaping at the Asia Pacific Orchid Conference at the Singapore Expo.
 
The exhibition saw hundreds of orchid species are in full bloom, with more than 700 entries from countries including Thailand, Japan and Indonesia vying for top spots in the orchid plant and landscape competition.
Singapore swept the top three spots in the best plant category, as well as the top two prizes for landscaping.
Singapore Botanic Gardens, which won the orchid landscape competition, said its display showcased some of the nation's heritage orchids created by local breeders, as well as some naturally occurring native species.
"One of the orchids that we wanted to showcase over here is the deer antler orchid because its inflorescence kind of resembles that of a deer. It puts up small, dainty beautiful red blooms," said National Orchid Garden manager Jeremy Yeo, who designed the winning landscape.
Participants will also attend seminars on the science of orchid growing and how best to cultivate and cross breed them.
Some 50,000 orchid enthusiasts and experts from around the world are expected to attend the five-day event, which is being held in Singapore for the first time.  
Dr Tan Puay Yok, group director of Singapore Botanic Gardens and NParks, which are co-chairs of the conference, said that hosting the event is of much significance to Singapore.
"Over time, the national flower has become incorporated into our currencies, our notes, our stamps, floral prints for dresses and so forth," he said. "So for me, this is particularly significant because a humble flower like that has helped to strengthen the national identity of Singaporeans."
The event will run until Aug 20.