YOGYAKARTA: Armed with a machete in hand, Musimin walked carefully along a narrow and unpaved footpath on the slopes of Mount Merapi, Indonesia's most volatile volcano. 
Twenty minutes into his uphill trek, the 57-year-old stopped at a small plateau covered by big and tall trees. He began to gaze at the clusters of orchids growing about 6m off the ground.  
"They are like jewels, aren't they?," Musimin, who like many Indonesians goes with one name, told CNA
With eyes affixed on the colourful plant, he added: "They are jewels bestowed upon this earth by God."
Every day for the past 26 years, the farmer has been nurturing orchids inside a greenhouse made from wood and bamboo at the back of his home. He makes sure that they are sufficiently hydrated and free from tiny bugs that like to feast on their leaves, causing them to rot and die.
When the orchids are mature enough, he returns them to the wild, making sure that their new habitat would not be affected by Merapi's frequent eruptions as well as the prying eyes of orchid hunters who like to pick them for money.
Musimin said that orchids were once abundant in the forest, located on the southwestern slopes of Merapi. The flowers came in many colours and varieties, he recounted.
That all changed in 1994 when the forest was decimated by a devastating eruption. Seven years later, the same area was hit by a forest fire.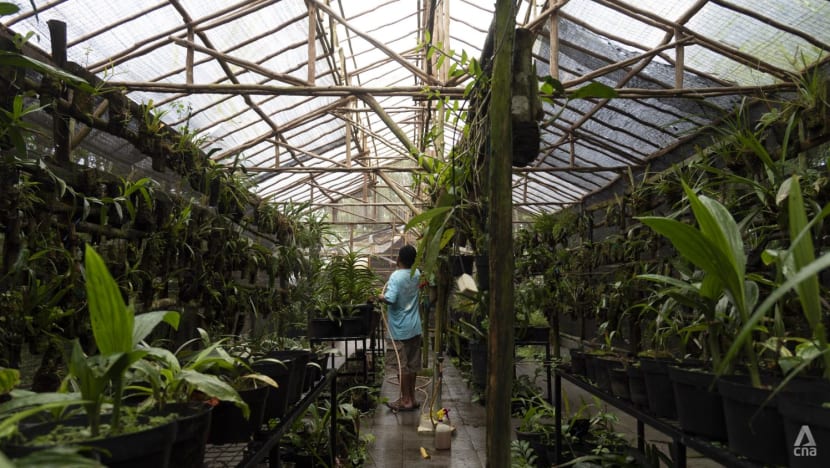 "What was once (a forest) rich in biodiversity was completely destroyed because of the eruption and forest fire. We then realised: we should have preserved one or two (orchids)," he said.
"We were so used to the rich biodiversity found in our birth land that we took it for granted. We should have done something to preserve (the biodiversity) that is sitting right in front of our eyes."
In 1996, despite having no training in the field of botanical conservation and no monetary incentive to do so, the farmer began his mission to repopulate the forest near his village with a variety of orchids that were once found on the slopes of Merapi.
ROCKY START
Musimin began reaching out to neighbours who planted orchids in their yards, asking them if they could spare some for conservation. This way, he was only able to get hold of seven out of more than 100 species of orchids found in Merapi.
The farmer tried getting other villagers involved in his efforts to repopulate the forest with orchids. But convincing them was hard. The villagers, he said, would rather plant fruit, coffee trees or other productive plants in their private lands and the community forest.
He only managed to recruit a handful of youths from his village. "But over time because there was no financial benefit from it, they withdrew themselves from the cause," he said.
To make matters worse, a forest fire broke out in 2001, and the forest near his village was badly affected.
The forest fire, however, led to Musimin becoming acquainted with officials from the Yogyakarta Natural Resource Agency (BKSDA), which had a similar programme to repopulate the devastated forest with native plants.
Impressed by his efforts to reintroduce orchids into the wild, the agency gave Musimin 50 stems of vanda tricolor, a popular species of orchid that was abundant on Merapi's slopes.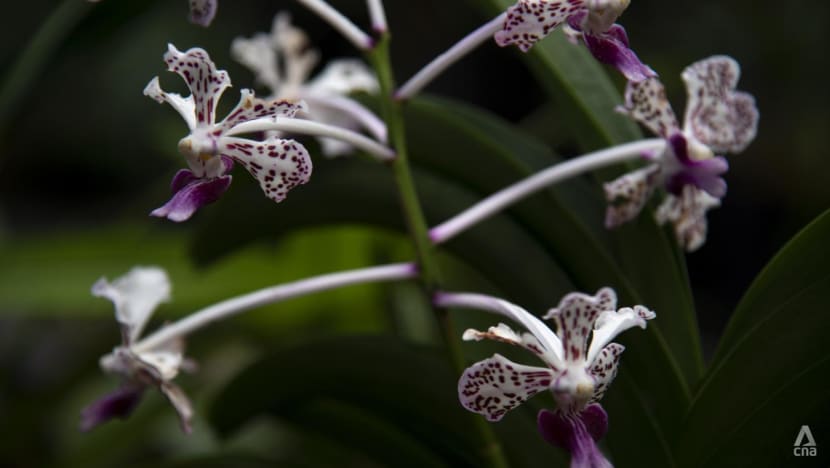 The agency also helped by building him a greenhouse at the back of his home and granted him access to a government run natural reserve, which would later become part of the Merapi National Park.
Musimin chose a specific spot in the forest which had historically been unaffected by eruptions because it was protected from hot ash and lava flow by a hill. 
"As far as I know, that place has never been affected by an eruption or a forest fire and hopefully will never be affected," he said.
The scientific community was also drawn to Musimin, educating him about the varieties of orchids.
"When we first met him, he didn't know what type of orchids there are in Merapi. Some of the flowers that he thought were orchids weren't orchids at all. Some of the plants that he thought were weeds were in fact orchids," Sulistyono, a biologist from the Sanata Dharma University told CNA.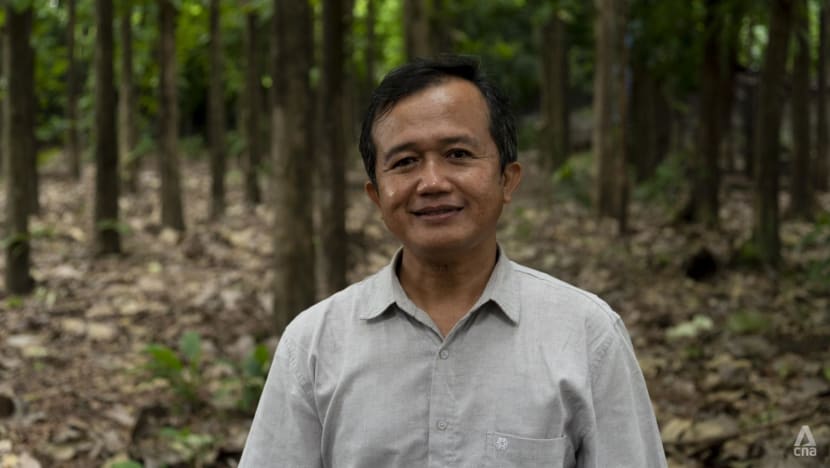 Through the help of the scientific community and orchid collectors, Musimin has so far cultivated 112 species of orchids, replanting them on 300 trees in a 3ha area.
"I have a dream of turning this area into a living museum, to give people a glimpse of how rich the biodiversity in Merapi once was," he said.
IMPORTANT ROLE
Sulistyono the biologist, who also goes by one name, said some orchid species are susceptible to the harsh conditions of the volcano and would not have survived without intervention from people like Musimin.
"There are species that need hosts to survive. If the hosts are destroyed, they will cease to exist in that area. But there are certain species, mainly ground orchids, which can adapt well to the environment. When rain washes away the volcanic ash … they will grow back," he said.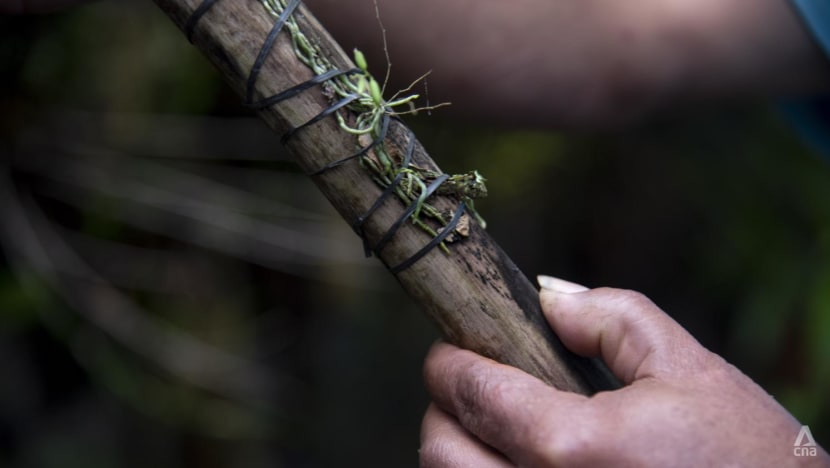 Karyadi, head of the Merapi National Park said it can take a long time for the vegetation to recover from an eruption. In the case of Merapi, where an eruption can occur every few years, there are sections which have become barren, he said.
The last major eruption on Merapi occurred in 2010. The eruption killed 353 people and incinerated 867ha of forest on the south and southeastern slope of Merapi. Musimin's village sits on the volcano's southwestern slope.
"We are still reeling from the effects of the 2010 eruption. About 50 per cent (of the remaining forest) is still damaged at various levels. Animals are more adaptive because they can flee elsewhere as soon as there is an increase in (volcanic) activities. It is the vegetation that is most affected (by an eruption)," Karyadi, who also goes by one name, told CNA.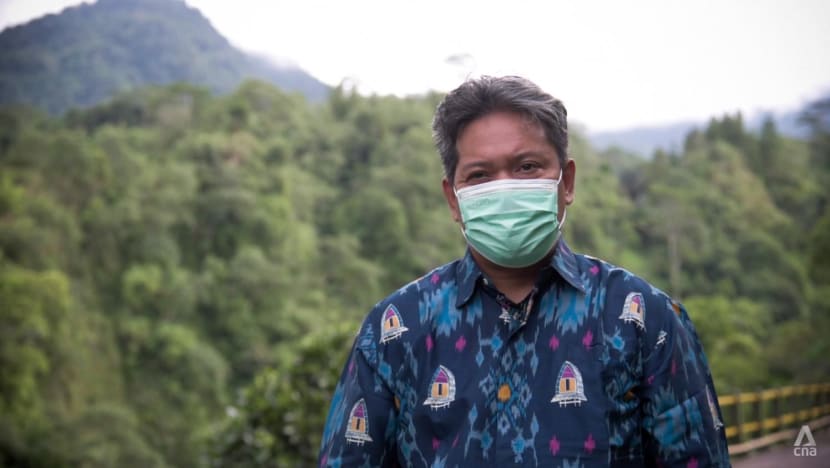 Sulistyono said that Musimin's role is invaluable to the survival of orchids in Merapi.
"Through the conservation efforts done by Musimin, we can educate the public that there are plant species that need to be protected (and) need to continue to exist in its habitat," he said.
"There is also a conservation campaign through (an orchid) adoption scheme. (People) buy an orchid but don't take it home with them. (They are) replanted in its habitat. They can one day come back and say: 'This is the orchid I once bought'. Through such an activity, we can encourage more public participation."
LONE FIGHTER
With age catching up to Musimin, he realises that he is not as nimble and active. These days, he only ventures to the forest once a day, instead of multiple times when he was still in his 30s and 40s.
His three daughters don't quite share his passion for orchid conservation. "That's why I like to take my grandchildren to the greenhouse and the forest. I hope they will one day develop a passion for orchids," he said.
Musimin's work has been an inspiration to many.
His efforts inspired the Merapi National Park to create similar programmes in other locations, said Karyadi the national park's head, adding that there are now at least three other orchid nurseries run by groups and individuals who live around the national park.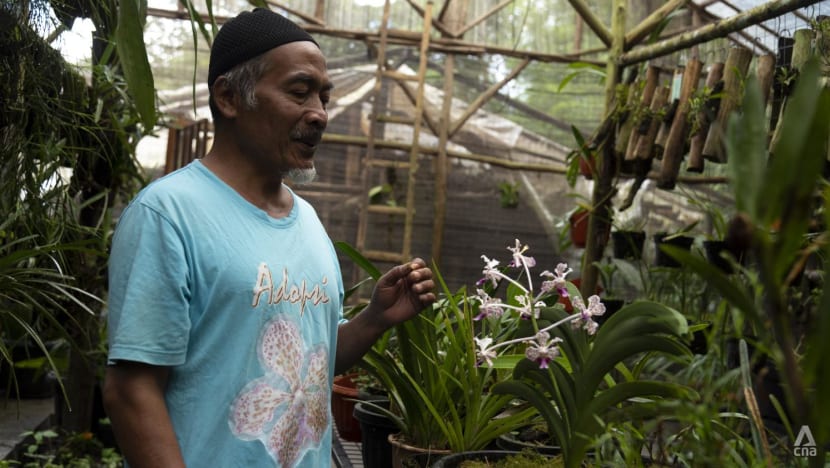 Musimin said he is still far from his dream of restoring the once orchid rich forest to the way it was before the 1994 eruption. 
"The trees that were around before the eruption were decades, maybe hundreds of years old. It might take decades or even centuries for things to return to the way they were," he said.
He pledged to continue doing what he can. "It is a calling for me. It would be a sin if we as parents can only show our children pictures of orchids found in Merapi."