'I am not against modern games and gadgets': Bandung activist wants to preserve Indonesian traditional children's games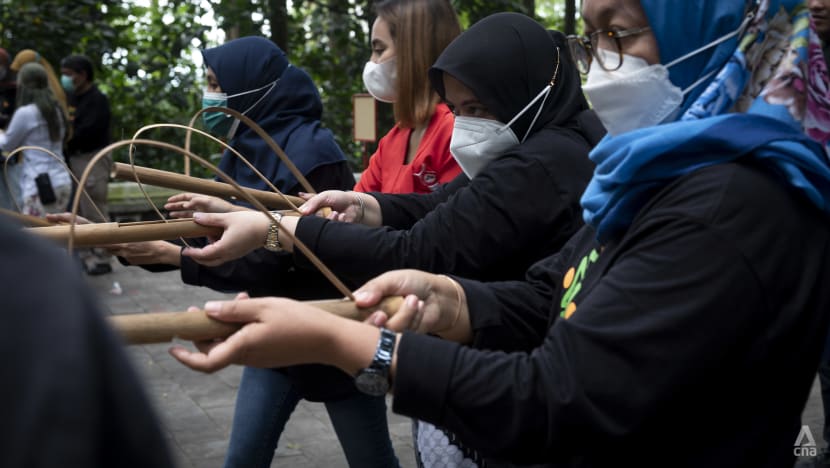 BANDUNG, Indonesia: Mohamad Zaini Alif stood on a raised concrete stage of a small open-air amphitheater inside a botanical garden in the hilly suburbs of Bandung, Indonesia's third biggest city.
Before him were around 50 doctors, nurses and admin staffers from a hospital in Jakarta, who travelled for 170km just to hear him speak about the one thing Alif is most passionate about: Indonesian traditional children's games.
Alif, a small, bespectacled, 46-year-old, went on to talk about his journey to document and study more than 2,600 traditional children's games scattered across the vast Southeast Asian country as well as his efforts to revive them through community projects.
Some of the participants were nodding and smiling when Alif mentioned names like "hahayaman", "galah asin" and other games they might have played as children. Their smiles became fainter when Alif listed down games they have only heard of from their parents but never played.
At the end of his presentation, Alif gave them a taste of these now obscure and forgotten traditional games.
Some were clapping games which participants can do anytime they want with little preparation while others required tracks and markers to be drawn on the ground as well as toys and equipment fashioned out of bamboo, hemp rope and wood. 
The participants, already in their 30s to 50s, enthusiastically played these games, laughing and joking among themselves throughout the session.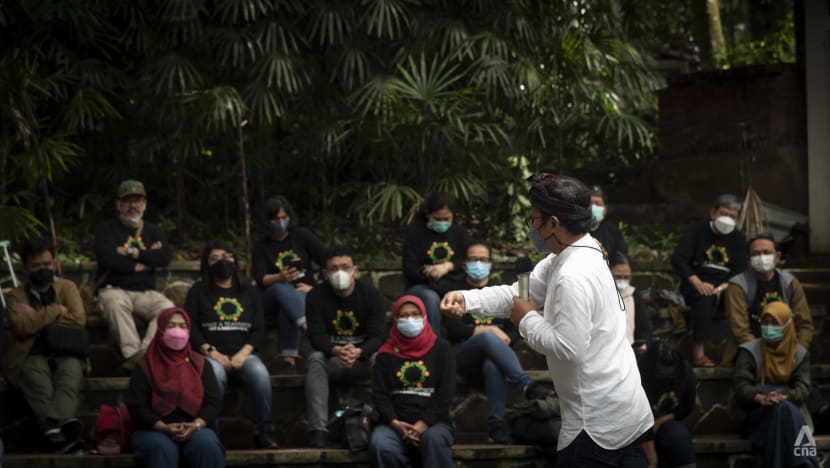 But these traditional games are more than just a way for children and adults to stay active and have fun with their friends, he told CNA.
"These games are steep in philosophy and used as tools to teach children values such as honesty and teamwork. They also develop a deep appreciation towards their natural surroundings by harnessing the power of the wind through kites and toy fans and by turning tree barks and driftwood into toys and playing equipment," said Alif.
But despite this, traditional games are slowly disappearing, particularly among those living in the city due to lack of space and lack of access to materials to make the equipment needed and competition from modern toys and video games.
Through his research, Alif who founded a support group known as "Hong" community to generate interest in preserving traditional children's games, discovered that hundreds of such games had already become extinct.
They exist only in passages, references and footnotes of ancient texts or history books as well as archived records kept by the Dutch, which once ruled Indonesia for three centuries.
He vows not to let the same thing happen to the traditional games children still around today and works hard to reintroduce them to the community through schools and neighbourhoods.
He also turns these games into corporate team building exercises in the hope that these adults will have their love for traditional games reinvigorated and then to pass it down to their children.
"I want today's generation to explore our nation's heritage and reinvigorate their love and pride towards their nation's heritage," he said.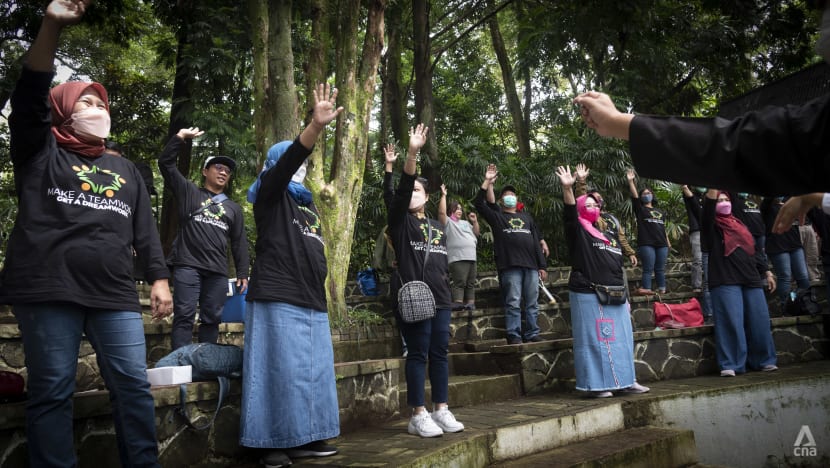 NOT JUST KIDS' GAMES 
Growing up in a village, Alif said he has always been fascinated with traditional games and toys. 
But it was when he went to study product design at the Bandung Institute of Technology that he began researching on the origin and evolution of these toys and games and the philosophies behind them.
But it was a struggle to find academic papers on the subject because no one had conducted a similar study.
"No one was studying them because people just think of them as kids' games. Because no one was documenting them, some games have disappeared," Alif said.
"I played traditional games when I was a kid, yet I couldn't remember all of them. I forgot how some of them are played, what the rules are and what songs were used to accompany them."
"Someone must study and preserve these games," he  added.
As part of his research, Alif visited villages and traditional communities where these traditional games are still widely taught and played.
In his native province of West Java alone, he had discovered, documented and studied around 340 traditional games.
He also travelled to other provinces and found that while some are unique to one particular area, some could be found elsewhere too albeit with different names and slight modifications. 
This allowed him to trace where these games might have originated, how they spread across the archipelago and how they evolved.
His research also led him to the Netherlands, where he found photographs, documents and books by Dutch colonial officials and scientists referencing not only games which still exist today but those which had been forgotten.
He also went to the Vatican to study documents kept by Catholic priests and to the United Kingdom to look for archives compiled by the British.
There were records and references on traditional games compiled under the command of  Stamford Raffles, when he was British lieutenant-governor in Java between 1811 to 1816 and in Bencoolen, now Indonesia's Bengkulu province, between 1818 and 1824. 
Alif said that his study shows that between 30 to 40 per cent of the traditional games mentioned in those books and manuscripts have been lost.
"We can only guess how they are played," he said.
GETTING PEOPLE INVOLVED
After researching traditional games as Indonesian heritage for close to two decades, Alif who is now a designer and lecturer, is more determined to reintroduce these games to the general public.
He started it off by teaching children from his neighbourhood how to play these games.
"Because they were used to playing with modern toys and video games, these games were something new and exciting for them and they had fun," he said.
But Alif said getting the parents involved – which he thought was critical in ensuring that the games and their values are preserved and passed down – was not as easy.
"It was difficult. They asked: 'why should a grown man play these children's games?' It took quite a long time to convince them," he continued.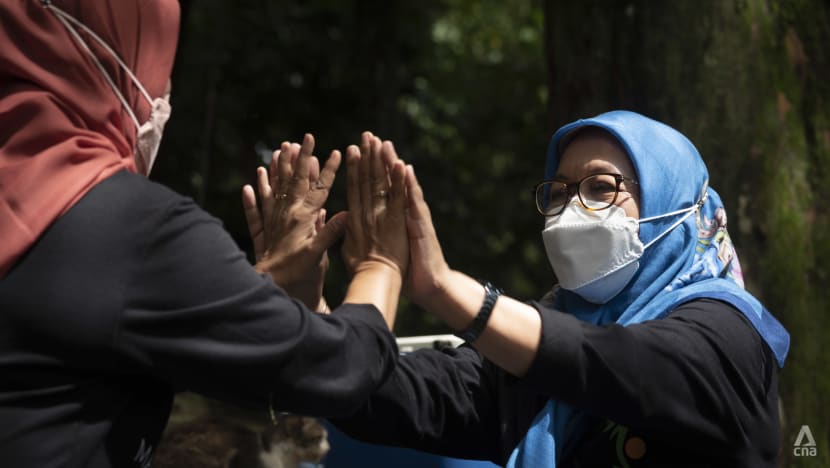 But he persisted, convincing the parents that these games are good for the children's physical and mental development. He also taught the parents that the games were imbued with symbolism and were designed to teach life lessons.
He also taught them that the lyrics to the songs which accompany these games are not empty tripe but contain deep philosophical meanings in their original language.
"I am not against modern games and gadgets. But gadgets cannot teach children life lessons and how to love our rich heritage. They get to know themselves and their skills through jumping and throwing rocks," he said.
Some games let children practise their hand and eye coordination, Alif said, while others teach them the value of teamwork.
"They learn that it is not about winning or losing but playing fairly. They also learn that there are consequences of not playing fairly: your friends wouldn't want to play with you anymore," he added.
Alif believes that unlike in traditional games, some video games can even undermine good values such as being fair and honest.
"You don't get that with video games. You can use cheat codes or download modifications to give you unfair advantage. And you are rewarded for that. You finish the game faster and easier or obtain higher scores. By the time they get to adulthood, they will get used to cheating."
Over time, Alif's efforts began to bear results as more people became interested in working together with him in preserving these traditional games.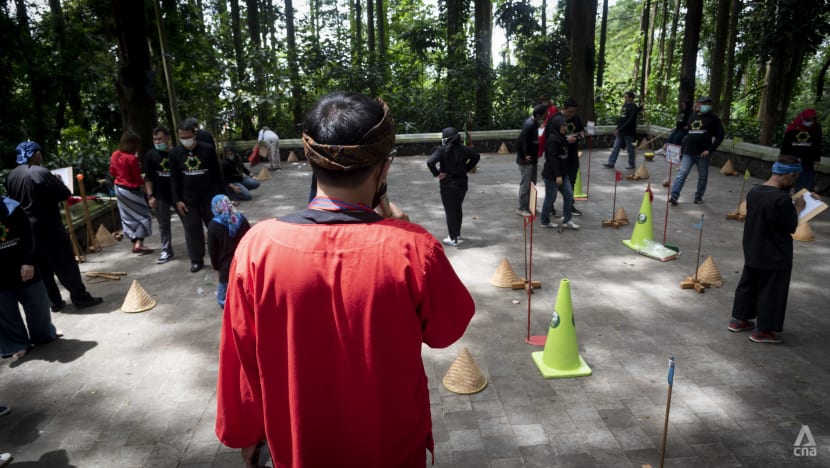 This led him to establish the Hong Community in 2003, with "Hong" as a term used in Indonesian traditional children's games to describe a base or a goal.
The community, which now boasts more than 150 members, regularly visits schools in a bid to get traditional games included in the curriculum. 
They also stage festivals, conduct training and online tutorials on how traditional games are played and how to go about making the tools for them.
Alif also encouraged people in other parts of Indonesia to form their own communities to work out local efforts in reviving and preserving traditional games native to their areas.
"Slowly, people are starting to support what I am trying to do. One-by-one, children are playing traditional games once more," he said.
Read this story in Bahasa Indonesia here.