Pet supplies e-retailer Perromart apologises for order delays; 14 complaints lodged with CASE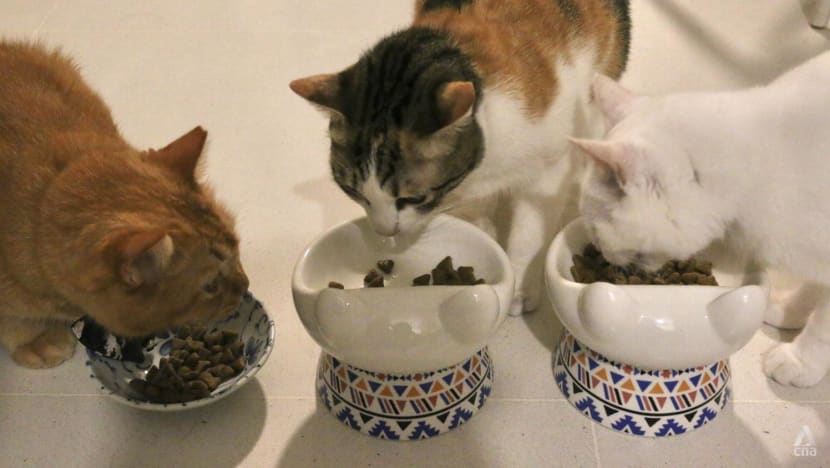 SINGAPORE: Singapore's consumer watchdog has received more than a dozen complaints against popular pet suppliers e-retailer Perromart in the past month, with customers taking to social media to air their grievances over delayed or unfulfilled orders.
Mr Melvin Yong, president of the Consumers Association of Singapore (CASE), told CNA on Tuesday (Jan 31) that it has received 14 consumer complaints against Perromart since the beginning of the year. No complaints were lodged in December.
Mr Yong said that customers generally complained about not getting their orders within the stipulated delivery timeframe after placing their orders through the website, which promises delivery within four to six working days.
"When consumers attempted to contact Perromart through their hotline or email, there was no response," he added.
On Monday evening, Perromart - which brands itself as Singapore's largest online pet store - wrote on its Facebook and Instagram pages that it has been "facing some supply chain disruptions that led to the late processing of orders".
It also apologised for the delay in fulfilling orders and its "customer service response", adding that customers should expect a reply or resolution "in the upcoming working days while we work through the surge".
Perromart did not respond to CNA's email queries sent on Monday afternoon.
While it left an email address in its Facebook post for customers to contact, those who spoke to CNA said they have tried to reach Perromart via various means, including email, to no avail.
Some also questioned why it continued to advertise sales events and get customers to buy more when it was having issues fulfilling orders.
One such customer, who only wanted to be known as Brian, 42, said he began having problems getting through Perromart's hotline from early December.
The owner of two cats then tried to contact the company through email and Facebook Messenger but no one got back to him. He said he even emailed the Perromart founder to no avail.
He added that between Dec 4 - when he placed an order - and Dec 19, he "made at least 17 calls" to Perromart and only managed to speak to someone on his last try.
Brian added that when he questioned Perromart staff on why certain items were still available on its website even though there was no stock, they replied that their IT team would rectify the issue.
"Apparently, they did not do this, seeing so many others going through what I went through," he added.
"At some point, when I also noticed that they either hid or deleted some people's comments on their Facebook page, it got even more suspicious."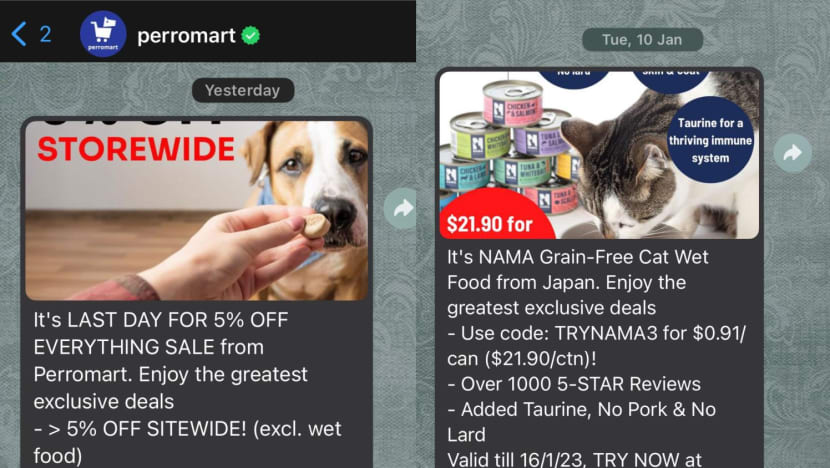 Dog owner Sharilyn Lim, who has been a regular customer since January 2020, said she began to face issues with orders last month. Perromart refunded some items that were out of stock and delivered the rest in an order she placed at the time.
However, one of her latest orders for dog food and supplies - placed on Jan 4 - has not been delivered yet.
She sent an email request for a refund a few days, followed by a chaser email on Jan 15, but has not received a response so far.
Meanwhile, another order she placed on Jan 11 for dog kibbles was delivered a week later.
The 32-year-old noted that it "might not be responsible" for Perromart to continue accepting orders if certain items are not available any longer.
"They can probably have a list of items that are out of stock, and inform us of the restock date and estimated delivery in a post so we all can be informed," she said.
Cat owner Syazana Izzati said that she and her husband have waited more than two weeks since Jan 16 for their order of dry food to arrive.
When their feline's kibbles ran out last weekend, they ended up heading to a pet supplies store to get more.
The 29-year-old marketing professional said that past orders used to arrive within a week, but there have been no updates on the tracking page for her current order since she placed it.
"I think they should have anticipated a supply chain issue. If a business doesn't think about this, then what is it even doing? They're a retailer that relies on importers," she added.
Brian, who works in customer service, said it was because of his job that he knew "there are certain limitations" to what Perromart can do.
"But integrity is key to building a long-term relationship with customers," he added. "I gave them ample time to respond to me, but they really disappointed me big time."
CASE said that customers who paid with a credit card can file a chargeback request with their banks within 120 days of the transaction, in order to recover their money for the non-delivery of goods and services.
Affected customers can also approach CASE for help through its hotline at 9795 8397 or its website.