Pilgrimage tour prices soar as demand surges for Umrah trips during Ramadan
High global demand has driven up the cost of transport and hotel rooms there, in what is considered one of Islam's holiest months.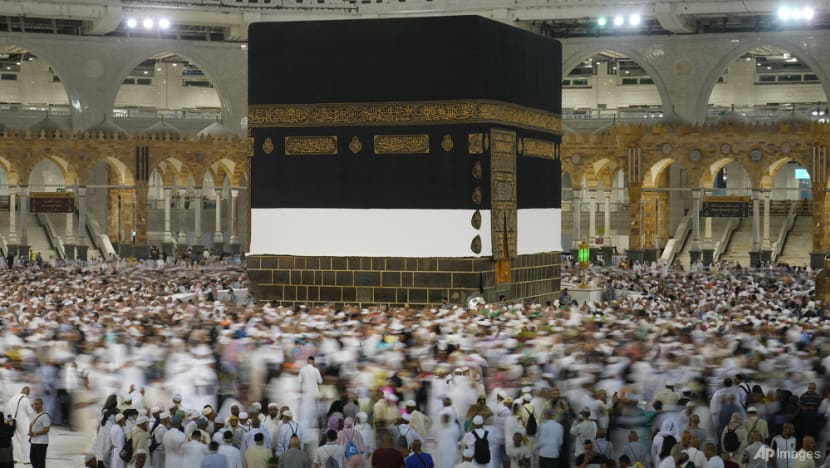 SINGAPORE: Prices of tour packages for pilgrims to Saudi Arabia have hit an all-time high here, as Muslims flock to perform the Umrah ritual in the holy cities of Mecca and Madinah.
Although the minor pilgrimage can be performed all year round, many worshippers wish to do it during the upcoming month of Ramadan, travel agents told CNA.
The high global demand has driven up the cost of transport and hotel rooms there, in what is considered one of Islam's holiest months.
Ramadan, a month of fasting for Muslims, is expected to begin on Thursday (Mar 23).
HIGHER DEMAND
The Association of Muslim Travel Agents Singapore estimated that up to 5,000 Singaporeans will be performing the Umrah during Ramadan, which ends on Apr 21. 
Mr Muhammad Ahmad, manager of Hahnemann Travel & Tours, said demand for tour packages in this season has gone up by about 40 per cent from the same period last year. 
His firm will be bringing three groups of pilgrims to Saudi Arabia.
Mr Muhammad said they started receiving registrations for Umrah trips from as early as November last year.
The pilgrimage tours now carry a larger price tag of up to S$7,000 per person, which is around 30 per cent more than before, said Mr Muhammad.
His firm tries to keep the prices as low as possible for the pilgrims.
"We either enter Mecca or Madinah earlier, so as to keep the cost low, or we move to a different hotel that has a better pricing, so that we can cater to the masses, and then they will not feel the pinch of the heavy increase in prices," he said.
SHIFTING TRENDS
Singaporean devotees do not usually spend Ramadan in Saudi Arabia, but the trend is now shifting, said Ms Juyda Noor Mohamad, director of Noor Mohamad Services & Travel.
Her agency typically brings about 60 pilgrims across its two packages to Saudi Arabia during Ramadan, but is increasing its quota by about 30 this year due to high demand.
"One of the reasons may be that these particular pilgrims already know they won't get the Haj quota for this year. So the next best (thing) is to do the Umrah during Ramadan," she said.
Singapore's official quota for the Haj this year is 900. The Umrah ritual is not compulsory, while the Haj is obligatory at least once for Muslims who are physically, financially and mentally capable.
According to Saudi Arabia's pilgrimage ministry, pilgrims are only allowed to perform the Umrah ritual once during Ramadan. They are also urged to get the required permits before going, and to stick to the specified dates allocated for their visits.
This ensures the comfort and safety of the pilgrims, and to accommodate as many worshippers as possible.