Singapore's Haj pilgrimage allocation restored to 900 places after 3 years
MUIS is reopening registration for the Haj for Singaporean Muslims on Feb 21, 2023 through the new portal, MyHajSG.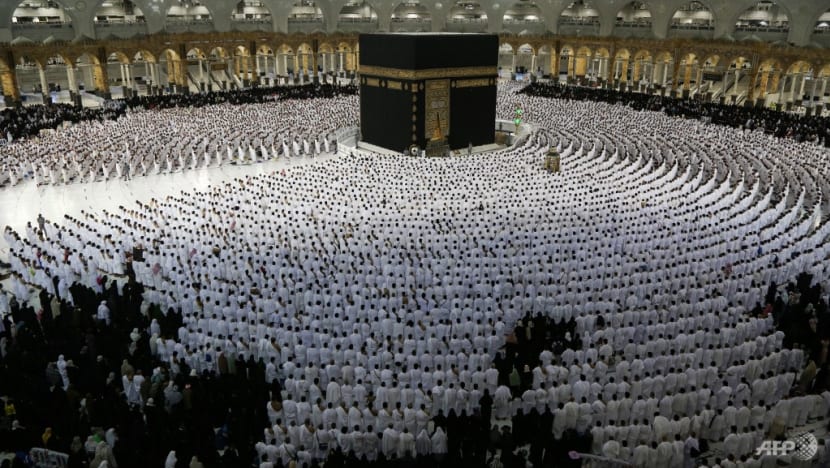 SINGAPORE: Singapore's annual pilgrimage for the Haj has been restored to 900 places this year, said the Islamic Religious Council of Singapore (MUIS) on Monday (Jan 9). 
Last year, Singapore was given an allocation of 407 places for the pilgrimage, although that number was subsequently increased. 
Minister-in-charge of Muslim Affairs Masagos Zulkifli signed the Haj agreement with Saudi Arabia's Ministry of Hajj and Umrah, while he was attending "The Conference and Exhibition for Hajj and Umrah Services" event in the Gulf kingdom. 
Before the COVID-19 pandemic, 900 spaces had been allocated for pilgrims from Singapore.
The allocation spaces are subject to review and confirmation based on "prevailing conditions" said MUIS, and the COVID-19 situation meant that no spaces were allocated in 2020 and 2021. 
"MUIS will be allocating the 900 places for Haj 2023 to potential pilgrims who have already registered for Haj in the Advance Haj Registration System (AHRS) and who are able to meet the conditions and requirements for Haj 2023," said the council. 
"Places are allocated based on registrants' position in the queue in AHRS."
Over the next few days, MUIS will issue letters of intent to eligible pilgrims in the system. Potential pilgrims will have to confirm that they are interested to be considered for this year's Haj if offered a place. 
"Potential pilgrims are strongly encouraged to reply to MUIS within the stipulated time," said the council.
RESUMPTION OF APPLICATION FOR HAJ
MUIS also stated that there were "35,000 pilgrims already registered in the AHRS and awaiting their turn to perform Haj" as of Jan 1, 2020. 
Singapore suspended new applicants for the Haj in 2020, taking into consideration the large backlog as well as the pandemic. 
"With the restoration of its annual quota as the Kingdom of Saudi Arabia resumes post-pandemic operation of the Haj, Singapore is now able to begin clearing the current backlog in the AHRS and allow new applicants for Haj by prospective pilgrims," said MUIS. 
MUIS is reopening registration for the Haj for Singaporean Muslims on Feb 21, 2023 through the new portal, MyHajSG. 
Each registration will include an application fee, but in light of current economic conditions, MUIS "will provide a subsidy of S$90 to ensure that fees remain affordable".
"New registrants need only pay an application fee of S$240, which is equivalent to the fee before registration was suspended during the pandemic," the council added. 
The application fee will increase to S$285 from Jan 1, 2023 to Dec 31, 2025; and S$330 from Jan 1, 2026. 
The raised fees reflect the increasing costs of administering the Haj registrations and the fees are not inclusive of prevailing Goods & Services Tax (GST), said MUIS. 
NEW ONLINE PORTAL
All registrations and Haj-related transactions are carried out through the new online portal MyHajSG - which can be accessed through Singpass. 
With the portal, there is no need for physical registration. 
"Prospective pilgrims who are registered can track their application from their personalised dashboard which indicates their registration number, registration date and time, current status of registration, and number of applicants in front of them in the waiting list," said MUIS. 
Since September 2022, MUIS has reached out to existing registrants in the AHRS to update their contact details as well as their next-of-kin's details in the portal. 
"This is extremely important so that they may be contacted should they be eligible to be offered a place," the council added.
Successful pilgrims who are offered a Haj place will receive notification alerts via SMS and email. 
"MUIS trusts that the new MyHajSG will facilitate Haj registrations more efficiently and conveniently for prospective Haj pilgrims," said the council. 
MUIS added that they "would like to advise prospective pilgrims to make early preparations to perform their Haj".
"They must be physically, mentally, spiritually, and financially ready when they receive the notification letter from MUIS," said the council.
For assistance in navigating the MyHajSG portal, prospective pilgrims may refer to the e-resources on MUIS' Haj website.