7 in 10 people in Singapore do not know what plastics to recycle: SEC report
This results in the majority of plastic products being disposed of as general waste, a report released by the Singapore Environment Council says.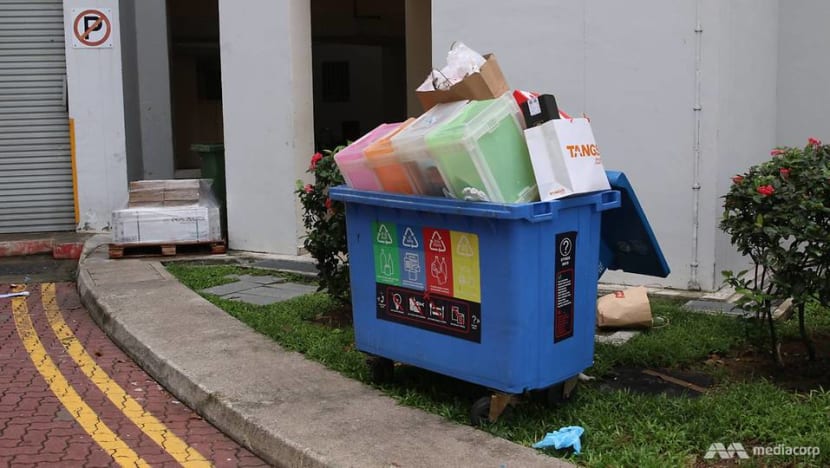 SINGAPORE: About 70 per cent of people in Singapore do not fully understand what plastics to recycle, resulting in the majority of plastic products being disposed of as general waste, according to a report released by the Singapore Environment Council (SEC) on Thursday (Aug 30).
The report, which includes a survey of more than 1,000 people in Singapore on their plastic usage habits and attitudes towards recycling, is the culmination of an eight-month study, SEC said in a media release. 
It was commissioned jointly by Deloitte & Touche Enterprise Risk Services.
Explaining the findings, SEC chairman Isabella Loh pointed out that some consumers are under the impression that some single-use plastics cannot be recycled.
"Take the single-use plastics at the hawker centres ... When people buy takeaway food to eat at home, and they throw the container down the rubbish chute because it is contaminated. But some of these single-use plastics can actually be recycled," she said, citing the poor markings on recyclables as a possible reason for the mistaken belief.
"This is something we have to look at in terms of standardising markings," she added.
According to the report, 45 per cent of respondents said they needed more information on the different types of plastics, and what can and cannot be recycled. 
As for why they do not recycle, 42 per cent of respondents cited inconvenience as a reason.
SEC executive director Jen Teo noted that one way to help people improve their recycling habits is to have companies print recyclability information on their packaging products. 
This, she said, will "facilitate upstream sorting and recycling", making the collection of recyclable plastic items more efficient.
"This initiative would go together with a new education campaign to teach the public what and how to recycle their plastic waste," she said.
Pointing out that Singapore's plastics recycling rate stood at just 6 per cent last year, SEC's Ms Loh added that the findings were not surprising.
"This was a call for action ... Are we throwing away the future of Singapore, and are we throwing away valuable fuel that could be diverted for another industry? That's basically the question we are asking," she said.
"NEW CIRCULAR ECONOMY" FOR PLASTICS NEEDED: SEC
The report also suggests that the creation of a "new circular economy" for plastics could improve Singapore's plastic recycling rates, said SEC.
Ms Loh explained that currently, Singapore's plastic ecosystem is "mostly linear". This means that plastic goes from producers to consumers and then to the waste bin.
"We need to connect producers, consumers and downstream users to form a circular economy for plastics so they are collected, recycled and reused to generate other products," she said. "This will reduce the pressure on Singapore's waste stream as well as conserve natural resources.
"Singapore has the knowledge and the talent to develop innovative methods to reintroduce recycled plastic into the economy to aid growth and build a circular plastics economy," she added.
Several recommendations to help improve Singapore's plastics ecosystem were made in the report.
One of them is to build a market for recycled plastic through innovation.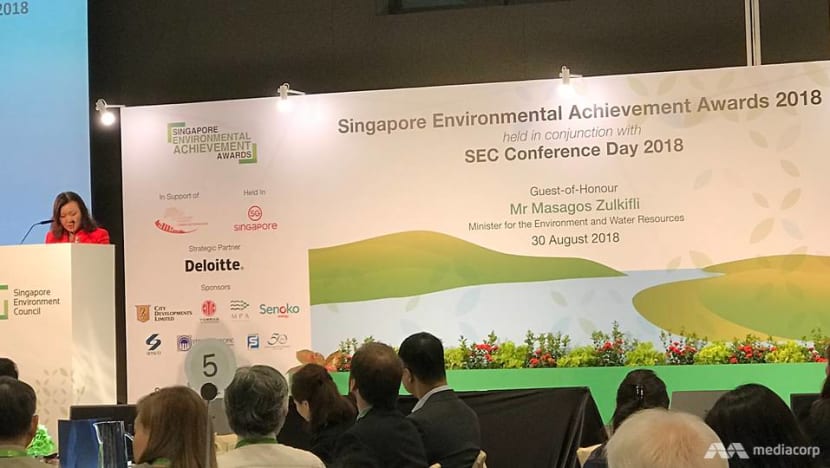 SEC suggested that governments and public sector organisations could step in to support existing markets in Singapore that are using specific types of plastics for manufacturing recycled plastic pellets.
It explained that recycled plastic can be used to support major manufacturing segments in Singapore, particularly biomedical manufacturing, electronics and general manufacturing industries.
"For example, several start-up companies around the world are devising machines to produce plastic filaments to be used for 3D printing machines," said SEC. "Singapore's plastic waste stream could be directed towards recycling for biomedicine companies for 3D printing.
"Similarly, recycled plastics can be used for flat-panel displays and ink and toner cartridges for the electronics manufacturing sector, as well as the use of artificial intelligence for waste management."
The report was launched at SEC's conference on Thursday, which was also held in conjunction with the annual Singapore Environmental Achievement Awards. 
A total of 14 companies and organisations were honoured at the ceremony for their sustainable business practices.
NEED FOR INDIVIDUALS TO DO THEIR PART, MORE PUBLIC EDUCATION
Speaking at the conference, Minister for the Environment and Water Resources Masagos Zulkifli stressed the importance of raising awareness among the public and encouraging people to love and take care of the environment.
"Government and businesses can only do so much," he said. "We cannot legislate desirable behaviour – we need to change societal norms and people's mindsets, so that individuals are personally committed to living a "zero waste 3R lifestyle."
The minister added that civil society plays a critical role in this area.
"SEC's effort to fight plastic waste, and its call for individuals to use one less plastic item a day, is commendable," he said. "I hope the public will rise to the challenge."
"Collectively, we can make a difference in reducing the amount of plastic waste we generate every month."
Building a mindset of shared responsibility was also a topic highlighted during a panel discussion at the conference. Manufacturers, said one panellist, are but one part of the value chain, and cannot force members of the public to return items to them.
The panellists and audience members also agreed on the need for educating consumers in this area, with a straw poll indicating that most believed public education and running campaigns would help increase the recycling rate in Singapore.