Singapore's PM Lee tests positive for COVID-19 days after becoming negative
Prime Minister Lee Hsien Loong says he feels fine despite the "COVID rebound".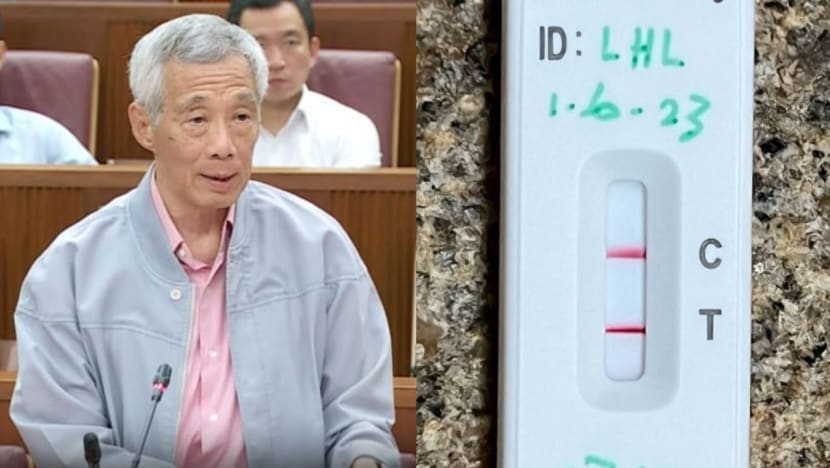 SINGAPORE: Singapore's Prime Minister Lee Hsien Loong has tested positive for COVID-19 again due to a "COVID rebound".
He first tested positive for the disease on May 22. Last Sunday, he said he was COVID-19 negative and would return to work.
"I feel fine but I am afraid I have turned COVID-19 positive again," said Mr Lee in a Facebook post on Thursday (Jun 1).
"My doctors say it is a COVID rebound, which happens in 5 to 10 per cent of cases."
The Prime Minister, who is 71, added that he is still infectious although the risk is not high compared to the initial infection. He said his doctors have advised him to isolate himself until he tests negative using an antigen rapid test (ART).
Mr Lee will recuperate at home, said the Prime Minister's Office in a statement on Thursday afternoon.
During his absence, Deputy Prime Minister Lawrence Wong will be Acting Prime Minister. Mr Wong will host Australian Prime Minister Anthony Albanese for the 8th Singapore-Australia Annual Leaders' Meeting on Friday.
Mr Lee said on Thursday that he had looked forward to attending the consecration ceremony of Sri Thendayuthapani Temple but will now have to miss the event.
"My apologies to the organisers, and to all those attending the ceremony. I wish everyone a very successful consecration and celebration," he said.
COVID REBOUND
Mr Lee tested positive for COVID-19 for the first time on May 22 following his visits to South Africa and Kenya.
He was prescribed the antiviral medication Paxlovid because of his age, and his most recent vaccine booster was in November.
In a Facebook post on May 28, he wrote that he was COVID-19 negative and would be back to work on Monday.
The US Centers for Disease Control and Prevention (CDC) issued a health advisory in May last year about the potential for the recurrence of COVID-19, or COVID rebound.
It said a brief return of symptoms may be part of the "natural history" of COVID-19 in some people, independent of treatment with Paxlovid and regardless of vaccination status.
A COVID rebound has been reported to occur between two and eight days after initial recovery and is characterised by a recurrence of symptoms or a new positive viral test after having tested negative, added the CDC.
Dr Leong Hoe Nam, an infectious diseases specialist at Mount Elizabeth Novena Hospital, told CNA that COVID rebounds affect about 10 per cent of those who contract the disease.
People who are immunocompromised are at risk of having a persistent infection, he added.
When asked if COVID rebound cases are more likely to get serious symptoms, Dr Leong noted that this was not observed in such cases.
"Be careful of the negative to positive test as being the marker of a rebound. The earlier negative may be a sampling error, and the rebound may be falsely labelled," he said.
Additional reporting by Rachel Chan.
Listen to Health Matters: