SINGAPORE: A 22-year-old man died and another occupant was injured after a fire broke out in a flat at a housing board block in Jurong West early on Friday (Oct 8) morning.
The Singapore Civil Defence Force (SCDF) said they were alerted to a fire at Block 978 Jurong West Street 93 at about 2.25am.
Two people, who were seen standing on a ledge outside the unit, were also rescued.
"Upon SCDF's arrival, the fire could be seen from inside a unit on the 5th floor," it said.
"SCDF firefighters wearing breathing apparatus sets proceeded into the unit to conduct firefighting. Simultaneously, they conducted forced entry into a bedroom and rescued the two persons from the ledge by bringing them in to safety."
The fire, which involved the contents of a bedroom, was extinguished by a water jet. Preliminary investigations showed that it was of "electrical origin" from a personal mobility device (PMD), SCDF said.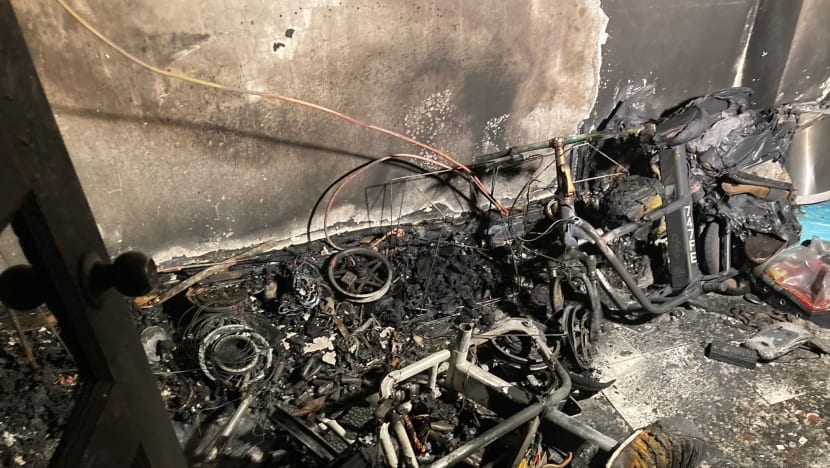 One person was found inside the affected bedroom and pronounced dead at the scene by a paramedic. Another occupant who had evacuated prior to SCDF's arrival was taken to Singapore General Hospital for burn injuries.
Paramedics also assessed the two people who were rescued from the ledge. Both declined to be taken to hospital, SCDF said.
About 60 people from neighbouring units were evacuated by the police as a precaution.
"Two firefighters were assessed by paramedics to have experienced heat exhaustion and were conveyed to Ng Teng Fong Hospital as a precautionary measure," SCDF said. "They have since been discharged from the hospital."
Based on preliminary investigations, police said they do not suspect foul play. 
Investigations are ongoing.