At least S$12,500 lost this month to Netflix phishing scams
At least five victims have fallen prey to the phishing scams since the beginning of July, said the police.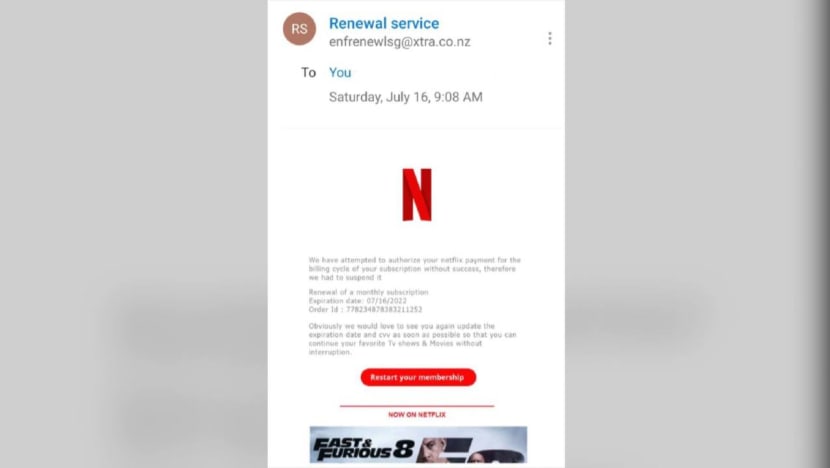 SINGAPORE: The police on Monday (Jul 18) warned of the re-emergence of phishing scams involving spoof emails from streaming company Netflix.
At least five victims fell for the scams this month, with losses amounting to at least S$12,500, said the police in a news release. 
In these cases, victims received emails allegedly from "trusted sources such as Netflix", said the police.
"The scammers would trick recipients into clicking on a URL link to renew their subscriptions," said the police.
Victims who clicked on the links were redirected to phishing websites and asked to provide their credit or debit card details and one-time passwords (OTPs).
They realised they had been scammed after discovering unauthorised transactions on their cards.
The police advised members of the public who receive emails claiming to be from trusted sources such as Netflix to take precautions such as checking if the email domain matches the merchant requesting for payment and whether the website URL looks dubious.
They also encouraged the public to follow these crime prevention measures:
Do not click on URL links provided in unsolicited emails and text messages;
Always verify the authenticity of the information with the official website or sources;
Never disclose your personal or Internet banking details and OTP to anyone; and
Report any fraudulent credit/debit card charges to your bank and cancel your card immediately.
Those with any information relating to such crimes can call the police hotline at 1800-255-0000 or 
submit it online at www.police.gov.sg/iwitness.