'Pretty shocked': JCube developer notified tenants about mall closure, but some staff caught unaware
CapitaLand Development (Singapore) said notices were sent to the authorised representatives of JCube tenants before the announcement about the mall's closure.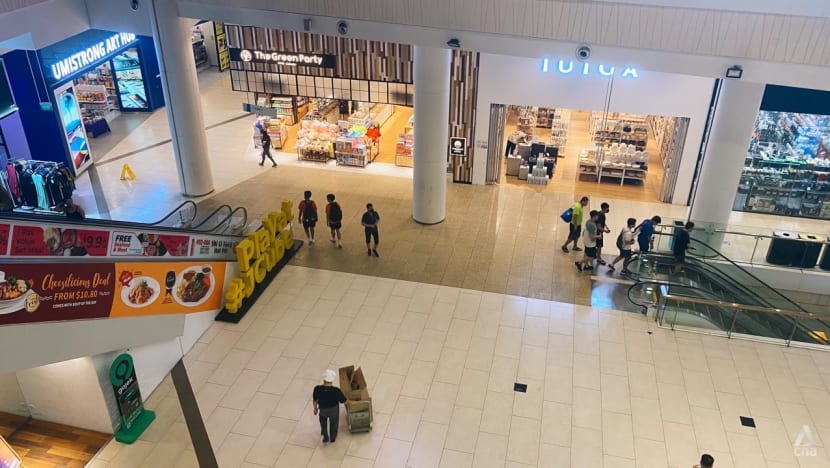 SINGAPORE: Many retail staff of JCube tenants were caught by surprise by news of the Jurong East shopping mall's impending closure - except for one. 
Mr Noelle Kok, who opened shop in the mall's basement in mid-January, told CNA on Friday (Feb 10) that he knew about the closure even before signing the contract. 
"We're fully aware of what's going on. It's quite a fair deal. So the news wasn't shocking to me," said the owner of local food and beverage outlet, Yung Yung. 
The small eatery, which has another outlet at Bishan, is known for its bubble tea and Yaowarat-style buns. The outlet at JCube is meant to be a pop-up shop, and its contract is supposed to end in late April, added Mr Kok.
CapitaLand Development (Singapore) (CLD) had announced on Tuesday that JCube would cease operations on Aug 7. The mall will close for good at 10pm on Aug 6. 
It will make way for a new residential development that will include commercial space on the first and second storeys, and is targeted for completion in 2027. A sales launch is expected in the second half of 2023, the developer said in a media release. 
CLD added it is working closely with the existing tenants of JCube and providing them with the necessary support to ensure a smooth handover of the premises. 
But these measures did not appear to have been communicated yet to staff on the ground, according to those who spoke to CNA on Thursday. 
Some of them learned about the mall's closing date from social media. One was forwarded a link to a news article by her husband, while another was told about the news by an employee at an adjacent store. 
NOTICES SENT TO TENANTS BEFORE NEWS RELEASE
Responding to CNA's queries about its communication with tenants, CLD stated that "notices were sent by registered mails and emails to the authorised representatives of JCube tenants, before a news release was issued around noon on Feb 7, 2023 to inform shoppers and the general public about the redevelopment". 
"This is in line with the notification period provided for in the tenancy agreements," its spokesperson said.
In addition to official correspondence, CLD's centre management team is "in the midst of reaching out to individual tenants directly" to provide them with the necessary support to ensure a smooth handover of the premises and, "where practicable", on their future plans.
"As the mall is closing only in August 2023, we hope tenants would find the six-month advance notice useful in their business planning. We welcome tenants who require assistance to approach us directly for discussions," it added. 
"PRETTY SHOCKED" 
Asked about what they would do, staff at JCube said they would probably be transferred to another outlet but would wait for their management to finalise any plans.
"Actually, we have seen the news before, sometime last year. We read that they were going to do something about JCube, but that's about it. So we were pretty shocked," said Mdm Adeline Tang, manager of jewellery store Couple Lab, who read the announcement online.
"I thought we were a small tenant, that's why they didn't contact us at all." 
Mdm Tang said the company would probably send their JCube staff to another outlet after the mall closes, and would "do our best to keep them". 
An employee at apparel outlet S&D said she had also heard rumours of the mall's closure a few weeks prior, but only received confirmation on Tuesday.
"Customers came by to ask us if we have any discount for our clothes after the news was announced. They kept asking where we're moving to, but we don't know yet," said Mdm Susan Neo, who has been with S&D for about seven years.  
The proposed redevelopment of JCube was first hinted at in July 2022 when the Urban Redevelopment Authority published a proposed amendment to the masterplan on rezoning the site from commercial to residential with commercial.
FOND MEMORIES
Other employees also expressed sadness, as they had worked and lived in Jurong East for many years. 
Ms Shima, a 29-year-old sales assistant at The Cake Shop, had worked at the mall for more than five years. She also lives nearby. 
Michael Chong, an outlet executive at pawn shop ValueMax, was indifferent to the mall closing, as the company has more than 40 outlets in Singapore. He predicted that staff would simply be deployed to another location.
But as someone who had grown up around Jurong East, he was sad to see JCube go. 
"Frankly speaking, it's a bit sad. I've been passing by this mall almost every day. I stay nearby; my secondary school is nearby. I can still remember the days we'd come here to ice skate and watch movies," he said.