Prison conditions in Singapore 'acceptable'; no fans, mattresses in cells for security: Shanmugam
SINGAPORE: Prison conditions in Singapore are acceptable, Law and Home Affairs Minister K Shanmugam told Parliament on Monday (Jul 4), adding that the prison regime is also made intentionally austere.
The minister said prison cells do not have fans and mattresses to reduce security risks like suicide or the hiding of contraband, while the regime is kept strict to deter inmates from harming themselves or creating security situations.
Mr Shanmugam was delivering a ministerial statement on prison conditions and rehabilitation, in response to several parliamentary questions and the "substantial interest" in the topic following the CNA documentary Inside Maximum Security.
MP Murali Pillai (PAP-Bukit Batok) asked if Singapore's prison conditions reflected the Singapore Prison Service's (SPS) standing as a leading correctional agency, while other MPs asked about the support given to inmates with mental health or medical issues.
External organisations have also questioned Singapore's prison conditions, Mr Shanmugam said, pointing to how the UK courts said they were "not ideal" in the case of David Roach, the Standard Chartered bank robber who had tried to fight extradition to Singapore.
"Other points have been made elsewhere, that (of) long periods of time inmates spend inside the cell, inmates sleeping on a straw mat, and overcrowding," the minister said.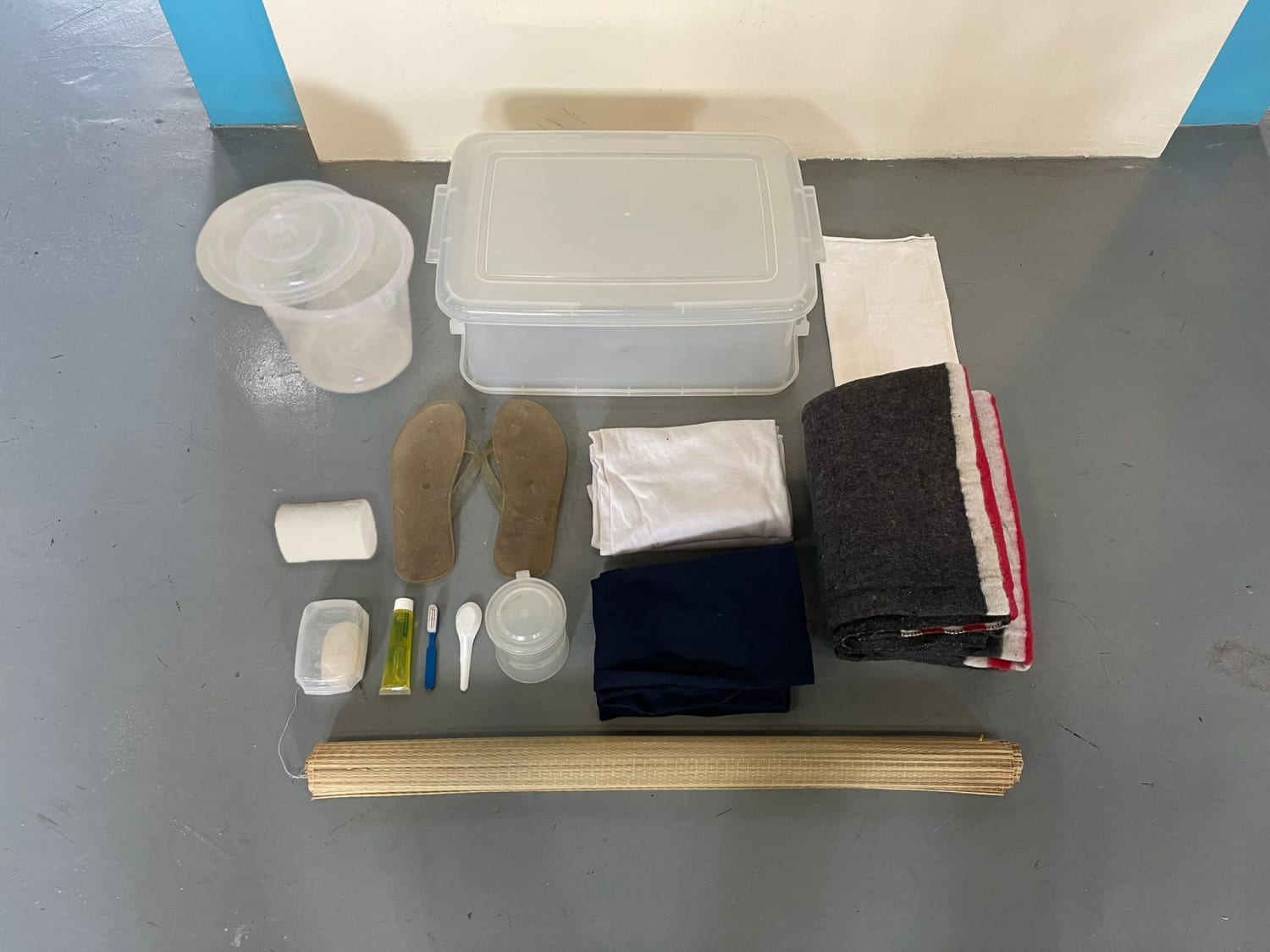 CAPACITY AND MEDICAL SUPPORT
Mr Shanmugam rejected suggestions that Singapore's prisons are overcrowded, saying that they are operating at about 70 per cent of intended capacity.
He cited a 2021 United Nations Office of Drugs and Crime report which stated that prison overcrowding was widespread worldwide, with available data showing that prisons in slightly less than half of 100 countries were operating at more than 100 per cent of intended capacity.
"I would be careful and with this caveat of comparing the percentages between countries. Because whether there is overcrowding can be a matter of definition. It depends on what your baseline is, what the intended capacity of the prison is, and how it is designed," he said.
"If the intended capacity of the prison is lower than another, then of course occupancy rates would be higher for the first prison, compared with the second, for the same number of inmates.
"But based on media reports, I think we can say conditions in many of these jails, for example the US jails, are much worse than ours. And from what we're seeing from photos and media reports, Scandinavian jails are generally much more luxurious."
Mr Shanmugam pointed out that the Changi Prison Complex was built in the early 2000s. Prisons and drug rehabilitation centres currently take up a space of less than 1 per cent of land-scarce Singapore.
"This is the footprint that we have, and we have to maximise the usage of land. If we want to change it, a huge amount of money you will have to spend, possibly running into billions of dollars, and with more land taken," he said.
Whether this should be done will depend on authorities' assessment of current conditions, he continued.
"Our assessment is that the conditions are acceptable and fit in with our philosophy of how prisons ought to be," he stated.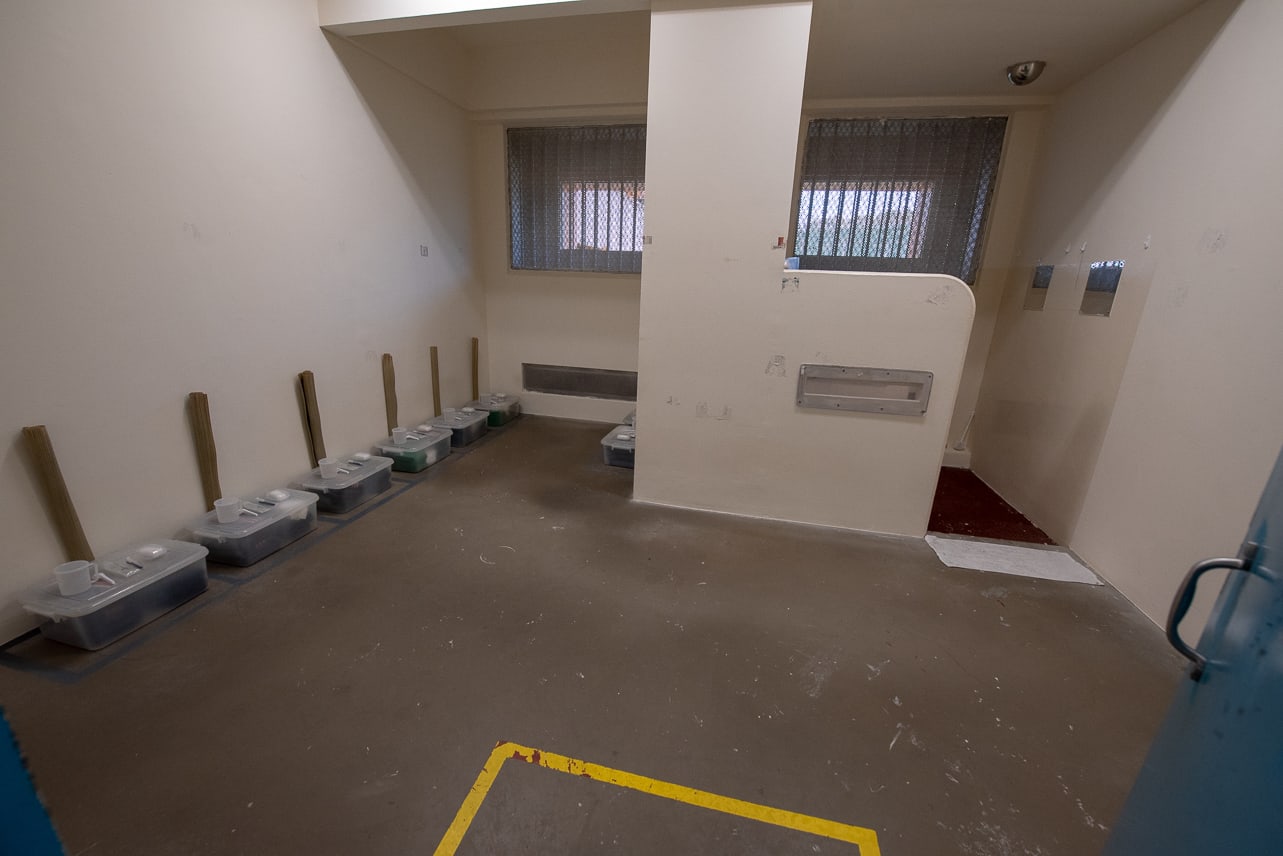 Mr Shanmugam said inmates' "essential needs" are met, and that all prisoners admitted are assessed on their state of physical and mental health. Inmates can report sick at any time should they feel unwell.
"They are accorded the necessary medical care by prison medical officers, prison psychiatrists and supporting medical personnel," he said, adding that 94 per cent of medically eligible inmates have been vaccinated against COVID-19.
"Those who require specialist attention and medical care may be referred to Government Restructured Hospitals."
Mr Shanmugam said data on inmates diagnosed with mental health conditions upon admission are not "actively tracked", although he mentioned that as of March, about 5 per cent of inmates are on medication to manage mental health conditions, mostly involving adjustment and mood disorders.
Inmates who need active follow-ups at the Institute of Mental Health (IMH) when admitted are also referred to a psychiatrist, he said.
"Inmates with mild mental health issues are housed with the general inmate population, seen regularly by prison psychiatrists, and go through rehab programmes," he added.
"Those with severe mental health issues may be housed in a specialised facility managed with IMH. That allows for more intensive intervention and therapy."
PHYSICAL CONDITIONS
Inmates who require additional care, such as those who are old or have mobility issues, will be housed in medical wards, called correctional units for assisted living. These units have beds, seated toilets, handrails, grab-bars and anti-slip flooring.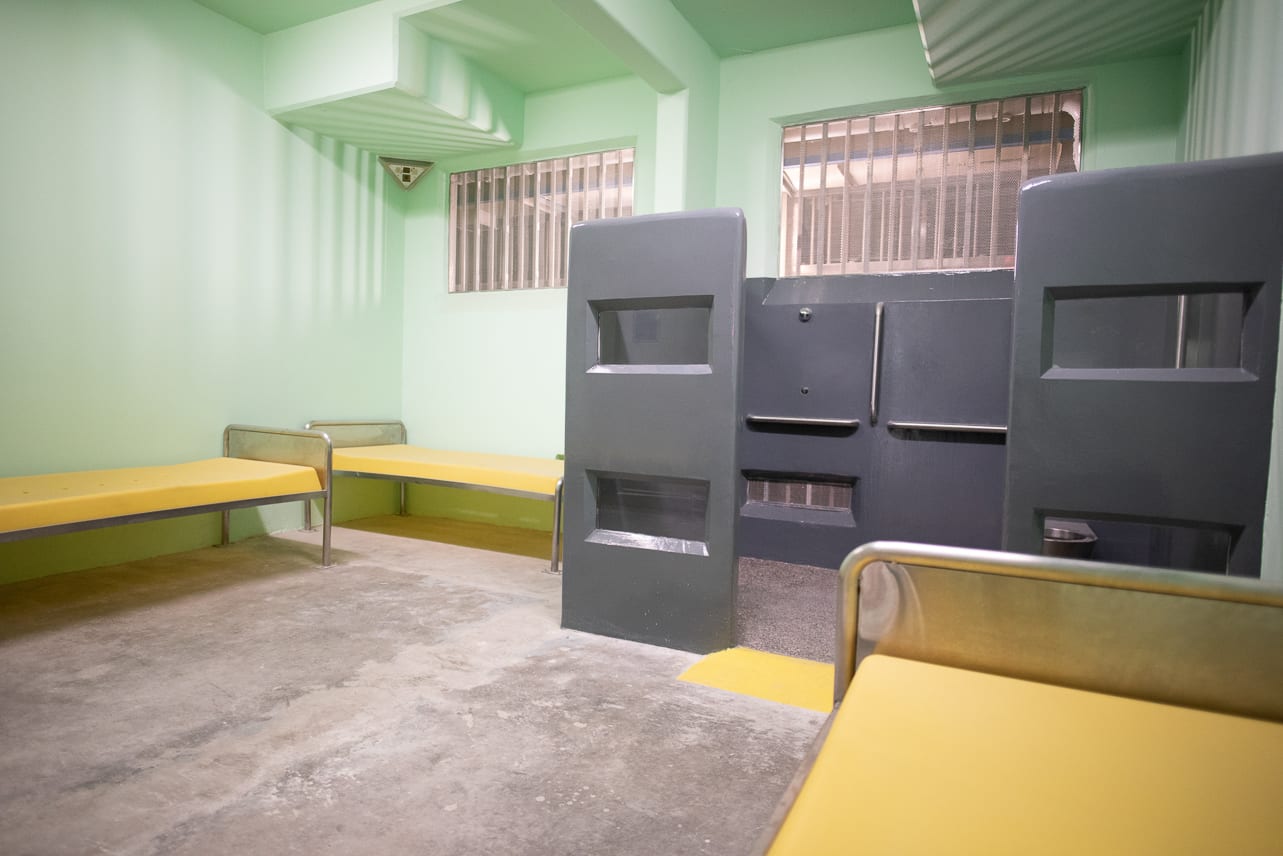 While the regular one-, four- and eight-inmate cells also come with toilet facilities, they have no bedding. Inmates are provided with a straw mat and two blankets.
"Due to our hot and humid climate, mattresses for inmates are not ideal because of hygiene issues," Mr Shanmugam said.
"The current bedding minimises the security risks of inmates hiding contraband items in the cells. Generally, (there is) no direct staff supervision inside cells."
When MP Zhulkarnain Abdul Rahim (PAP-Chua Chu Kang) asked if alternative materials could be used instead of straw mats, Mr Shanmugam said authorities had looked into this "for some time", but have yet to find something that could be used as a "possible substitute".
"It is something that we continue to look at, something that will meet security requirements and will work in our climate, given that we don't do air conditioning and that would be resistant to or at least not become a source of passing on disease," he said.
These cells do not have fans either, as mounted fans could be dismantled and the parts used as weapons, or act as "potential anchor points for suicide", Mr Shanmugam said.
"Instead, there is a combination of natural and mechanical ventilation inside the cells," he said.
In response to a question about how this could prevent the transmission of airborne diseases amid COVID-19, Mr Shanmugam later said that the amount of times the air in cells is completely removed and replaced in an hour is "regularly monitored to ensure adequate ventilation".
"On COVID, the prisons is obviously a place where they needed to be careful because of the proximity and the amount of time people spend with each other. So, Prisons took it very seriously," he said.
Inmates are given three meals every day, based on a dietitian's recommendation to meet nutritional requirements. Fruits are provided daily.
Special dietary requirements are considered, including for inmates who are vegetarian, diabetic or have gout.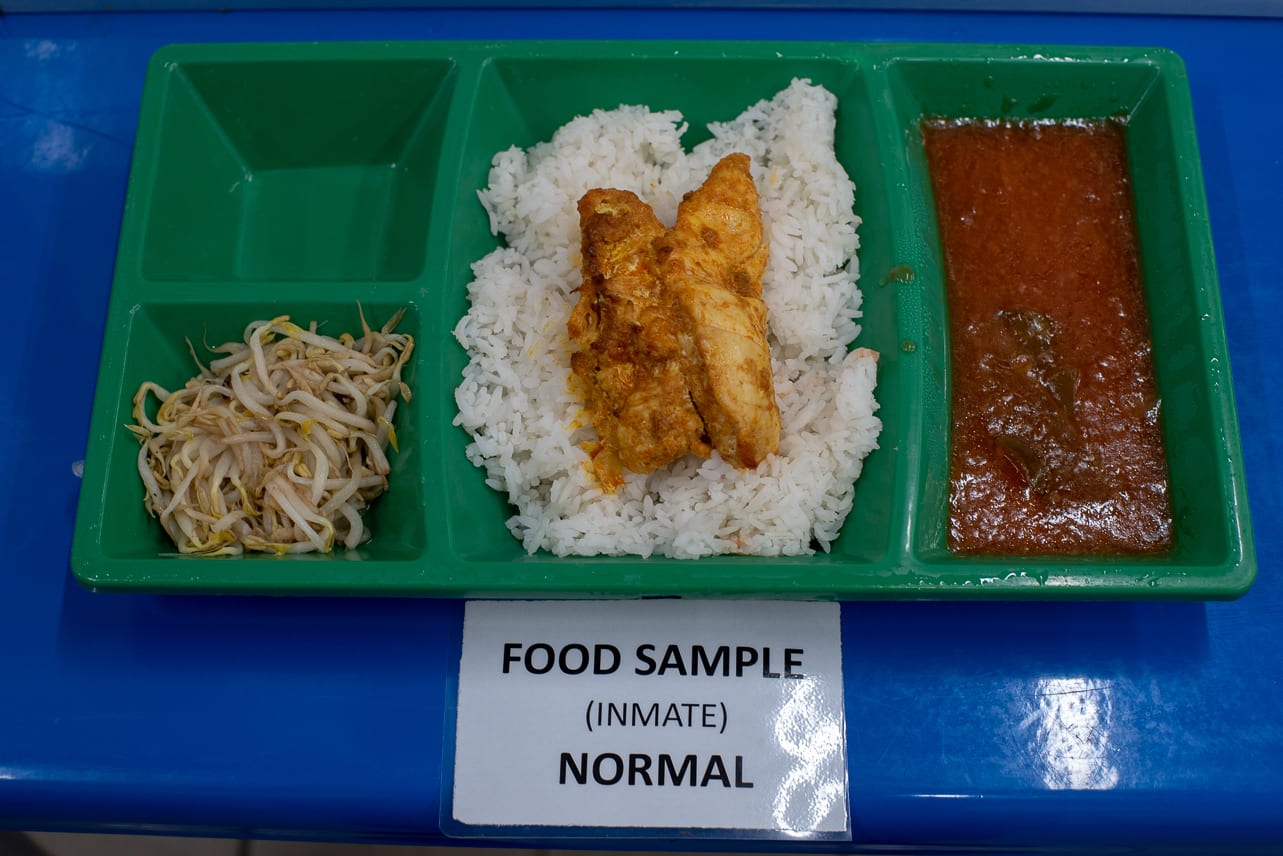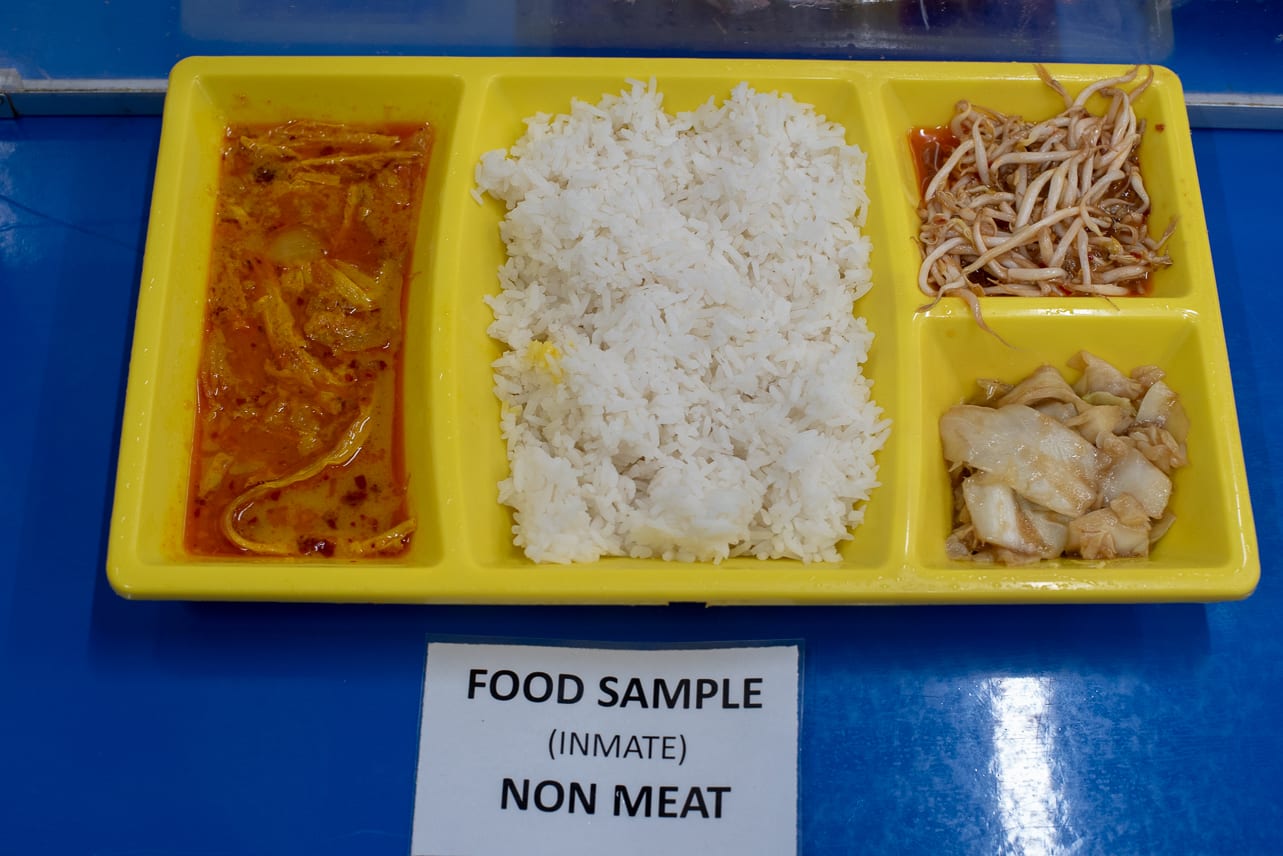 When Mr Zhulkarnain asked if inmates could be provided with night snacks given they do not have any food between dinner and breakfast, Mr Shanmugam said inmates could buy additional food from a canteen.
"I should mention that depending on behaviour, good behaviour allows you certain privileges including a food pack that you can redeem," he said.
Each inmate is given basic necessities for daily living, including a toothbrush, toothpaste, clothing, slippers and towel. The cell also contains necessary cleaning equipment.
Inmates have daily access to electronic tablets in their cells, allowing them to get e-learning materials, read e-books, and write or receive letters, Mr Shanmugam said.
As for recreation, inmates typically have at least one hour of out-of-cell recreation time on weekdays, where they do sports and exercise, read newspapers, play board games or watch television programmes, he said.
"These are conducted either in the recreational yard or dayrooms. Staff strength is a consideration, as these activities are higher risk, and require closer supervision by staff," he added.
"Inmates who work or attend programmes, such as psychology-based correctional programmes, family programmes or religious programmes, may spend two to 10 hours a day outside of their cells, depending on the programme intensity."
Mr Shanmugam later said that newspapers are first screened to remove content that depict or could encourage violence or crime. This includes reports on rape, assault or those that could incite social or religious tension, he said.
"So the newspapers won't be current ... Likewise, TV programs (with flagged content will be) not allowed for the same reason, because you can't sort of censor and then put it up," he added.
STRICT REGIME
Mr Shanmugam said the prison regime is kept "intentionally" austere, with "a lot of emphasis" on security and monitoring so officers know what is going on.
"This is because you get situations where inmates might try to do a lot of harm to themselves, get contraband (or) create security situations," he said.
This approach is probably one reason for lower suicide rates in prisons, Mr Shanmugam said, noting that there has been one case of suicide in Singapore's prisons between 2017 and 2021.
In comparison, Hong Kong saw 10 cases over the same period, while Norway and Denmark had 12 and 22 cases respectively between 2017 and 2020.
Singapore prisons' assault rate is also low at around 47 per 10,000 inmates since Financial Year 2019, Mr Shanmugam said, comparing it to the higher rates in Hong Kong (520), Australia (214) and South Korea (105) for the calendar year 2019.
"In some countries, there is a hierarchy among the inmates. Some inmates are allowed to exercise control over other inmates. Gangs of inmates are also often allowed to exert their power," he said, adding that inside, they control an underground trade of drugs and other contraband like mobile phones.
"In such places, those who are weaker will often be at the mercy of the stronger prisoners. Assault rates between inmates can be quite high. And inmates who go in the first time could come out as even more hardened more brutalised. Their lives are often set as a sad trajectory."
Singapore's prisons, on the other hand, are run by SPS officers in a "fair and disciplined" manner, Mr Shanmugam said, with a zero-tolerance stance towards gang-related activities.
"The gang situation in our prisons is closely monitored, and Prisons takes disciplinary actions against those found to be involved in such activities, including corporal punishment," he added.
"Now, don't take me to be saying that some bad things don't happen. The point is we maintain more control and on the whole, less of these bad things happen compared with most other places. And we try and maintain safety, order and discipline in our prisons. We want our inmates to be focused on rehab and turning their lives around without having to live in constant fear for their personal safety."
REHABILITATION AND RECIDIVISM
Moving on to rehabilitation, Mr Shanmugam said SPS' approach is based on the concept of throughcare, which involves addressing inmates' rehabilitative needs in prison, as well as facilitating their reintegration upon release.
"Members will know our extensive rehab efforts," he said.
Mr Shanmugam also cited Singapore's "low and stable" two-year recidivism rate, or the percentage of local offenders who were detained, jailed or sentenced to a day reporting order within two years of their release.
The latest recidivism rate, for the 2019 release cohort, is 20 per cent, the lowest in the last three decades. The five-year recidivism rate, for the 2015 cohort, is 41.7 per cent.
"We can do even better ... and Prisons is working with the community to improve the five-year recidivism rates," Mr Shanmugam said.
The minister said SPS provides various avenues for inmates to make enquiries, provide feedback or raise concerns about their management and rehabilitation.
"They can speak to their officers, they can raise their feedback from their family and friends. There are also independent bodies," he said.
This includes the Board of Visiting Justices, comprising "prominent" members of society who inspect the prisons, hear inmates' complaints and ensure their basic well-being is taken care of, he said.