COVID-19 White Paper debate: Pritam Singh calls for full report to be made public
The Leader of the Opposition says his Workers' Party will support and not undermine the national effort, in times of crises like the pandemic.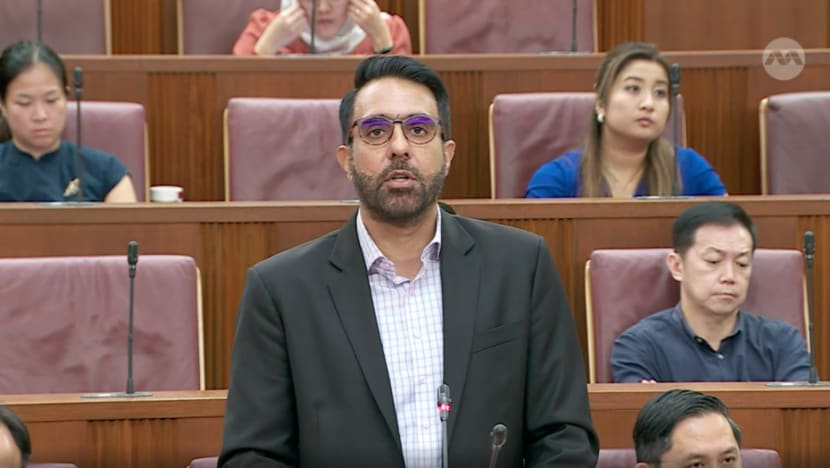 SINGAPORE: A report reviewing the Singapore government's response to the COVID-19 pandemic should be published in its entirety, so that the public - and Members of Parliament - can draw their own conclusions, said Leader of the Opposition Pritam Singh on Monday (Mar 20).
In a 15-minute speech, Mr Singh questioned why the government decided against publishing the original report presented by former head of civil service Peter Ho.
This call by the Workers' Party (WP) chief, as well as fellow opposition MP Leon Perera (WP-Aljunied), came during a parliamentary debate on the COVID-19 White Paper published by the Prime Minister's Office on Mar 8.
The document identified six areas where the government could have done better, including the outbreak in migrant worker dormitories, border measures, contact tracing and transition to endemic COVID-19.
The White Paper drew on Mr Ho's review which included interviews with ministers and civil servants. It also incorporated the findings of various reviews by government agencies.
REDACT INFO THAT COULD HARM NATIONAL SECURITY
On Monday, Mr Singh noted that the White Paper was not an original document.
He said it attempted to "synthesise and make sense of the breadth of perspectives gathered, weave them together with the known data and facts, and offer as balanced and objective an account as possible" of the government's COVID-19 response.
While the White Paper acknowledged some shortcomings in the government's response, Singaporeans do not know what was excluded from the original reports and reviews leading to the final report by the Prime Minister's Office, said Mr Singh.
"Presumably, Mr Peter Ho submitted a more comprehensive after-action review report to the government," he told the House.
"Can that report be made public to Parliament, so that MPs and Singaporeans can better understand the breadth of perspectives gathered, the known data and facts, and draw their own conclusions?"
He also suggested that any confidential information that could harm national security be redacted from the report.
Publishing the original report "would be consistent with the spirit of the motion, which seeks to affirm the government's effort to learn from the experiences of the last three years", Mr Singh said.
Mr Perera concurred with Mr Singh's call to publish the original report for "greater transparency and a fuller and better-informed public debate on what should be the lessons we learn".
He told Parliament that the COVID-19 White Paper appeared to be a public communications document, and stood "in stark contrast" to a paper published in 2010 by academics on Singapore's response to the H1N1 virus.
"No doubt that was an academic paper rather than a government white paper, but that paper seems at the very least more detailed and, if I may, more clinical in how it marshals facts and uses them to build conclusions," Mr Perera said.
"That paper was also authored by independent academics who drew on interviews with MOH (Ministry of Health) and other officials but did not represent the views of MOH. And it has a much fuller methodological note."
WP WILL SUPPORT NATIONAL EFFORT DURING CRISES
Mr Singh also spoke about WP's political stance during the pandemic and what the public could expect from the party when such crises strike.
He reiterated that WP would support, and not undermine, the national effort in such times.
When the Unity Budget was announced in February 2020, WP called for unity of purpose and for politics to take a backseat. And when Singapore exited its "circuit breaker" lockdown period a few months later, WP did not "publicly criticise the government on its handling of an unprecedented crisis", Mr Singh added.
"As a political party that is not in government, the Workers' Party will continue to lead with this approach in times of national crisis," he said.
During the pandemic, WP "kept focused on playing our role as a responsible and loyal opposition", he further noted.
"We did not abdicate our role of holding the government to account, as the design of our political system demands."
Mr Singh said that as part of WP's 2020 General Election manifesto, the party had put forth concrete proposals on managing the COVID-19 crisis, including to relook the management of foreign worker dormitories and attitudes towards foreign workers.
WP also continued raising matters related to COVID-19 in Parliament after elections were over, he added.
"The Workers' Party supports the motion to the extent that it expresses gratitude to all in Singapore who contributed to the nation's fight against COVID-19 and affirms the government's efforts to learn from lessons of the last three years."