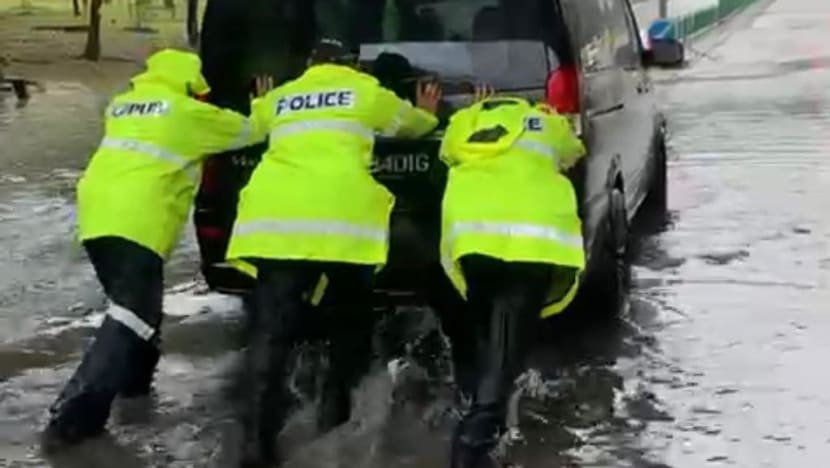 SINGAPORE: National water agency PUB is investigating if construction works may have contributed to the flood at the junction of Pasir Ris Drive 12 and Tampines Avenue 10 on Friday morning (Aug 20). 
At least 13 vehicles were partially submerged in water at the junction as heavy rain fell across the island on Friday.
PUB is investigating the cause of the flood to ascertain if there were any construction works in the vicinity that had affected the drains or obstructed the drainage flow of the storm water, it said in a Facebook post. 
The agency added the junction was not a "low-lying area or flood hot spot". 
Earlier, it had warned of flash floods in multiple parts of Singapore. 
Flooding was reported at the junction of Tampines Avenue 10 and Pasir Ris Drive 12 towards the TPE entrance at 7.58am, which later subsided at 9.40am, said PUB. 
"PUB's Quick Response Team was immediately deployed to the site to render assistance to drivers and pedestrians, together with officers from LTA, SCDF and Police," it said.
PUB also advised motorists not to drive into flooded areas in the event of a flood. If they are caught in a flood and their vehicle stalls, however, motorists should leave their car and move to higher ground if they could do so safely.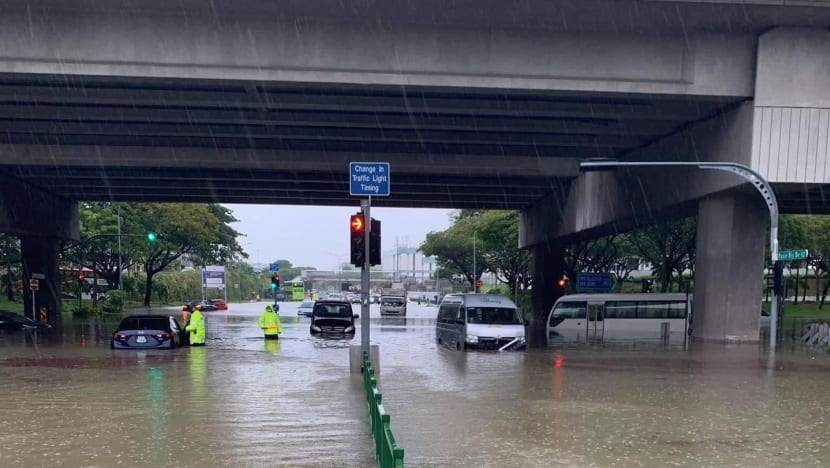 HEAVY RAIN IN HOUGANG, CHOA CHU KANG
The National Environment Agency (NEA) said in a separate Facebook post that widespread moderate and heavy rain fell over the island since 5am on Friday morning. The rain was heaviest over the central, northern and eastern parts of Singapore.
Over the next few days, thundery showers are forecast between the morning and early afternoon, said NEA on Friday.
"The thundery showers were due to prevailing winds blowing from the south and west north-west, converging over Singapore," said NEA in a Facebook post.
The highest daily total rainfall recorded as of 1pm on Friday was 112.1mm, 111mm and 107.8mm at Hougang, Choa Chu Kang and Paya Lebar respectively. 
This was followed by 105.2mm at Pasir Ris and 103.6mm at Ang Mo Kio. 
The highest daily total rainfall for August to date was 121.8mm at Sentosa on Thursday. 
As of 1pm on Friday, the highest rainfall intensity over 60 minutes was 95.8mm recorded at Choa Chu Kang, said NEA.
"For reference, the highest ever recorded 60-minute rainfall intensity is 147mm on Nov 2, 1995," it added. 
The lowest temperature recorded on Friday morning was 21.9 degrees Celsius at Changi, Pulau Ubin and Woodlands. 
The rest of the day is expected to be cloudy, with light to moderate rain clearing in the afternoon, said NEA.