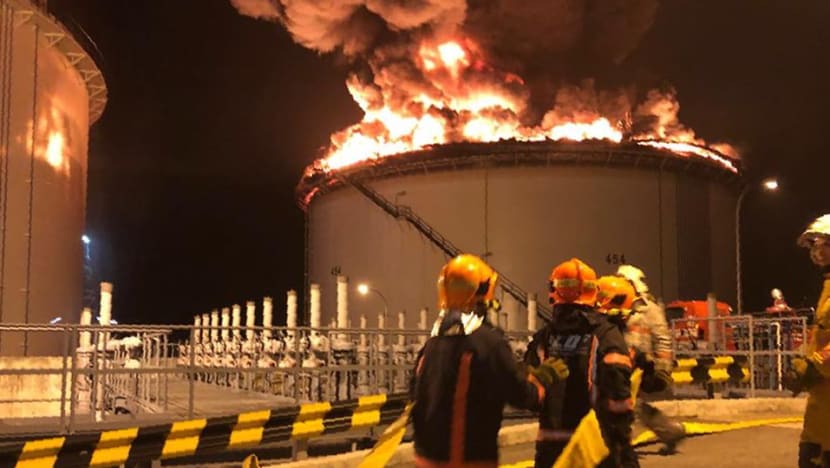 SINGAPORE: A raging oil storage tank fire on Pulau Busing was extinguished by firefighters on Tuesday (Mar 20) after a massive six-hour operation involving several agencies.
In a Facebook update early on Wednesday morning, the Singapore Civil Defence Force (SCDF) said the blaze was extinguished by the combined efforts of SCDF Emergency Responders and CERT members.
No casualties were reported.

SCDF said it was alerted to the fire at Pulau Busing at about 5.50pm.

A total of 128 personnel and 31 firefighting and support vehicles were deployed for the "massive operation", SCDF said in an earlier update at 11.46pm, more than five hours after the fire broke out.

The SCDF-led operations were supported by the Police Coast Guard, Maritime and Port Authority of Singapore, Republic of Singapore Navy and the National Environment Agency.

Minister for Home Affairs and Minister for Law, K Shanmugam, was on the island to meet SCDF emergency responders.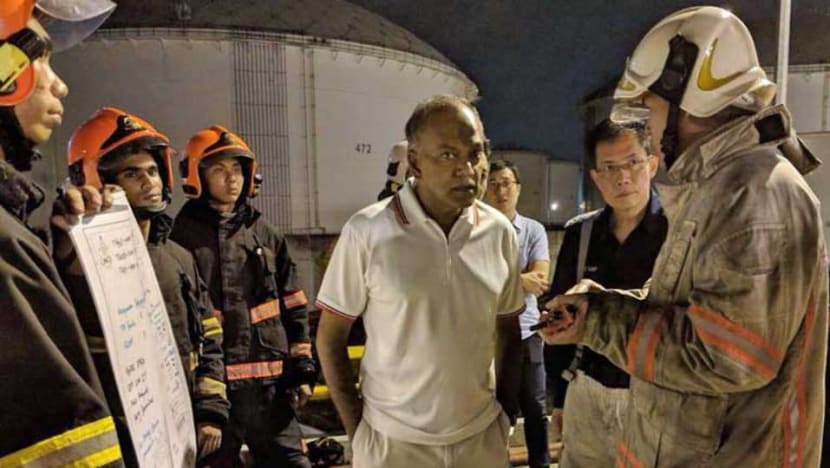 The fire involved an oil storage tank on Pulau Busing, one of the islands off the southern coast of Singapore, which is home to oil and chemical storage facilities.
"Radiant heat from the affected oil storage tank poses a major challenge to the firefighters as they move forward while maintaining a safe distance. Despite the challenge, SCDF firefighters and members of CERT (Company Emergency Response Team) are still pressing on," said SCDF in an update during the operations. 

The fire was "quite severe", a Tankstore source told Reuters, asking not to be named as he was not authorised to speak to the media.
Photos posted on social media show a thick plume of smoke billowing from the island.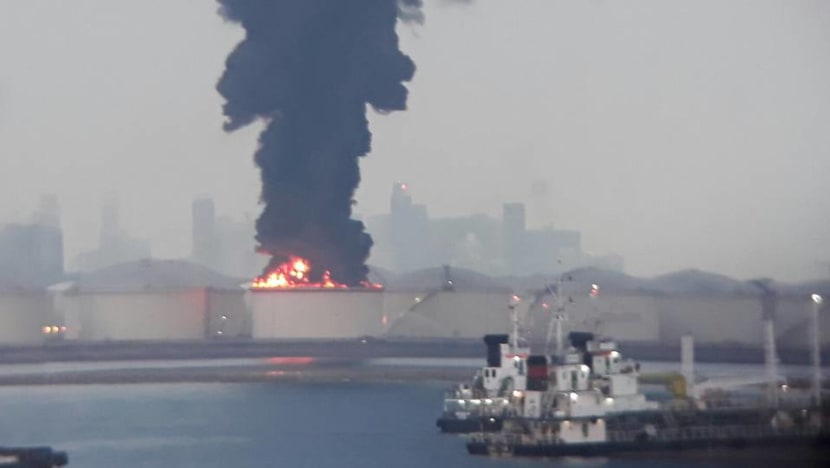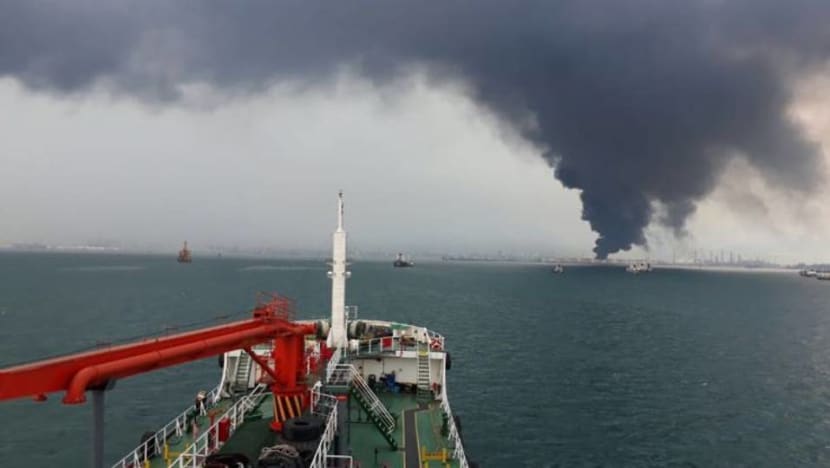 A 29-year-old Channel NewsAsia reader, who did not want to be named, said she saw smoke rising from the island since 6pm.
Ms Nicky Ng, 48, told Channel NewsAsia she saw the smoke from the condominium she lives in near Harbourfront.
"It was about to rain and (we) heard thunder … when (we) looked at the sky, saw smoke in the sky and then saw it coming from the offshore island," she said.

"We are monitoring the air quality closely, especially in the southwestern region of Singapore," NEA said.
"The prevailing winds are currently blowing from the northeast and the air quality has remained in the good to moderate range," it said.
There have also been no spikes in the PM2.5, sulphur dioxide and other air pollutant levels, it added. 
Source: Reuters/cna/ec/ng/de