Meet postman Shahruddin, who braves Pulau Ubin's hilly terrain and wildlife to deliver mail to the island's residents
Mr Shahruddin Datok, Pulau Ubin's only postman, has had close brushes with wild boars, aggressive dogs and troops of monkeys while delivering mail to the island's residents.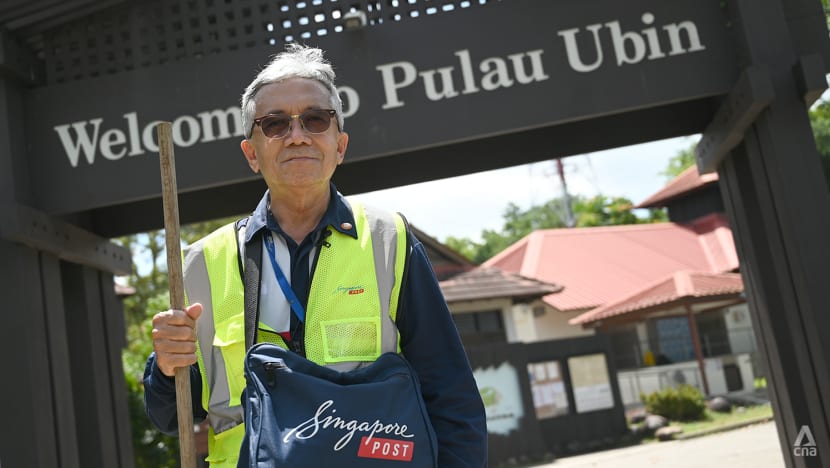 SINGAPORE: Fending off wildlife while delivering stacks of letters is just part and parcel of Pulau Ubin postman Shahruddin Datok's weekly routine.
Over the course of his four years as the island's sole postman, the 66-year-old, a diminutive man with wavy salt-and-pepper hair, has had close brushes with wild boars, aggressive dogs and troops of monkeys.
Being out in the wild has taught him invaluable lessons including how to slip mail carefully into letterboxes in case a snake is coiled up inside and how to get monkeys to stop hurling coconuts down from trees so that he can pass through safely.
As part of his job, Mr Shahruddin takes the ferry to Pulau Ubin up to three times a week, where he braves hilly terrains to deliver mail to residents of the island.
He does this entirely on foot, trekking to far-flung areas of the 1,020-hectare island with a bag of mail slung across his shoulders.
According to previous estimates by the National Parks Board (NParks), there are around 30 residents living on the island.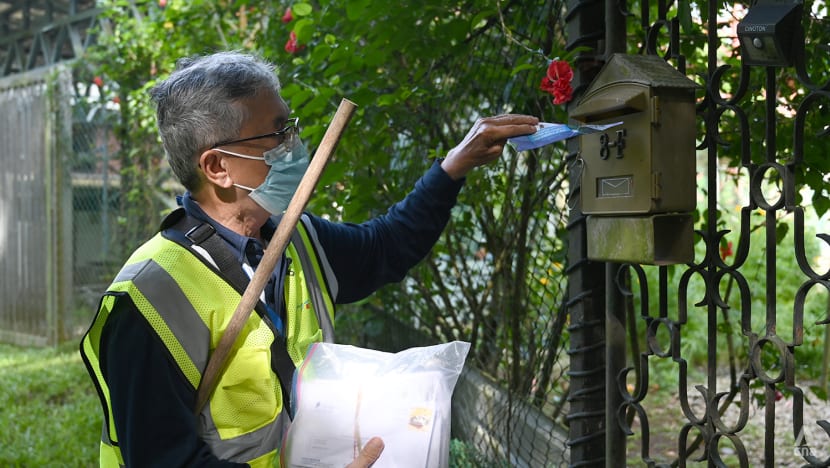 Despite the long walk - which could take anywhere between one and three hours depending on the number of houses he has to deliver mail to - being on his feet gives him a sense of security.
"I prefer to walk because if you're on a bicycle, your hands aren't free and so you can't really protect yourself from being attacked by monkeys or wild boars," said Mr Shahruddin, gesturing to his trusty wooden stick which he carries around in case he needs to defend himself.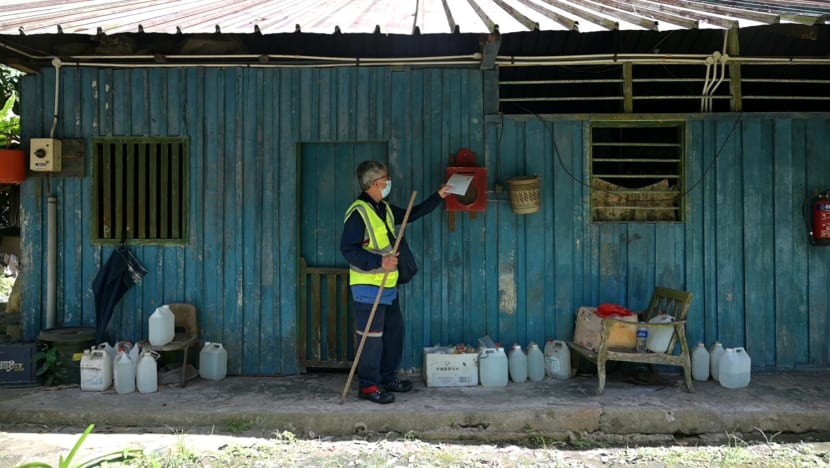 Recalling his first few months on the job, he said he once spotted a cobra slithering across a road from afar.
"There were some children cycling in the area, so I shouted at them and told them to stop," he said. "I was so scared because it's a (venomous) snake and it's very dangerous.
"I had to pass through that road to deliver mail, so I waited until the snake was gone before continuing. But I was very scared."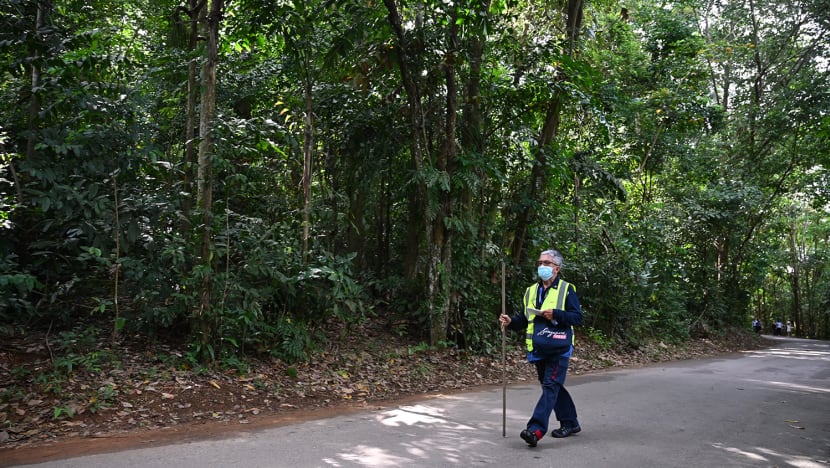 BECOMING A PULAU UBIN POSTMAN
While the prospects of encountering a wildlife attack might put off some, Mr Shahruddin believes that it's the perfect job for him.
After working for Singapore Post (SingPost) as a postman for more than three decades, the 66-year-old decided to apply for the part-time Pulau Ubin position after retiring in 2018.
"I wanted a job that was a bit more relaxed and this part-time job only requires five hours (a day) to deliver mail," he said.
Besides shorter working hours, the calm serenity of Pulau Ubin and the idea of being surrounded by serene views and lush greenery also appealed to him.
"When I was a full-timer, there was no time to stop and appreciate my surroundings, I had a lot of mail to deliver and had to move fast," he said, adding that he used to work around eight to 10 hours.
"I have to walk a lot more here than I did as a postman on the mainland and it can be tiring at times. But I enjoy it because it's not as stressful and I feel happy talking to the residents of Pulau Ubin when I deliver mail."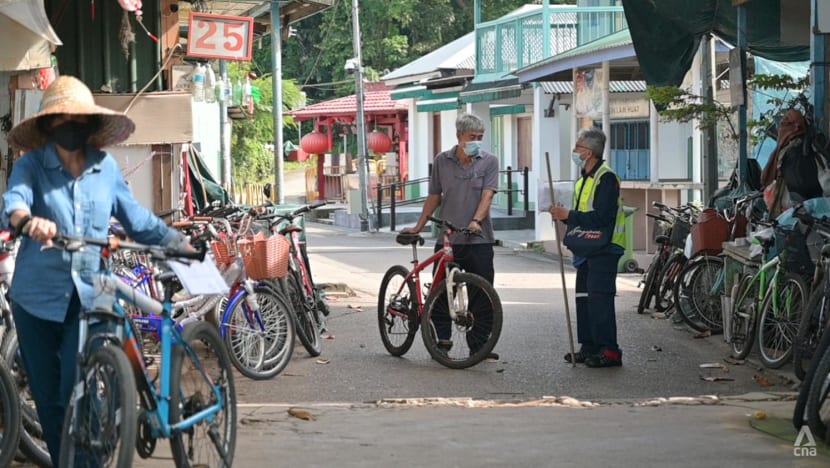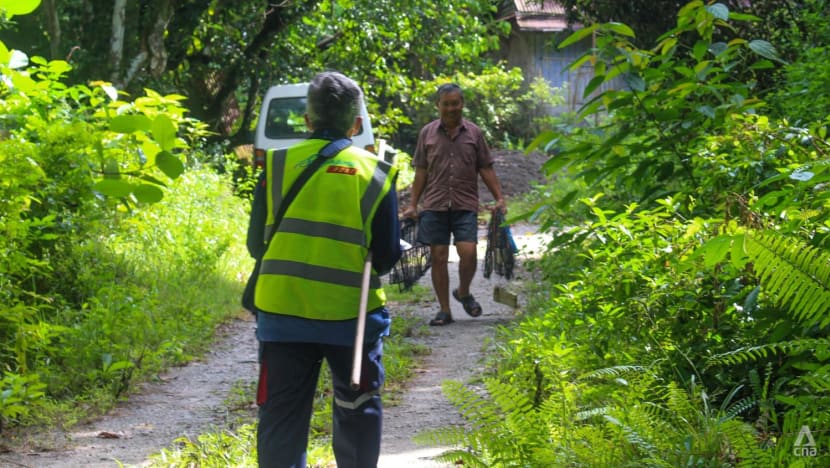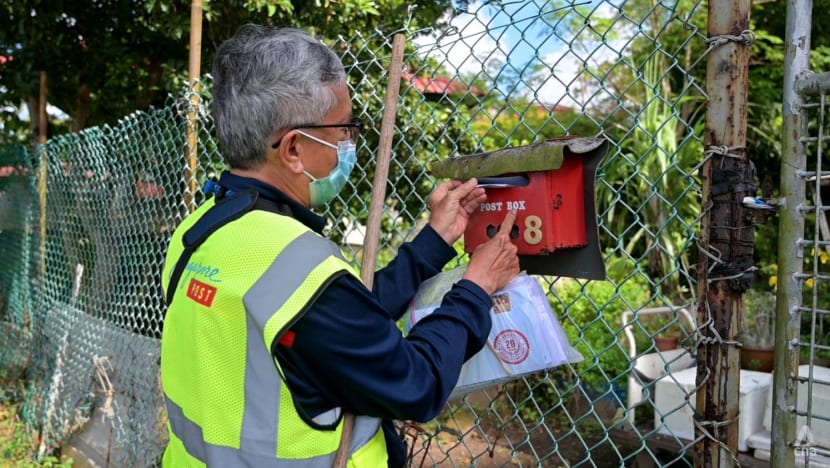 Today, the island has become a second home to the 66-year-old, who knows most of the trails and location of houses by heart.
But with some houses located in secluded areas and hidden by overgrown shrubs and trees, getting to this stage was not an easy feat and required a lot of trial and error.
"On the mainland, it's easy to deliver mail because the postal codes and house numbers are very nicely arranged and in running order but here, it's different," said Mr Shahruddin.
"Here, the house numbers are not in running order and sometimes, the house you need to deliver mail to isn't even there anymore because it's been demolished.
"I've been doing this for four years now, but I think I only know around 85 per cent of the houses here. For the rest, I would have to go to the National Parks Board office here to find out their exact location," he added.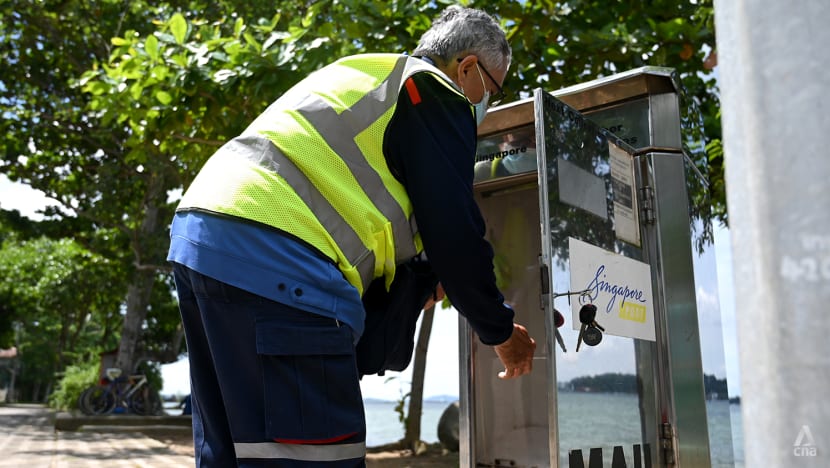 Despite the challenges, he laughs when asked how long he plans to keep the job.
"As long as I can walk and still happy with the job, I'll continue doing this," he said. 
"The people here are very friendly and they've become my friends. I also like being outdoors and walking to deliver letters is a good exercise for me, helping to keep me healthy."