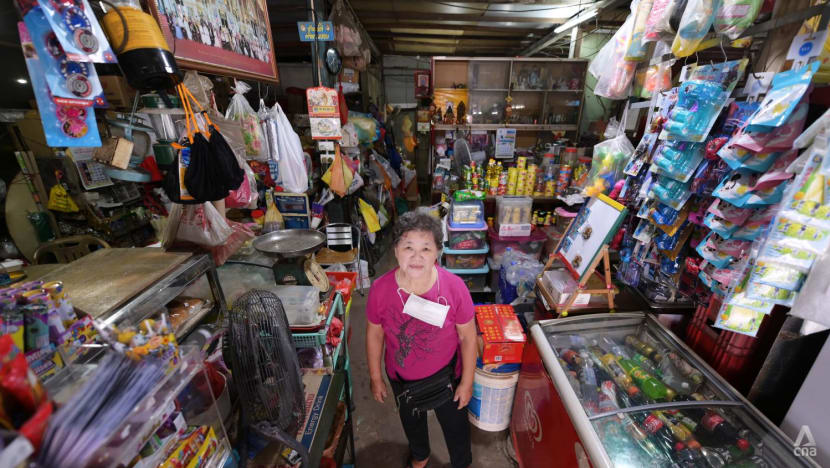 SINGAPORE: If you have been to Pulau Ubin, you'd probably have stopped at Yak Hong for a drink to quench your thirst.
Walking from the island's jetty, it's impossible to miss the provision shop at the town circle. A few tables and plastic chairs are placed in front of the shop, where daytrippers, mountain bikers and anglers take a break after getting their drinks and snacks.
Madam Ng Ngak Heng is a fixture at the shopfront, meeting many of the people arriving from the jetty.
The 72-year-old came to Pulau Ubin in 1975 after she married Mr Law Kuing Liak, 76, whose father had started the provision shop. She has been on Pulau Ubin for 47 years now.
Pointing to a yellowed but official-looking piece of paper beside the shop sign, Mdm Ng told CNA in Mandarin: "The shop is about 100 years old. This store registration is from before World War II."
It was a Monday afternoon when we met Mdm Ng. During our conversation, a stream of customers came asking for teh or kopi (tea or coffee), packet drinks or coconuts.
She sells coconuts from Thailand or those plucked from trees on Ubin. When one customer asked her for a local coconut, she warned: "It's salty, not sweet." But the man said that was fine.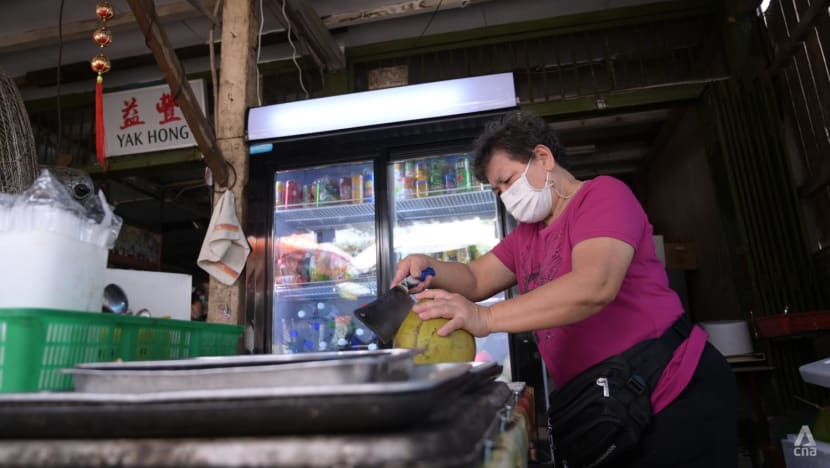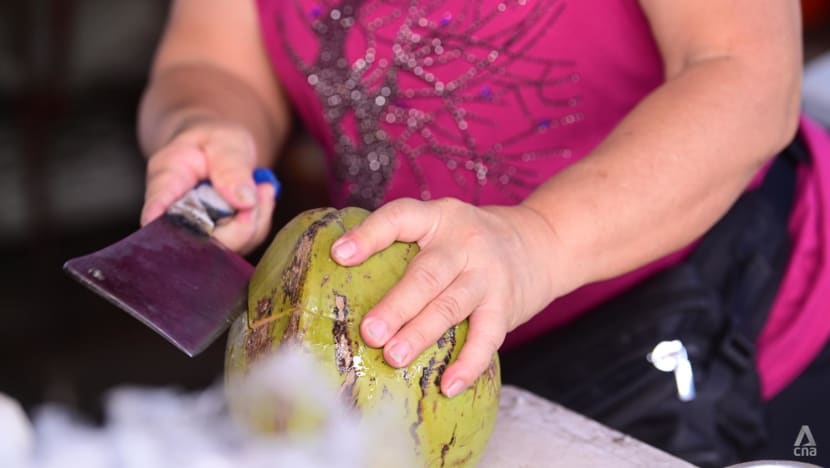 There was a time, said Mdm Ng, when they supplied island residents with basic necessities and feed for their farm animals. But with only about 30 people living on the island now, demand for provisions is low.
The island had about five or six provision shops back then. Yak Hong is one of two shops left.
"There were fewer and fewer people. We started to sell mostly coconuts and beverages, we rely on visitors to the island. The people living here have mostly moved out. We only have a few older people living here," she said.
Back in the 1950s to 1970s, about 2,000 people lived on Pulau Ubin. There were also workers in the island's quarries mining granite – the stone that the island is named after.
Today, it's known mainly as an offshore refuge for city dwellers who want a slice of kampung life, reminiscent of old Singapore.
Mdm Ng said it was not a big change for her to move to the island in 1975, as her life in a Punggol village was largely similar. As Singapore developed and Pulau Ubin remained suspended in time, the disparity grew.
Her two sons both work and live on the Singapore main island now, visiting on weekends and on the eve of Chinese New Year, sometimes bringing their own families along.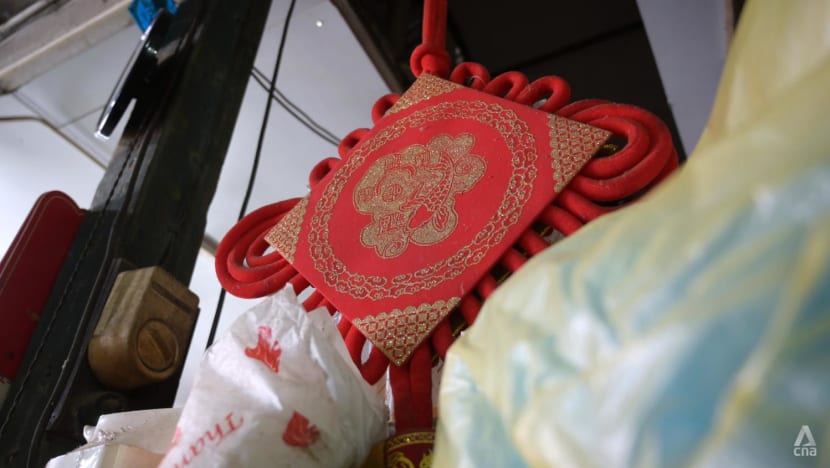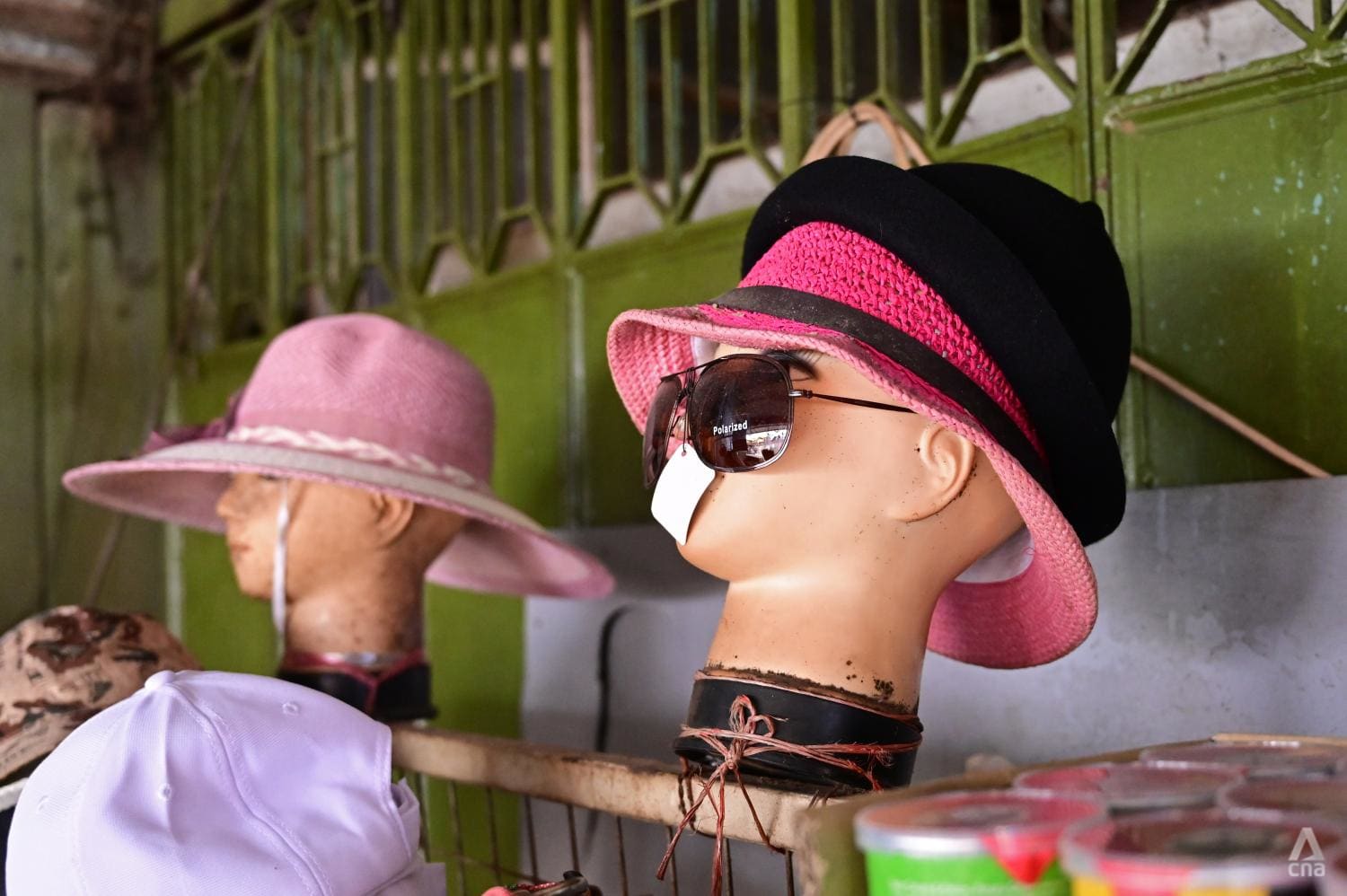 There hasn't been much change on the island with the pandemic, said Mdm Ng. After all, there are few people on Pulau Ubin and no big events. While business disappeared with the "circuit breaker" in 2020, visitors returned when that ended.
Chinese New Year, which fell on Feb 1 and 2 this year, was spent in much the same way. The family had a feast of Teochew traditional favourites on the eve, then on Feb 1, they opened the shop to welcome daytrippers.
"Chinese New Year is like any other holiday now, a lot of tourists will come for fun," said Mdm Ng. 
"It's not like there is Chinese New Year 'atmosphere' … but the tourists will wish me 'Happy New Year!'
"It's not like before when we used to take mandarin oranges and go visiting."
Even their parrot, a 27-year-old African Grey, talks less now, she said, as the number of people visiting the shop has dwindled.
"It's good at imitating speech … when people came he said: 'Hello, ni hao ma? Gong xi fa cai'. ('How are you? Wishing you prosperity and wealth' in Mandarin)"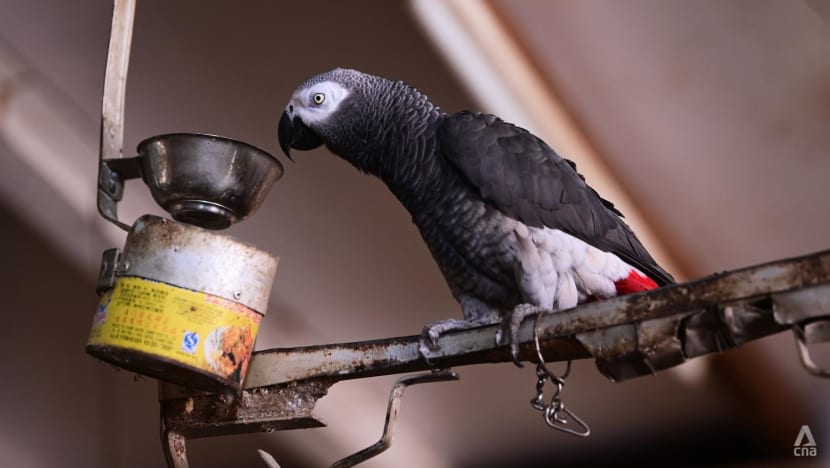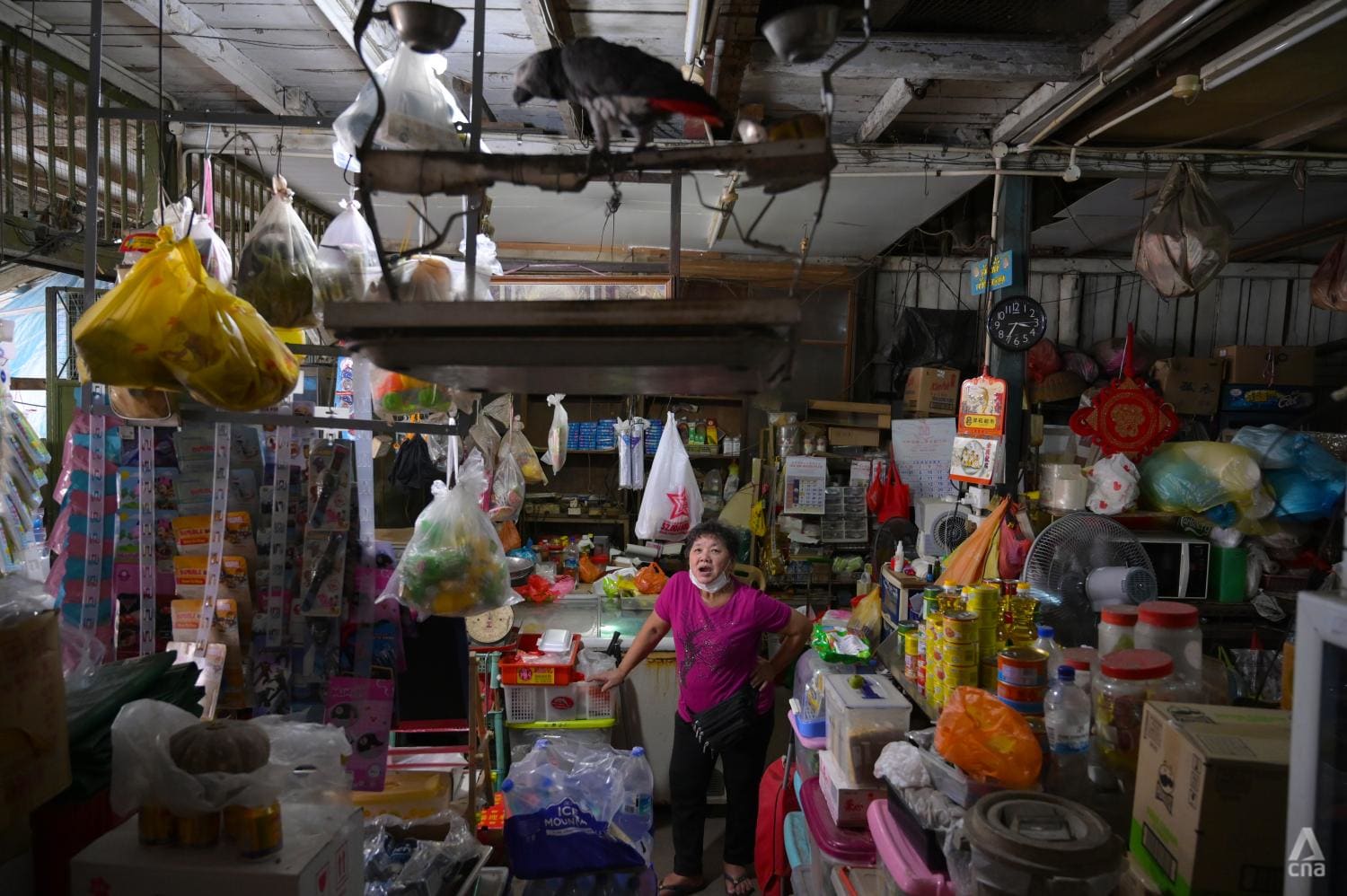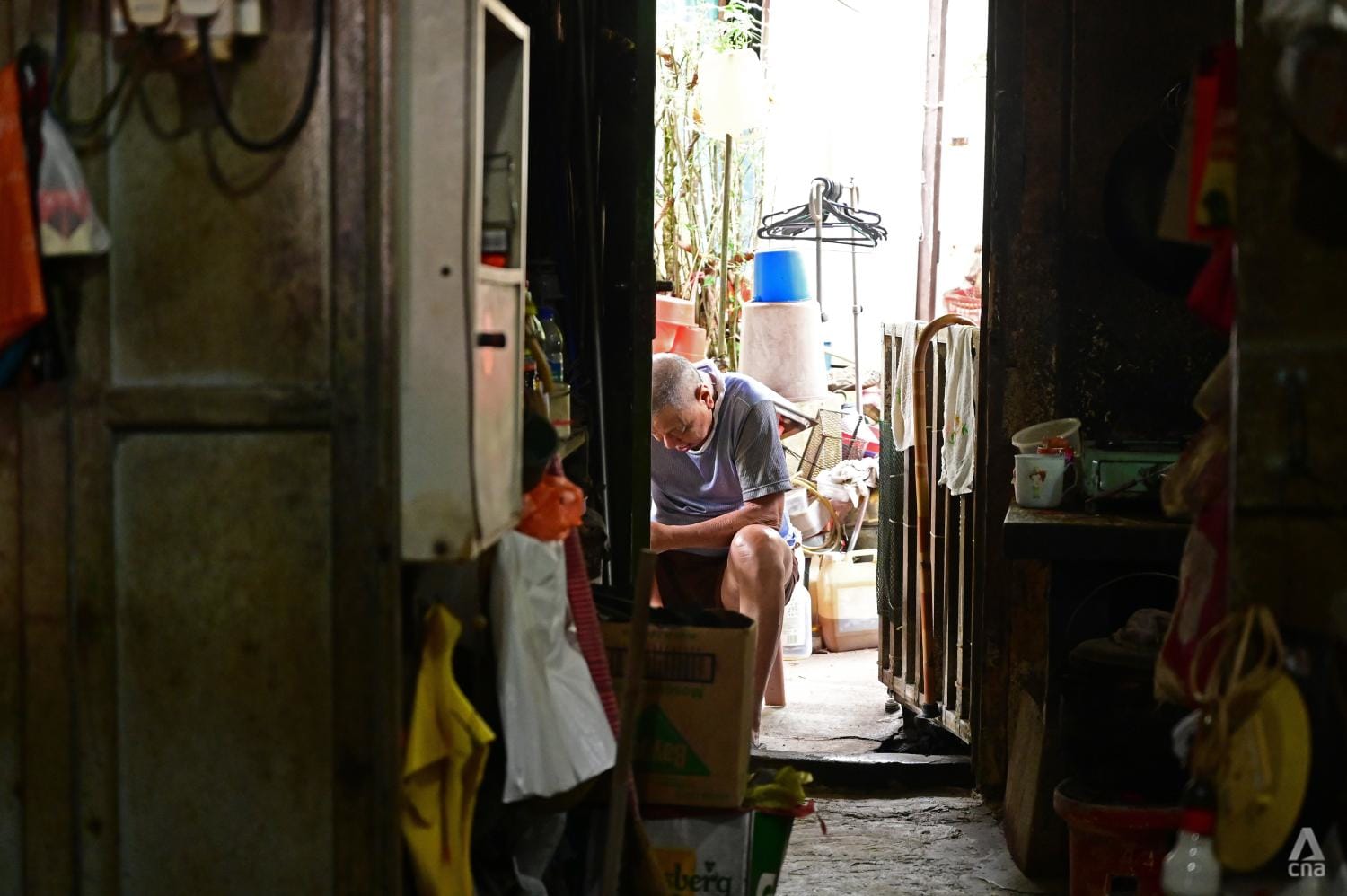 In the past, she and Mr Law would close the shop for three days while they visited their parents and relatives, but that has stopped, she said. Do they not rest then, I asked.
"We open 365 days a year … we don't rest, anyway we live here," she said with a smile. She added that they close only if they have to.
The day we visited, Mr Law could not join the interview as he was not feeling well after taking a COVID-19 booster vaccine jab. While being interviewed, Mdm Ng took orders from customers and sometimes took a break to prepare drinks or hack open a coconut.
"We get by … it's something to do in our old age, it's hard to make much," she said.
She's hale and healthy for her age, but with the couple in their 70s, is she making plans to hand over the shop?
"Not yet, if we can we will keep going, if we can't, then it can't be helped. If our children want to take over, they can. If not …"
"They have their own jobs. I think it will be hard … maybe my daughter-in-law may take over, but I'm not sure, I've not asked them. Now I can continue, so I will keep running the store."