SINGAPORE: Singapore's first satellite town, Queenstown, will soon also become the country's first Health District – aiming to support residents' well-being across their life stages, through tools such as better design and community programmes.
The goal is for the Queenstown pilot to be a "model of a healthy and active community for all ages", whose successful strategies may also be extended to more towns in future, said National Development Minister Desmond Lee, who announced the initiative on Wednesday (Oct 20).
Outlining the pilot's areas of focus, he said one aspect would be encouraging preventive healthcare, such as chronic disease screening and vaccinations.
At the same time, improving the planning and design of the HDB environment will also help residents make healthier choices, he said.
Next, to encourage "purposeful longevity", there will be opportunities for seniors to work, volunteer and participate in lifelong learning.
Developing affordable and useable technology will also be a key aspect in helping residents better care for their health, added Mr Lee.
The pilot, touted as a "first-of-its-kind collaboration", involves the Housing & Development Board (HDB), the National University Health System (NUHS), the National University of Singapore (NUS), and stakeholders across the public, private and people sectors.
WHY QUEENSTOWN?
Queenstown, first developed in the 1950s, was selected for the pilot as "its demographics closely mirror Singapore's projected national demographics by year 2030", said HDB, NUHS and NUS in a joint release.
"The town currently has one of the oldest populations in Singapore, with almost one out of every four Singaporeans aged 65 and above.
"Together with various upcoming development and rejuvenation plans for Queenstown, there are opportunities to pilot interventions for better well-being of residents, promote health-seeking behaviours, and encourage social connections," said the release.
The health district at Queenstown is bounded by Tanglin Road and Alexandra Road to the east and Clementi Road to the west. The area covers numerous health institutions such as the National University Hospital (NUH), Alexandra Hospital and Queenstown Polyclinic.
PREVENTIVE HEALTH AND PURPOSEFUL LONGEVITY
To improve access to preventive health services, on-site health screenings will be made available to residents where appropriate, while health talks will be conducted within the community.
Residents are also encouraged to sign up for the My Health Map programme via the OneNUHS app, which recommends age appropriate health screenings.
Care coordinators, working with partners such as Lions Befrienders Service Association, the Agency for Integrated Care and grassroots organisations will also help residents navigate the healthcare system.
As for purposeful longevity, residents will first be invited to "share their perceptions of what and how they envision purposeful engagement to be" so that programmes can be developed, said the release.
There will also be courses for residents on how to live a purposeful live, starting with NUS' Designing for a 100-Year Life course that is scheduled to commence before the end of 2021.
PLANNING AND DESIGN
More integrated planning and design of Queenstown will be informed by scientific evidence, said the release.
To improve physical well-being, HDB will "place greater emphasis on solutions that can encourage residents to lead active lifestyles".
One example is Queen's Arc, a recently-launched Build-To-Order (BTO) project in Queenstown, which features a jogging loop at the carpark rooftop garden, and a wellness trail and heritage walk in the area. It is also close to green lungs and healthcare institutions.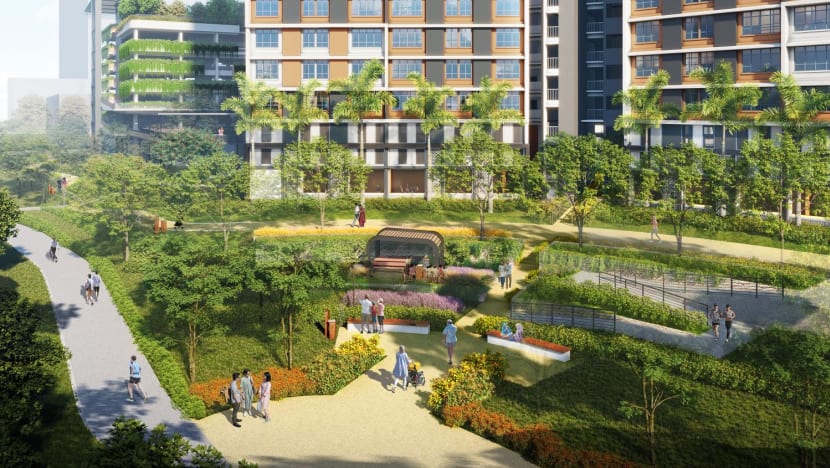 Existing neighbourhoods can also be enhanced through the Neighbourhood Renewal Programme (NRP), which could involve building fitness stations.
As for social and mental well-being, spaces will be designed to promote interactions, while also creating tranquil places, said the release.
For technology, the parties said: "We will partner with industry to test-bed and deploy relevant technology which allows people to remain independent, assists in disease prevention, and improves healthcare delivery."
A LONG-TERM PROJECT
As infrastructure projects and improvement of health outcomes take time, the pilot is "intended as a long-term project that will take many years to realise its full potential", said the release.
Mr Lee echoed this, adding that authorities "expect a lot of learning, experiments, and projects along the way".
"This will be an exciting platform for us to foster multi-disciplinary collective innovation, to improve the lives of our people together."
The Health District is overseen by the Minister of State for National Development, Tan Kiat How, Parliamentary Secretary for Health, Rahayu Mazam, and Parliamentary Secretary for Culture, Community and Youth, Eric Chua.