A walk in Singapore's nature reserve led a researcher to discover the rare flower of a critically endangered tree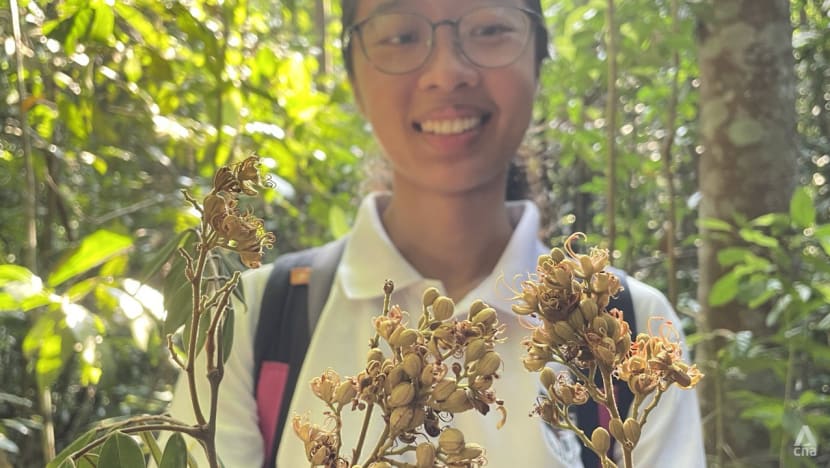 SINGAPORE: It was a stroke of luck that saw her hard work start to bear fruit.
Over the last four years, Choo Le Min has spent hours poring through old records and dried specimens of Sindora velutina to figure out when it typically flowers and fruits, as part of her research on the critically endangered tree species.
As a result, she knows the Sindora velutina like the back of her hand; from the type of fruit it produces to its ecological function.
Yet, despite her extensive knowledge, the colour and scent of the tree species' flower remained a mystery to the senior researcher at the National Parks Board's (NParks) Singapore Botanic Gardens.
These were important to know because they contain vital details which could help guide the conservation and preservation of the critically endangered tree species, said Ms Choo.
The species is very rare in Singapore and was presumed to be nationally extinct until it was rediscovered in 2019.
"From flowers, especially fresh ones, their colour, scent and shape will give you clues on what their pollinators are," she explained.
"If their pollinators are very weak fliers and can only fly short distances, it means they cannot cross-pollinate whereas, if you have very large bees that are strong fliers, they can help to pollinate the trees over longer distances," she added.
"If there's more cross pollination, it actually improves and ensures the survivability of the species because there's more mixing of the gene pool and it's not totally isolated so there's genetic connectivity."
But with just six mature Sindora velutina trees recorded here, the chances of seeing one of them flower appeared to be slim - at least that was until May this year.
While conducting fieldwork for another research, the 29-year-old suddenly found herself in the right place and at the right time.
"I looked up and noticed that something was happening in the (Sindora velutina) tree," she said.
"Usually, the form of the tree is just lots of dark green leaves, but when it's flowering, that's where you can see very large inflorescences (a group or cluster of flowers arranged on a stem)," she added.
Where the tree canopy had once been dark green, it was now covered in specks of gold and reddish-brown.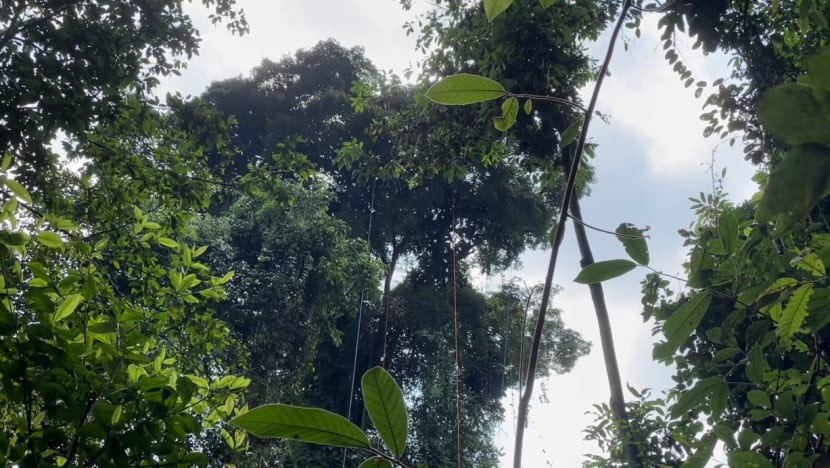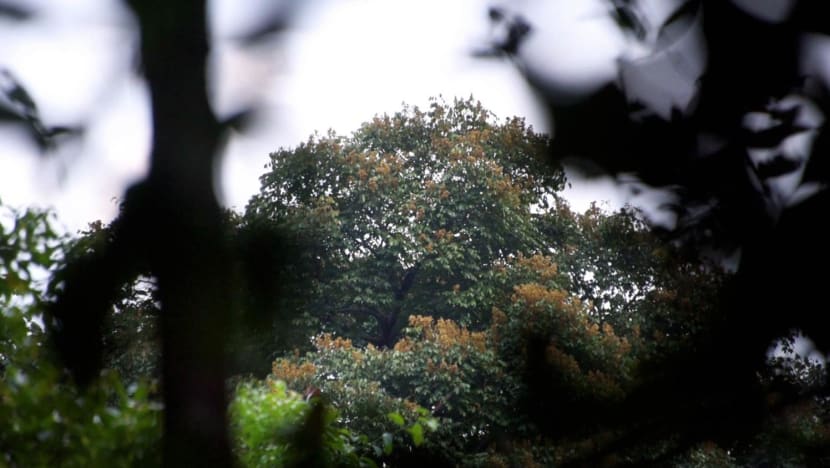 "I was very excited because it's quite rare to catch them flower," she said. "Flowering is such a big event but not very well studied and if you're not in the right place at the right time, you're just gonna miss it."
The tree - located in one of Singapore's nature reserves - is the only one out of the six which has been able to produce viable offspring. While some of the others have been observed to fruit, they did not produce any seedlings.
The location of the tree cannot be revealed as the area is not open to the public for conservation reasons.
On Friday (Jun 10), a team from NParks' Singapore Botanic Gardens harvested flower specimens from the critically endangered tree for the first time in Singapore.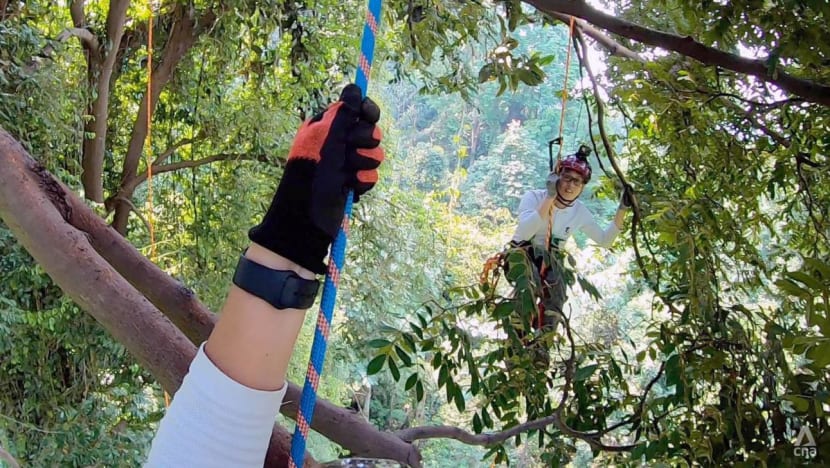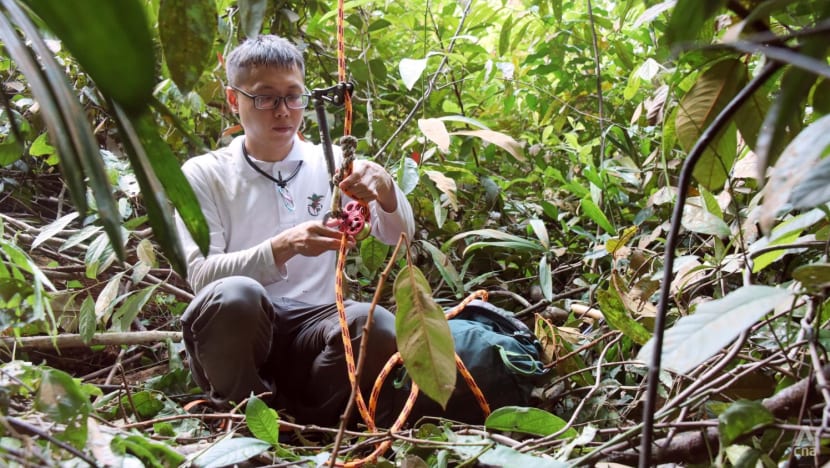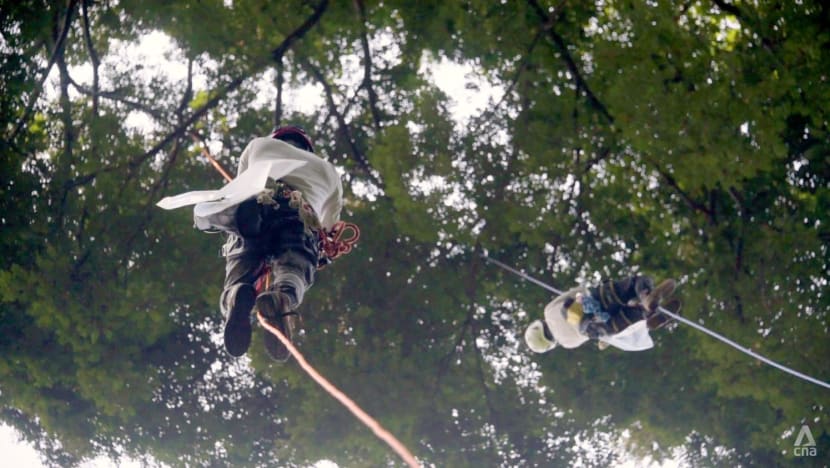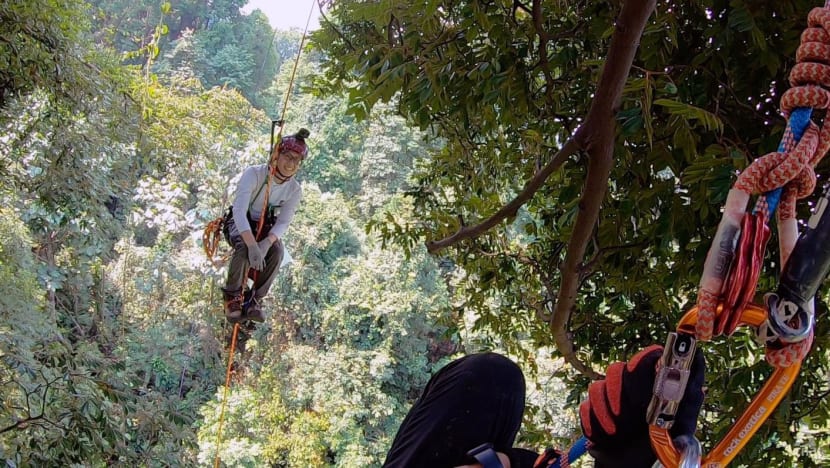 Off the beaten track and in the heat of the midday sun, a pair of arborists - equipped with a harness, helmet and climbing gear - set off on their mission to scale the 45m tree.
It took them nearly 10 minutes to reach the top, where they spent more than 40 minutes cutting off small branches bearing flowers and fruit, before safely stowing them away in giant resealable plastic bags.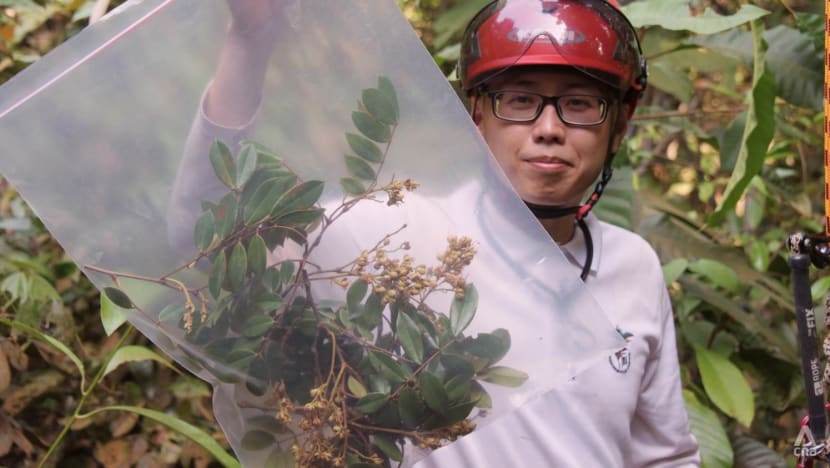 Once back on the ground, the arborists carefully handed three specimen bags to Ms Choo.
"These are very precious, we must protect them," she quipped.
While the flowers looked gold and reddish-brown from afar, a closer look revealed that they were greenish-yellow with pink stamens, which are the pollen-producing reproductive organ of a flower.
The blooms also carried a very lightly sweet and musky smell, similar to the floral scent of jasmine.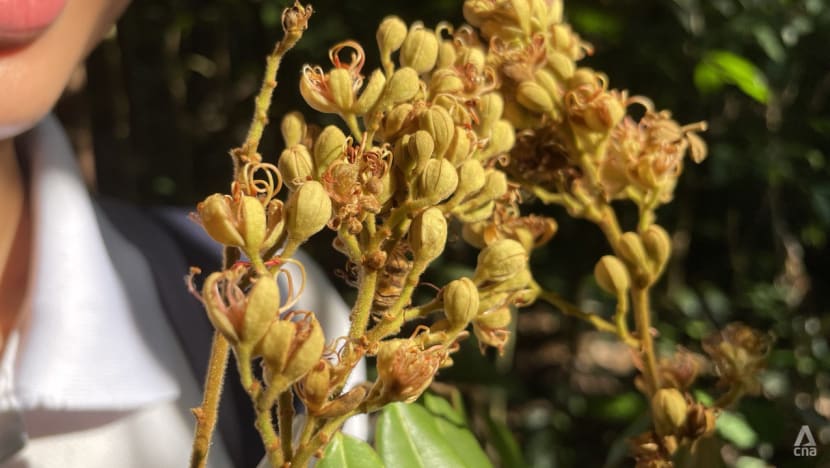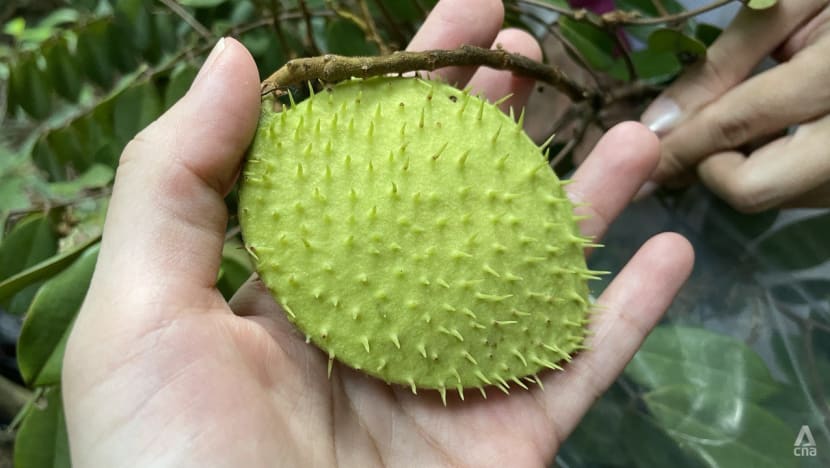 "I didn't expect to see the pink stamens, so that was a surprise and it's the first time I'm smelling this flower so I'm very excited!"
All the collected specimens will be studied by the team later. The researchers will observe and record the characteristics of the flowers, including their scent, and take photos to ensure all details are captured, said Ms Choo.
After that, the leaves will be dried while the flowers will be kept in liquid preservative for long-term storage and research purposes. Leaf specimens will also be cleaned and prepared for DNA extraction for genetic and taxonomic research.
Meanwhile, any saplings found could be harvested and sent to the Plant Resource Centre nursery of the Singapore Botanic Gardens. The saplings can then be propagated for future planting and species conservation.
"Especially for such a small habitat like Singapore, every species is important and they are all interconnected so you never know whether the loss of one species is going to have cascading effects on the whole ecosystem," said Ms Choo.
"So that's why we're trying to preserve as much of our biodiversity as possible to ensure that the ecosystem services can be provided by this forest and ensure that this is sustainable and will continue be maintained for future generations."
To date, there have been more than 2,100 recorded species of plants in Singapore.
Of these, more than 120 were discovered and published over the past five years, including some initially thought to be extinct.