Median household income in Singapore rose slightly in 2022 to S$10,099
The Gini coefficient, which measures income inequality, fell slightly to 0.437.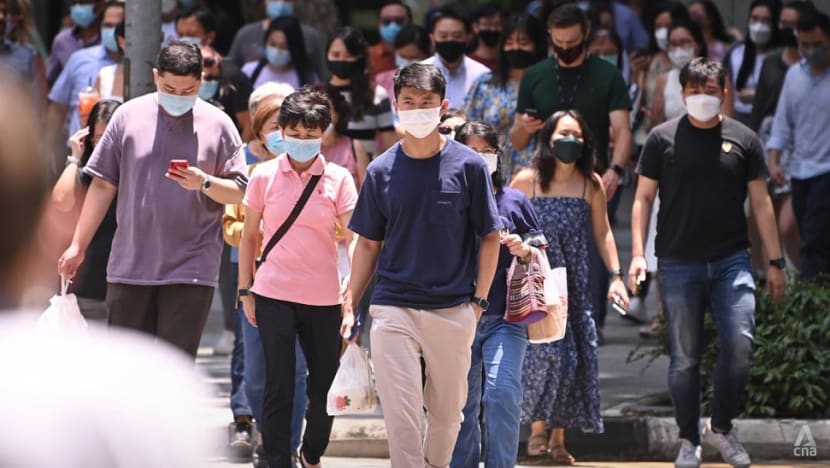 SINGAPORE: Median household income in Singapore grew 0.2 per cent in 2022 after accounting for inflation, in figures released on Thursday (Feb 9) by the Singapore Department of Statistics.
Among resident-employed households, median monthly household income from work grew by 6.1 per cent in nominal terms, from S$9,520 in 2021 to S$10,099 last year. But after accounting for inflation, the gain translated to 0.2 per cent.
For each member of the household, the median income from work per person rose 8.6 per cent from S$3,027 to S$3,287. In real terms, after accounting for inflation, this is a 2.6 per cent increase.
The rise in median income per person is larger because household size fell from 3.32 to 3.27.
All income groups saw a rise in real median income per household member, but there was a dip of 1.3 per cent for the top 10 per cent of earners. 
The report said that households in the top decile increased in size (from 2.26 to 2.34), and there was higher inflation in 2022, which contributed to the decline in their real income.
Meanwhile, households in the first nine deciles saw real income growth of 1.1 to 10.1 per cent, with lower income groups experiencing larger increases.
Nominal Average Monthly Household Income per Member by Income Group

| Decile | 2022 |
| --- | --- |
| 10th | S$14,354 |
| 9th | S$7,493 |
| 8th | S$5,578 |
| 7th | S$4,447 |
| 6th | S$3,634 |
| 5th | S$2,976 |
| 4th | S$2,400 |
| 3rd | S$1,864 |
| 2nd | S$1,347 |
| 1st | S$689 |
Income inequality fell with the Gini coefficient dropping to 0.437, from 0.444 in 2021.
After adjusting for government transfers and taxes, the Gini coefficient in 2022 is 0.378, the second lowest on record. 
The Gini coefficient, a measure of income inequality, is equal to zero in the case of total income equality; a value of one means total inequality.
This is as government transfers rose in 2022, with resident households getting S$5,765 per household member on average in 2022. 
This was higher than the $5,257 received in 2021, due to support measures to cushion the impact of the GST rate hike and inflation.
Those staying in HDB 1- & 2-room flats continued to receive the most government subsidies, at S$12,189 per household member on average.
RISE IN INCOME OVER 5 YEARS
Real median household income rose 2.9 per cent from 2017 to 2022, or 0.6 per cent per year.
Calculated per household member, the total increase is 11.9 per cent over five years or 2.3 per cent a year.
Data over the past decade showed that income growth has slowed compared with the five years before.
Income per household member from 2012 to 2017 was about double the rate in the last five years, at 22.9 per cent in real terms. The change per year over that period was 4.2 per cent.
The paper focused on resident households with at least one employed person with data covering only income from work. These constituted 87.5 per cent of all resident households in 2022. 
Of the remaining resident households, 7.6 per cent were retiree households, of people aged 65 years and over who were non-employed.