MOE looking into case of driver seen pushing back security officer with his car at Red Swastika School
The Union of Security Employees has condemned the incident, calling it an "act of aggression" against its officer.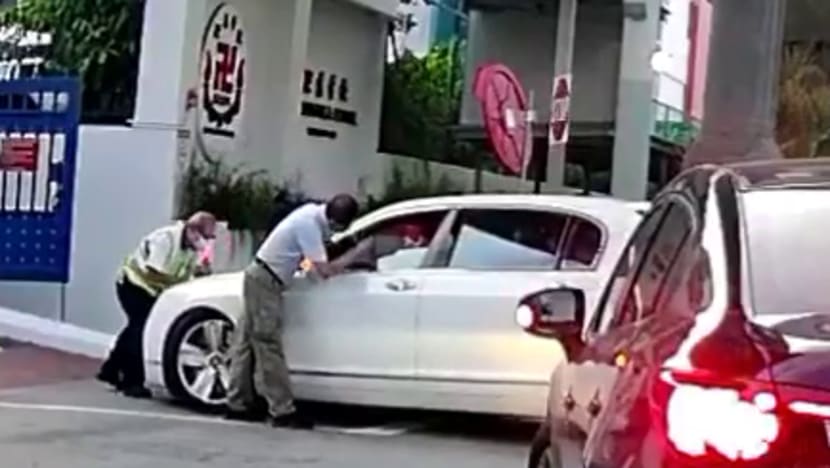 SINGAPORE: Authorities are looking into an incident involving a driver who was seen pushing back a security officer with his car at the entrance of Red Swastika School in Bedok.
A video circulating online on Tuesday (Jan 11) shows a white car that was stopped from entering the school. The driver inched forward several times, pushing against a man standing in front of it. 
"It has come to my attention that there is a video circulating on social media, showing a driver trying to enter a school and even using his car to engage in dangerous manoeuvres against a security officer and a school staff," Education Minister Chan Chun Sing wrote on Facebook.
"This is unacceptable behaviour. This is not the way we should behave towards our security and school personnel who are performing their duties to keep our schools and our children safe," he added.
In the video, a man in white is seen talking to a person standing next to the car.
As the person returns to the vehicle, the car starts inching forward while the man tries to stop the vehicle. Another man, wearing a reflective vest, tries to stop it from moving as well but the car continues to move forward, pushing him back.
"We are looking into the case and will not hesitate to make a police report if warranted," Mr Chan said.
"As adults, we should set a positive example for our children in how we treat others with respect and abide by the rules that are in place for the collective security of our school community."
The incident sparked criticism from the Union of Security Employees (USE) and the Security Association of Singapore. 
In a Facebook post, USE said it is aware of an incident "involving a motorist threatening to run over a school security officer", adding that it condemns the "act of aggression" against its officer.
The union initially said that the vehicle did not have a valid car label to enter the school.
It updated its post later, saying: "The motorist had a valid label to enter the school but had cut the queue of cars waiting to enter and moved his vehicle dangerously even when the officer was standing in front of the vehicle."
The security officer has been identified as Mr Neo Ah Whatt. He suffered slight injuries and is recovering at home, said USE.
"The union is very disturbed by this case of physical abuse. It is particularly egregious given that a car was involved," it added.
"The anger from the community and on social media is fully justified because of how the driver had endangered (Mr Neo's) life.
"We urge everyone to respect our security officers for the important job they do. Do not abuse our officers. We have filed a police report and will offer our full assistance to the police."
Union representatives have visited Mr Neo at home with "some relief vouchers and nourishment", added USE.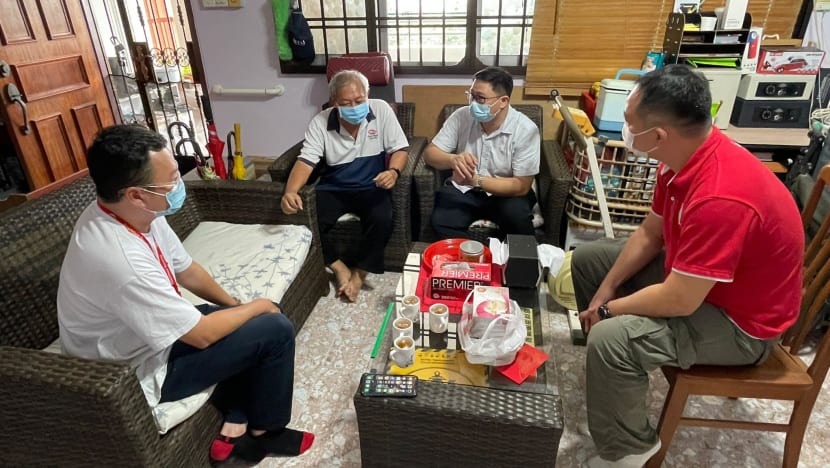 Security Association of Singapore president Raj Joshua Thomas said the association is aware of "what appears to be an attempt to intimidate and harass the officer".
"The behaviour of the driver of the white vehicle in the video is utterly deplorable," said Mr Thomas, who is also a Nominated Member of Parliament.
Mr Thomas said security officers' duties include "ensuring that only authorised persons and vehicles enter the premises they are protecting, and in an orderly manner". He called on the public to cooperate with them.
"It is completely unacceptable for members of the public to try to get their way by bullying, intimidating, causing physical harm to or in any other way harassing officers while they are performing their duties," he said in a statement.
Mr Thomas noted that the Private Security Industry Act was amended last year, making it a criminal offence to harass and abuse security officers while carrying out their duties and imposing higher penalties.
"It is therefore surprising that this extreme incident of abuse has occurred so quickly on the back of the amendments," he said.
The police said later on Tuesday afternoon that a 61-year-old man had been arrested.