Singapore tops Southeast Asia in seeing different religions as compatible with society: Survey
Singaporeans are also far less likely than others in the region to emphasise nativist elements – like being born in the country – when defining national identity.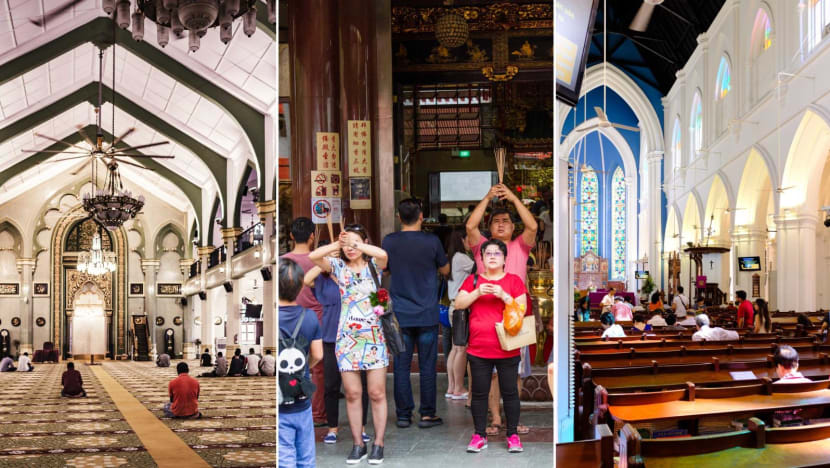 A survey by the Pew Research Center found that Singaporeans came out tops in the region for viewing different religions as compatible with the national culture and values
Singapore was also the only country surveyed to have substantial numbers who change religions in their lifetime
SINGAPORE: Singaporeans have come out tops in Southeast Asia for being most likely to see different faiths as compatible with their country's culture and values, as a measure of religious tolerance.
A study by the American think-tank Pew Research Center, released on Tuesday (Sep 12), also found that Singapore was the only country with a sizeable share of adults whose religion changed in their lifetime.
The survey was conducted across six countries – Cambodia, Indonesia, Malaysia, Singapore, Sri Lanka and Thailand. It captured responses towards various faiths, namely Buddhism, Islam, Christianity, Hinduism, Chinese traditional religions and local beliefs or indigenous religions. 
More than 2,000 people were surveyed in Singapore. On several measures of religious tolerance, Singaporeans expressed broadly accepting views towards other groups, the study found.
Almost 90 per cent of Singaporean adults said Islam, Christianity, Hinduism, Chinese traditional religions and local beliefs or indigenous religions were compatible with Singapore's culture and values.
This survey question did not ask about each country's predominant religion - which is Buddhism for Singapore.
Around 30 per cent of Singaporean adults identify as Buddhist; it was the only nation surveyed where no single religious group forms a majority.
The findings in Singapore outstripped proportions in other countries surveyed, where the majority religion is either Buddhist or Muslim. 
The study also identified a trend of religious switching in Singapore. In all other countries surveyed, nearly all adults still identify with the religion in which they were raised.
But in Singapore, a sizeable share of 35 per cent indicated that their religion had changed during their lifetime.
"This 'religious switching' has led to declines especially in the share of Singaporeans who identify as Buddhist or as followers of Chinese traditional religions, and to increasing shares who are Christian or religiously unaffiliated," stated the Pew study.
Thirty-two per cent of respondents said they were raised Buddhist, but only 26 per cent currently identify as Buddhist. And while 15 per cent of respondents said they were raised following Chinese traditional religions, only 6 per cent currently do.
In contrast, while 11 per cent were raised Christian, those currently practising number 17 per cent. The proportion of people raised with no religion was 13 per cent, but 22 per cent of the respondents currently have no faith.
MARKERS OF NATIONAL IDENTITY
Pew also looked at how religion and other markers of identity intersected with national belonging.
In Singapore, respondents were asked whether various identity markers were very important to being part of the nation.
These included having been born in Singapore, being part of the majority ethnic group (Chinese) and being a member of the main religious group (Buddhism).
"Singaporeans are far less likely than others in the region to emphasise these nativist elements to national belonging," the study found.
Almost 40 per cent of respondents in Singapore thought being born here was very important to national belonging, compared to more than 70 per cent in the other countries.
Ethnic Chinese constitute nearly three-quarters of Singapore residents, according to the country's 2020 census.
But only 27 per cent of respondents thought it was very important to speak Singapore's "national language" - which Pew gave as Mandarin, although the country's Constitution defines Malay as the national language. English, meanwhile, is the medium of instruction in schools and the working language for businesses and government.
Even fewer thought being Chinese and being Buddhist were very important – 19 per cent and 13 per cent respectively.
Singapore also had the highest proportion – 38 per cent – who disagreed that their national culture was superior to others. Only 61 per cent thought that Singapore's national culture was superior.
In contrast, 76 per cent in Thailand, 89 per cent in Indonesia, 91 per cent in Malaysia and 93 per cent in Cambodia believed that their national culture was superior to others.
WHAT THOSE WITH NO RELIGION BELIEVE
The Pew survey mirrored trends in Singapore's 2020 census, which found a growing proportion of residents who have no religion.
But Pew also found that those who do not have a religion did not completely disavow religious or spiritual beliefs and practices.
Instead, 65 per cent thought that karma existed; 62 per cent believed in God or "unseen beings"; and 43 per cent believed that the presence of a deceased relative could be felt.
When asked about planning a funeral for a loved one, about half said it would be important to set up an altar and to perform rituals in temples, for the soul of the deceased.
The study found that for a number of practices, there was no pattern in which more education was associated with lower levels of belief.
"For instance, belief in karma is roughly the same within each country, no matter a person's level of education. And people who have more education are more likely than other adults to say they think there are unseen beings in the world, like deities or spirits," the study stated.
In Singapore, researchers found that 76 per cent of university-educated adults believed there are "unseen beings", compared with 65 per cent of other respondents.