At Woodlands, remote-controlled car enthusiasts find a rare space to race their stress away
The remote-controlled car scene in Singapore has grown in recent years, but enthusiasts tell CNA that they are hampered by shrinking public spaces and erratic weather conditions.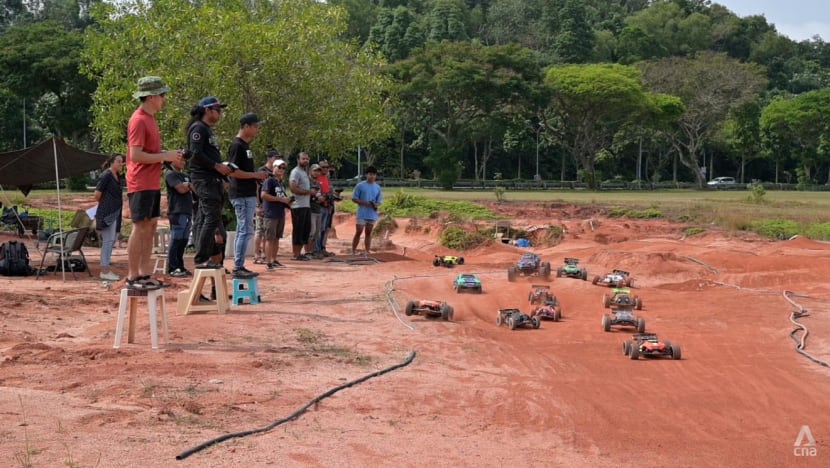 SINGAPORE: Several vehicles speed around a track, kicking up dust and drawing raucous cheers from people nearby.
The race barely falters when a car collides with another. It ends up flipping several times, then ploughs into a truck and comes to a standstill.
Despite the carnage, only the pride of the vehicles' controllers is injured. They step onto an elevated portion of the track and adjust their vehicles before the race kicks off once more.
This was the scene of a remote-controlled car off-road session along Rosewood Drive in Woodlands on a Sunday morning earlier this month.
Only three racers were there when CNA turned up at 9am, but the number steadily grew to about 15 as the hours passed and the sun's heat grew more intense.
The makeshift remote-controlled car race track, unofficially named Woodgrove RC Plains, sits on a publicly accessible hilly field and is surrounded by private residential homes. The patch of field where the track is has been naturally stripped of grass at most places, lending a rugged — and bright orange — look to the area.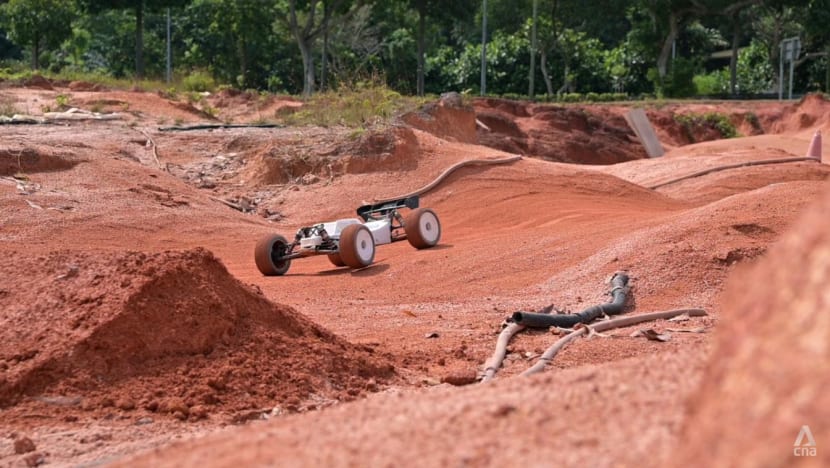 Remote-controlled vehicle enthusiasts told CNA that while the community was still relatively small a few years ago, it has expanded in recent times, especially after the COVID-19 pandemic. Social media has also boosted interest.
However, they cited concerns such as a lack of open spaces in Singapore and more erratic weather that affects whether they can play.
They added that the Woodlands field is also slated for development in the future, though there is one other open space close to the Lorong Halus Wetland in the northeastern region of Singapore.
WHAT ARE REMOTE-CONTROLLED VEHICLES?
Remote-controlled vehicles fall into two categories: Toy and hobby. The latter is what the community primarily races, and players control them with a transmitter.
These vehicles come in varying types and can cost hundreds — or even thousands — of dollars, depending on the model and what upgrades someone wants to invest in. This includes upgrading the engine, swapping out the wheels or changing the batteries.
Enthusiasts in Singapore flock to a handful of shops around the island or buy parts online.
While some at the Woodlands session have been racing remote-controlled vehicles for up to two decades, many are also relatively new to the scene. This has led to sizeable growth in the community in the past few years.
Mr Mohammed Raqesh Mustafa, who runs a Facebook group dedicated to the remote-controlled vehicle scene in Singapore with close to 2,000 members, first got into remote-controlled cars in the mid-2000s.
The 46-year-old then rejoined the community in early 2020 after seeing a friend post about it on social media. The father-of-two now owns more than a dozen remote-controlled cars, which he stores in his flat along with the Star Wars figurines he collected over many years.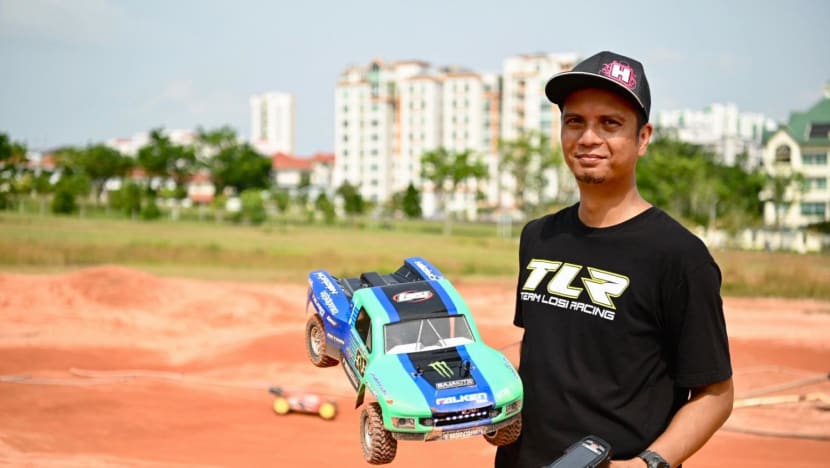 Mr Raqesh told CNA that only a handful of people would show up during their weekly Sunday sessions then, but that has grown to between 10 and 40 depending on the weather. Others race on Saturdays or even weekdays after work.
The WhatsApp group he runs has also grown to more than 70 people since he started it in October last year.
As the owner of a debt solutions company, Mr Raqesh said he loves helping people get out of debt but this involves "a lot of stress", with some clients occasionally on the verge of suicide.
When he races remote-controlled cars, all that stress from work melts away.
"It's an outlet for me," he elaborated. "I find it therapeutic, I find it fun. I enjoy getting together with all my friends here to play."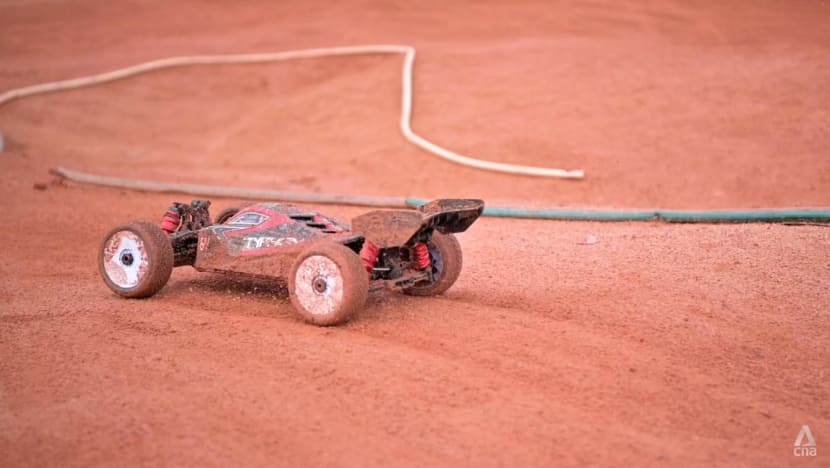 A single racing session usually lasts about three to four hours, he added. The hobbyists stand on stools to view the track from a higher perspective, manipulating their vehicles with radio controllers and bantering as they attempt to overtake one another — the main aim of their race.
The "route" at the Woodlands track is marked out by hoses, cones and tyres laid on the ground. Because the track features several natural humps, the remote-controlled cars are able to soar in the air as they go around the circuit.
At any one time, there are usually at least five remote-controlled cars racing one another. The sound drowns out that of real-life vehicles travelling along the Seletar Expressway, located right next to the field.
After the session, most of them hang around to chat under the shade of trees or a makeshift shelter they set up, which can be easily dismantled.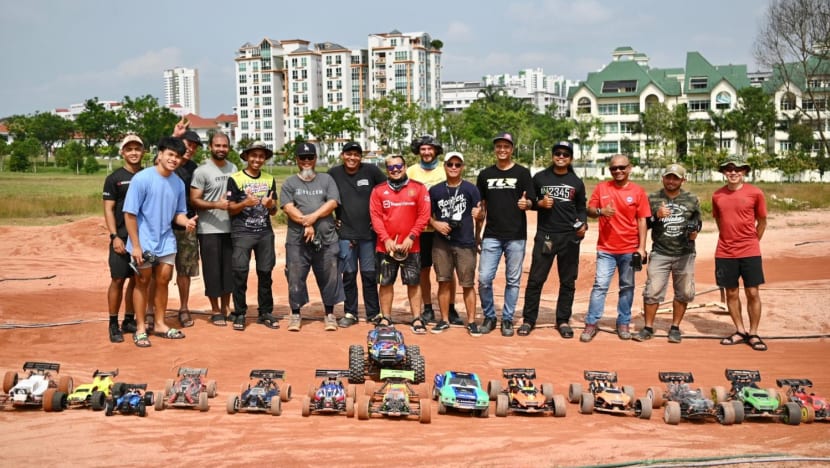 Mr Raqesh and others said that the authorities have mostly not bothered them so far unless ramps or permanent structures are installed at the tracks.
They added that over at Woodlands, nothing has been done to alter the landscape except for some light maintenance, such as compacting the soil with a shovel when rainfall loosens it.
In October last year, the Singapore Land Authority issued a letter ordering the removal of "unauthorised radio-controlled tracks and other items" at the Lorong Halus track, located at Pasir Ris Coast Industrial Park 6. It was a brief and rare bout of trouble for the community.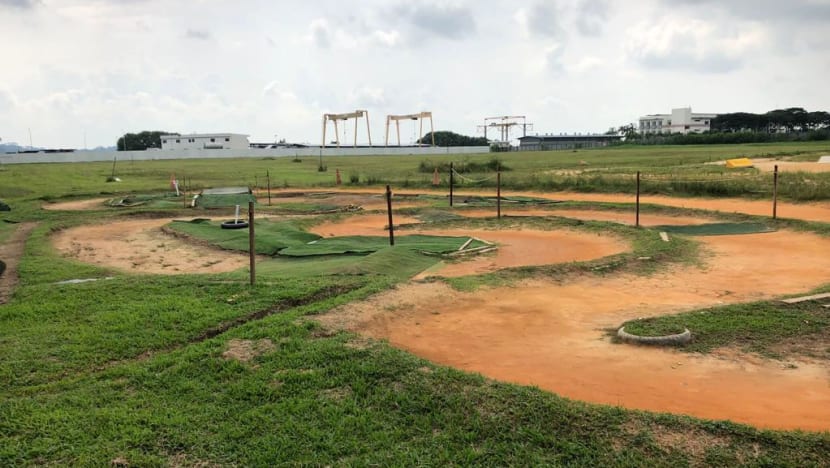 Nevertheless, such incidents highlight the problem of finding suitable off-road spaces to race remote-controlled cars.
Mr Mohd Razib Abdul Rahim, 64, has been in the community for more than two decades and witnessed how open spaces in Singapore have dwindled over the years.
The motor workshop owner first began racing remote-controlled cars on tarmac, which was popular at the time.
As time passed and the space "became not enough", he switched to off-road remote-controlled vehicles so he can play at Woodlands or East Coast Park when his family goes there for picnics.
When CNA met him, he had brought along the largest vehicle among everyone there, though he jokingly confessed that he did not know exactly how heavy it was.
For another enthusiast, 48-year-old Faizal Kamis, regulations were what made him turn to remote-controlled car racing. 
Mr Faizal, who works as an audio-visual executive, said that he first got into remote-controlled planes and drones more than 20 years ago.
When drones became more popular and the authorities here imposed stricter laws on flying unmanned aircraft in certain areas, he got into remote-controlled cars instead.
Mr Faizal helps to maintain the Woodlands track and was one of the first few to discover it. The track had previously been used by those playing remote-controlled crawlers, which are slower and sport much larger wheels, among other differences.
Mr Raqesh said that he hopes their tracks can last. "Because seriously, in Singapore, there's very, very little space and place to play," he noted.
"I think we need more space because RC is not only for us adults. We bring our kids, play together, it's a family-bonding thing, and to me, it's a very healthy thing. Hopefully, the Government gives us an actual fixed place for us to really make the ramps we want."
Mr Raqesh added: "In Malaysia and even in the US, the tracks are really cool, really big. And the ramps, wow, (the remote-controlled cars) can fly so high. Sometimes when we see that, we are jealous because we really can't do it here."
The community has been asking "relevant organisations" to have a designated place for remote-controlled car racing, but this is still in the works, he said.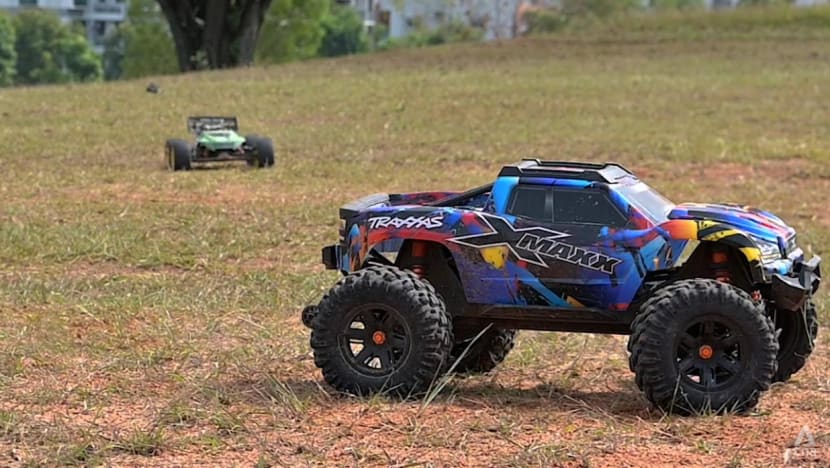 Aside from space issues, Mr Raqesh said that wet weather has ruined many plans for them, as is the case with any outdoor activity. Muddy tracks can also cause harm to remote-controlled cars.
When Singapore experienced unusually wet conditions at the end of last year, the group could not meet weekly. CNA had to cancel two scheduled interviews on Sunday mornings in December due to the rain. A relatively dry start to 2023 then brought everyone out again.
Despite all this, the fun of racing remote-controlled cars has more than eclipsed these challenges, the enthusiasts said.
Many turn up at Woodlands to take a gander and end up joining the community, said Mr Raqesh.
"I really recommend it to everyone. Come here, have fun."
Mr Razib has got two of his sons, now aged 18 and 20, hooked on the hobby as well.
This gives them the chance to hang out during weekends as the younger men are not usually home on weekdays — one is a student at the Institute of Technical Education, while the other is a full-time national serviceman.
Mr Razib said: "It's good also because I will ask them, how is your schooling? Everything is good? Any personal problems? From there, we have close communication with each other.
"That's the thing I like most."