4-day work week tough for some F&Bs, but other benefits on offer to attract workers
Most F&B operators that CNA spoke to said a four-day week is not feasible, citing a lack of staff and rising costs.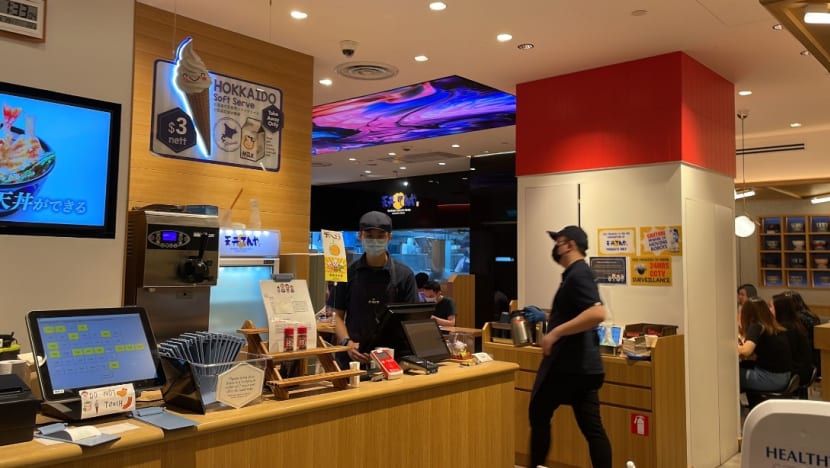 SINGAPORE: Some food and beverage operators may be dangling a four-day work week to attract talent, but most are finding it a challenge to offer such benefits in the face of limited manpower and rising costs.
Instead, these firms have turned to other benefits to attract talent in a competitive labour market where applicants usually go for F&B jobs offering higher wages. Staff in the industry have long had to contend with long and irregular work hours in physically demanding jobs, in addition to low pay. 
A shorter working week for F&B staff came into the spotlight after Japanese fast-food chain Tenya cut its work week to four days. Tenya said it quickly filled eight positions when it made the switch, when before, it often did not get any applicants when it advertised for jobs, the Straits Times reported.
A franchise of Japan's Tempura Tendon Tenya, the chain implemented the change on Jul 4 after months of discussion, its operations manager Chrisantra Sim told CNA.
The company wanted to improve its employees' work-life balance and reduce fatigue, she said, adding that Tenya staff are now happier and productivity is higher.
"Three days off can give them ample rest and (allow them to) spend more time with their loved ones. With more rest we believe that service standards and quality will increase," said Ms Sim, 42. 
Four-day weeks apply to its rank-and-file staff, who clock around 44 hours a week, a reduction from the previous 50 to 55 hours under five-day weeks. 
Tenya currently uses part-timers to ensure its two outlets are manned during opening hours and is in the process of hiring more people. 
While the outlets are still trying to manage scheduling difficulties due to a shortage of staff, Ms Sim said a four-day work week is "here to stay". 
"It has managed to be not just beneficial but also sustainable in the long run, proven by our desired results - staff wellness." 
FOUR-DAY WEEK "MORE TIRING"
Other F&B employers that CNA spoke to said it is difficult to implement a shorter work week, with most citing a lack of manpower as the main challenge.
One restaurant that tried out a four-day week did away with it in less than a year.
The Social Outcast, which sells woodsmoked and charcoal-grilled fare at The Grandstand, told CNA that after a close to 10-month trial, employees requested to return to a five-day week.
Founders Noelle Chua and Aminurrashid Hasnordin said staff complained they were more tired with three staggered days off in a week. 
"Your body start-stop (is) irregular, and your productivity and output is not there. The chef comes back and is like, 'Oh what am I supposed to do? I was here and I was not here'," said Mr Aminurrashid, 42.
He said it was impossible to give three-day breaks in a continuous block due to a shortage of staff and the restaurant's opening hours. 
The restaurant opens five days a week from Wednesday to Sunday, giving its staff a break on Mondays and Tuesdays. Staff work 44 hours a week, the same as when the eatery had a four-day work week. 
A four-day work week would be possible if the restaurant only opened on those days. But they would not be able to cover costs if the restaurant operated just four days a week, Mr Aminurrashid said. 
Lack of manpower is another challenge, as some employees did not stay long once they found another job that offered higher pay, he said. 
Co-founder Ms Chua said she would not want to cut staff's salaries in exchange for a shorter work week. This would not work in the F&B industry where workers are attracted by higher pay, the 31-year-old said.
OTHER BENEFITS
Some F&B employers who are not ready to implement a four-day work week told CNA they have other benefits in place to attract talent. 
Upcoming gelato cafe OnlyCreamery said it would not implement a four-day week in its first year, but offers perks such as quarterly salary increments, annual wage supplements, meal allowances and staff discounts.
Run by former OnlyFans content creator Titus Low, 23, the cafe made headlines after putting out a job listing for operation managers offering a salary of up to S$4,500 a month. Apart from Mr Low, who is the cafe's marketing manager, OnlyCreamery is managed by Mr David Hoon, 32, Mr Edmund Ang and Mr Justin Heah, both 30, who are in charge of operations and food production.
Asked about the salary offered, the management team said: "We want to attract talent, nurture potential talent, treat them well and grow with them in the long term. In other words, we want to hire motivated people who are really committed to the job." 
The cafe's full-time staff will work five- or six-day weeks with seven- to eight-hour shifts.
A four-day work week is not yet under consideration because "we need to work hard" to build the operations and ensure the business is sustainable, it added.
Once the business stabilises, the management said it will consider implementing a four-day work week, in balance with priorities such as sufficient manpower, happy employees, a supportive environment and satisfied customers. 
OnlyCreamery is pending approval from the authorities before its Chinatown outlet becomes operational later this year. 
EN Group, which runs Japanese eateries including Aburi-EN, Monster Curry and Chura Sushi Bar, told CNA it would only consider a four-day week if a sustainable business model is found without increasing costs for consumers. Full-time staff now work a five-day week. 
Reducing the number of work days would raise costs that would eventually be passed on to customers, resulting in an unsustainable business model, managing director Raymond Ng, 55, said.
He highlighted that even though EN Group's staff work a five-day week, they clock a total of 44 hours a week – the same as Tenya with a four-day week.
EN Group estimates that it would need to increase manpower by 20 to 30 per cent if staff worked a four-day week. 
Instead, the firm, which plans to expand overseas, will offer employees the opportunity to train outside of Singapore. The company will also continue to pay out yearly bonuses and give staff the chance to train across its different brands.
Mr Blake Chan, 34, the chief operating officer of Buey Tahan See-food, said that the restaurant might trial a four-day work week, but that the business would need to hire another 10 employees. 
Its staff currently work a five-day week of up to 44 hours, he said, and entry-level applicants are offered a slightly higher starting salary of S$2,400 compared to the market rate. 
Mentai-ya, a Japanese cuisine chain which has six hawker stalls and two cafes, said it supports staff work-life balance by having shorter operating hours rather than shorter work weeks.  
Mentai-ya closes at 8.30pm so that workers can return to their families before 10pm, said owner Khoo Keat Hwee, 35. The company also offers a 13th-month bonus, and a mid-year bonus for staff when the company does well. 
At the end of the day, the number of work days is just one of many benefits that staff consider, noted Mr Khoo. 
"We focus more on work happiness and personal life and personal development," he said. "And I just (have to) be a good leader that takes care all of them well and be honest and direct with them. Treat them like my family, brothers, sisters."