Retiree admits causing Tampines flat fire by dropping lit cigarette on kerosene-covered floor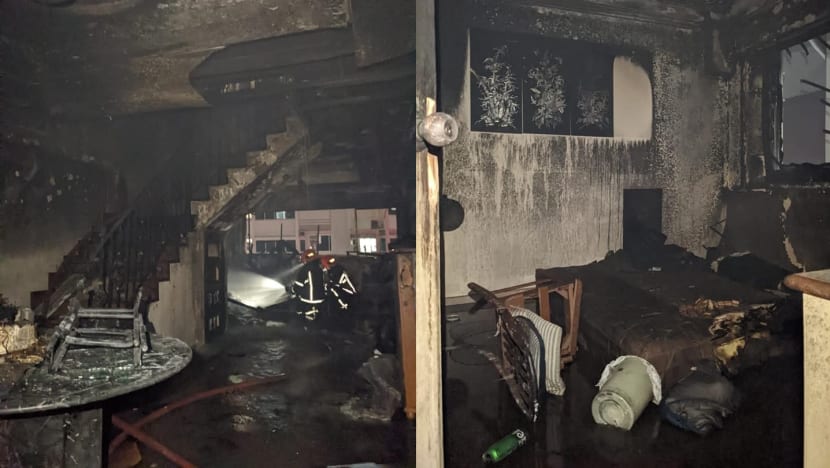 SINGAPORE: A retiree pleaded guilty on Tuesday (Jan 17) to dropping a lit cigarette on a kerosene-covered floor, sparking a fire that spread to other parts of his Tampines flat and costing the town council about S$20,000 in repairs.
Loh Fu Wah, 63, pleaded guilty to one count of negligently causing a fire, which occurred at Block 941, Tampines Avenue 5 last January.
The court heard that Loh, a Singaporean, was diagnosed with Parkinson's disease around April 2020.
He was assessed to have depression due to his diagnosis and was started on anti-depressants. However, he continued to have a persistent low mood.
On Jan 28, 2022, Loh used kerosene to clean his flat. He drank alcohol while cleaning as he felt depressed and lonely, court documents stated.
At about 10.15pm, he sent a message to his family's WhatsApp chat group saying goodbye and that he loved them.
Loh then smoked a cigarette in his room. He dropped the lit cigarette on the floor as he felt tired, even though he was aware there was kerosene on it and a risk of fire.
The flat caught fire within minutes, damaging the rooms, the common corridor outside, the building facade and a sheltered walkway roof on the ground floor due to fallen debris.
Firefighters broke into Loh's locked bedroom and found him lying unconscious on the floor.
AFTERMATH
Loh was hospitalised for smoke inhalation and warded in the intensive care unit.
He was then admitted to the Institute of Mental Health (IMH) on Feb 4, 2022, and remained there until July that year.
A medical report stated that Loh suffered from depression secondary to his diagnosis of Parkinson's. 
The doctor found a contributory link between the mental illness and the offence, but said Loh was fit to plead in court.
On Tuesday, Loh walked slowly into the court and was allowed to sit due to his medical condition.
The prosecutor asked for a pre-sentencing report assessing Loh's suitability for a mandatory treatment order. Such an order directs an offender suffering from certain psychiatric conditions to undergo psychiatric treatment.
In mitigation, Loh said very softly that he just wanted to plead for leniency. He was accompanied by his sister in court.
JUDGE SPEAKS TO ACCUSED
District Judge Eugene Teo told Loh he was concerned about two things, including his previous history of compliance with medication.
"I would like the IMH psychiatrist to consider this aspect carefully in establishing if you are suitable for treatment," said Judge Teo.
The second concern he had was about Loh's degree of "insight" into his actions, "meaning to say, how much are you taking responsibility for your actions".
"There are reasons to be concerned that you are still trying to maintain a distance from yourself and your actions," said the judge. 
"I highlight this because I want you, during your sessions with the psychiatrist, to be forthcoming with them about what you are going through."
He told Loh that his prospects of being successfully rehabilitated are low if he is not candid with the psychiatrist.
"You have never been imprisoned before and we are trying to keep you out, that's why we are asking you to go for this assessment," said Judge Teo.
He also told Loh that Loh has "some reconciling to do" with his family members.
The case will be heard again next month.
Where to get help:
Samaritans of Singapore Hotline: 1767
Institute of Mental Health's Helpline: 6389 2222
Singapore Association for Mental Health Helpline: 1800 283 7019
You can also find a list of international helplines here. If someone you know is at immediate risk, call 24-hour emergency medical services.