CNA Explains: Retrenched in Singapore? Know your rights
Does your employer need to pay severance? Does being unionised help? CNA answers your questions on being laid off in Singapore.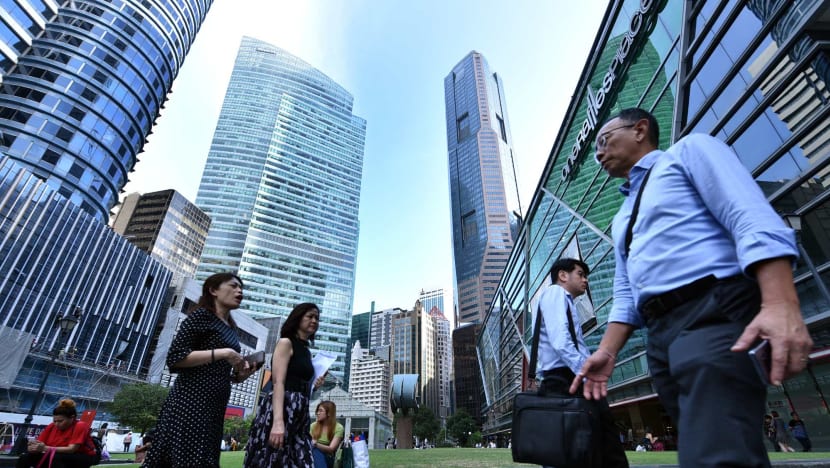 SINGAPORE: Recent mass layoffs in the technology sector have put hundreds in Singapore out of work, and left them dealing with the aftermath of being abruptly asked to pack up and go.
For those who worked at multinational corporations, there could be added uncertainty over how manpower decisions made by global headquarters outside of Singapore take effect here.
In the case of Twitter, affected workers in the Singapore office told CNA that the severance pay they were offered was below what the social media giant's owner Elon Musk had said employees would get.
There was also confusion over a company-wide email Musk sent to employees - telling them to either click a link confirming they wanted to be part of Twitter or to collect their severance pay - and whether such a move has force in Singapore.
CNA spoke to lawyers about protections in the event of retrenchment.
What legal protections are there for retrenched workers in Singapore?
Singapore's law provides limited protections for retrenched workers and is generally seen as more friendly to employers, according to multiple employment lawyers.
For example, retrenchment benefits are not mandatory here.
"There is no overarching law which enshrines statutory protections for retrenched workers," said Mr Clarence Ding, partner at Simmons & Simmons.
"The most that we have is Section 45 of the Employment Act 1968 and the Tripartite Advisory on Managing Excess Manpower and Responsible Retrenchment."
The Employment Act is Singapore's main labour legislation. Section 45 says that "no employee who has been in continuous service with an employer for less than two years is entitled to any retrenchment benefit".
This applies to employees in non-managerial and non-executive roles whose salaries do not exceed S$2,600 a month, and workmen whose salaries do not exceed S$4,500 a month.
The provision seems to limit any retrenchment benefit rather than accord it, said Ms Muntaz Zainuddin, partner and head of the employment practice at IRB Law. But she added that reading "between the lines" indicates an employee of more than two years should receive some form of benefit.
The Employment Act also stipulates the minimum period of notice to be given when terminating employees. It entitles employees to be served their contractual notice period or be paid salary in lieu of notice.
Employers are also legally required to notify the Ministry of Manpower (MOM) of any retrenchments, within five working days after the affected employees have been informed.
Meanwhile the Tripartite Advisory on Managing Excess Manpower and Responsible Retrenchment is issued by MOM, the National Trades Union Congress and the Singapore National Employers Federation. It has no legal force.
It advises employers to consider cost-saving measures before resorting to retrenchment, and encourages consideration of "objective selection criteria", "maintaining a strong Singaporean core" and "clear communication and notification" as part of "responsible retrenchment".
On support for retrenched workers, the advisory says that "employers' ability to pay retrenchment benefit depends on their financial circumstances at the point in time", and encourages them to pay a "reasonable sum".
It sets out a recommended range of two weeks to one month of salary for each year of service, for employees with at least two years' service.
Those who have worked for a shorter period could be granted an "ex-gratia" or voluntary goodwill payment.
But companies have latitude to depart from these ranges, taking into consideration their financial position and industry norms, said Ms Amarjit Kaur, partner at Withers KhattarWong.
The tripartite advisory does not create any rights an employee can directly invoke against an employer, said Ms Fatim Jumabhoy, managing partner leading the employment, pensions and incentives practice at Herbert Smith Freehills in Singapore.
"Employees can make a complaint to MOM, but MOM's powers are largely confined to administrative sanctions (usually preventing the employer from hiring foreign workers)," said Ms Jumabhoy.
Mr Ding noted that the advisory does not set out any redress mechanism in the event its recommendations are not followed. But he also said that most employers in Singapore abide by the recommendations.
How can retrenched workers dispute their severance package?
Employees should try speaking to the employer in the first instance, and can also file a claim with the Tripartite Alliance for Dispute Management. If their dispute remains unresolved, they can file a claim with the Employment Claims Tribunals, said Ms Kaur.
Ms Muntaz said workers can also raise issues over retrenchment benefits with MOM through the Labour Relations Department.
On a case-by-case basis, MOM will look at the financial state of the company, for example, to see if it is capable of paying more, among other factors.
But neither MOM nor the Employment Claims Tribunals can order the employer to pay retrenchment benefits which are not required by law, said Ms Jumabhoy.
A worker whose rights were infringed in the course of retrenchment would have to formulate any claim on the basis of a wrongful dismissal regime, said Mr Ding.
"In most cases, this would entail bringing a claim on the basis that their retrenchment was wrongful - i.e. without just cause or excuse - or because they were deprived of certain benefits, for example they were contractually entitled to retrenchment benefits and were not paid them," he said. 
Employees can bring such a challenge under Section 14 of the Employment Act. But they are unlikely to succeed as long as the employer can show that the redundancy is genuine and there is a surplus of labour, said Ms Jumabhoy.
"Ultimately, until the law changes and employees are given a statutory right to a redundancy payment, employees depend on employers doing the right thing, and options are limited for employees in Singapore," she said.
Depending on the employment contract, retrenched workers may also be able to mount a challenge on the basis of a breach of contract. But such civil claims tend to be time-consuming and costly, said Mr Ding.
If retrenched workers are unionised, they may also have recourse under a collective agreement, such as the right for the union to be notified of upcoming retrenchments and to represent employees in any discussions with the employer.
"This would give the retrenched workers more leverage against the company in extracting concessions and more generous severance terms," said Mr Ding.
I moved to Singapore to work and was retrenched. Do I get support?
This is discretionary. Entitlement to immigration support depends on the terms of the employment contract and the company's relocation or repatriation policies, said Ms Oh Chai Yee, employment and incentives managing associate at Linklaters.
If a foreign employee issued with an S pass, employment pass or personalised employment pass is repatriated, the employer is liable to bear the repatriation costs unless the pass holder signs a document agreeing that he or she will pay for such costs, said Ms Oh.
How about restricted stock units? Are they protected?
Restricted stock units (RSUs) have become a more attractive and common form of employee compensation.
These are company shares issued to employees which can be sold once they are "vested" according to a schedule - typically after the employee has fulfilled a certain length of employment or hit performance milestones.
In Singapore, RSUs are a matter of contract between employer and employee, and not governed by legislation. Companies therefore usually draft terms favourable to themselves, said Ms Kaur.
It's common that upon termination of employment, any unvested RSUs will be forfeited, said Ms Kaur. She added that certain companies are open to considering accelerated vesting - but these are in the minority.
Ms Oh said she has generally seen vesting schedules of between three and five years. "It would be more common for a company to provide that retrenched employees are allowed to keep any vested incentive awards, with unvested awards lapsing," she said.
Ms Muntaz said that the norm in most "responsible" retrenchment is to allow the vesting of the next quarter of shares to take place if it is not too far away, or to pay a pro-rated sum as an ex-gratia payment. 
Elon Musk asked Twitter employees to either stay with the company by clicking an email link by a deadline, or leave. Is this a legal way of firing workers in Singapore?
"The short answer is no," said Mr Ding, who added that employers in Singapore must carry out retrenchments in a "responsible" manner.
This means employers must notify affected employees and unions of retrenchments as soon as possible; communicate why retrenchments are necessary; and do so "respectfully and with compassion", he said.
"The events at Twitter in recent days read as textbook examples of what not to do from an employee relations perspective," he said.
If a complaint was made to MOM that this was an irresponsible retrenchment not done according to guidelines, it may lead to administrative action, said Ms Muntaz.
So how do Singapore's labour protections compare with other countries?
Singapore's protections for retrenched workers are not as robust as other jurisdictions, employment lawyers told CNA.
"We still have the right to terminate employment on contractual notice. Most jurisdictions across Asia either have a higher threshold for proving a redundancy or have a mandatory redundancy payment scheme," said Ms Jumabhoy.
Jurisdictions such as China, India, Indonesia, Malaysia, the Philippines, Taiwan, Thailand and Vietnam have mandatory redundancy payments, she noted.
In South Korea, employers need to show "urgent business necessity" to prove a redundancy, and the courts will inspect the company's accounts and financial position to verify this, said Ms Jumabhoy.
 
"Japan doesn't have mandatory severance, but proving redundancy is exceptionally difficult and the courts are perceived to be very employee-friendly when a challenge is raised. In practice, therefore, redundancy payments are routinely made," she added.
Hong Kong also affords stronger protections than Singapore, said Mr Ding, as the law there requires employers to provide retrenched employees with statutory severance pay, with a formula for calculating the amount.
The United States does not require severance pay, making it similar to Singapore, said Mr Ding. This is also the case in California, where technology companies including Twitter and Facebook parent Meta are headquartered.
"Many states in the US allow for at-will employment, which gives the employer the right to terminate employment without notice and without any payment," said Ms Jumabhoy.
"However, the US does have a very strong anti-discrimination framework, and often employees who have been made redundant will use those laws to challenge the termination."
She added that there is no standalone claim for employment discrimination that an employee in Singapore can make - though there are plans to enshrine anti-discrimination guidelines in law.
Listen: What to do when you lose your job