Want to fly in a military tanker aircraft at the RSAF open house? Public balloting to open in July
As part of its 55th-anniversary celebrations, the Republic of Singapore Air Force will hold its first physical open house since 2016 at Paya Lebar Air Base.
SINGAPORE: Come September, members of the public can get to be the first to experience flying in the Republic of Singapore Air Force (RSAF)'s newest tanker aircraft when RSAF holds its first physical open house in seven years.
Balloting for these familiarisation flights – which will include Chinook helicopters – will begin in mid-July, the RSAF announced on Thursday (Jun 8) at a media briefing on its 55th-anniversary celebrations.
Ballot results will be announced in August. People can also win seats on the flights and RSAF memorabilia through online contests on its social media platforms.
The open house will take place at Paya Lebar Air Base on Sep 9 and 10 during the week-long school holidays. It was held virtually in 2021 due to COVID-19 restrictions, while the last physical one was in 2016.
This year, the public can get to take flight in the Airbus A330 multi-role tanker transport (MRTT), which can refuel fighter jets in mid-air, transport essential supplies or evacuate sick and injured personnel. It was declared fully operational in April 2021.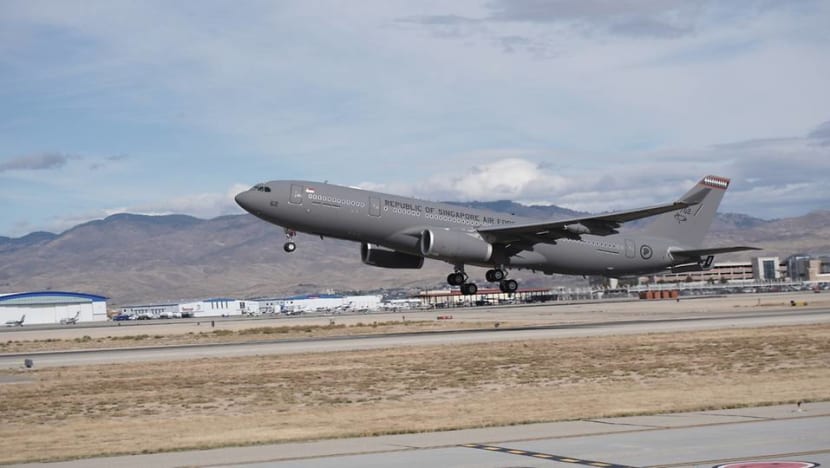 Visitors can indulge in other fan favourites such as capability demonstrations. They can also view static displays of aircraft and ground-based air defence assets such as the F-15SG fighter aircraft – RSAF's most advanced fighter jet.
The F-15SG fighter jets will feature a new tail flash that was officially unveiled on Thursday and created specifically for RSAF's 55th anniversary.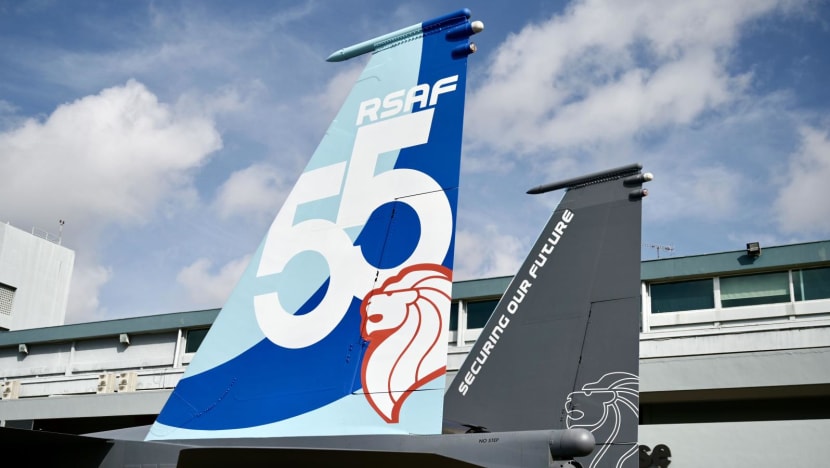 Brigadier-General (BG) Amos Yeo, Commander of the Air Power Generation Command and chairman of the open house, told reporters that new elements of the open house will include a "greater use of technology to create a much more interactive and immersive experience for visitors".
More details will be provided in due course.
"The purpose (of the open house) is really to give an opportunity for the public to get up close and personal with members of the Air Force," BG Yeo said.
"We specially chose these dates in the school holidays so that families can all come down, and hope to see more Singaporeans soak in the carnival atmosphere."
BG Chan Ching Hao, Chief of Staff-Air Staff and chairman of the RSAF55 steering committee, added that they hope to see about 250,000 visitors at the open house.
ENHANCED AERIAL DISPLAY AT NDP
Other RSAF55 commemorative events that will run from June to September include an enhanced aerial display at the National Day Parade on Aug 9, where RSAF will showcase its newest assets such as the MRTT and new helicopters.
Those in the heartlands will get to see the aerial flypast comprising the MRTT along with F-15SG and F-16 fighter jets.
More details on the aerial display will be provided next month.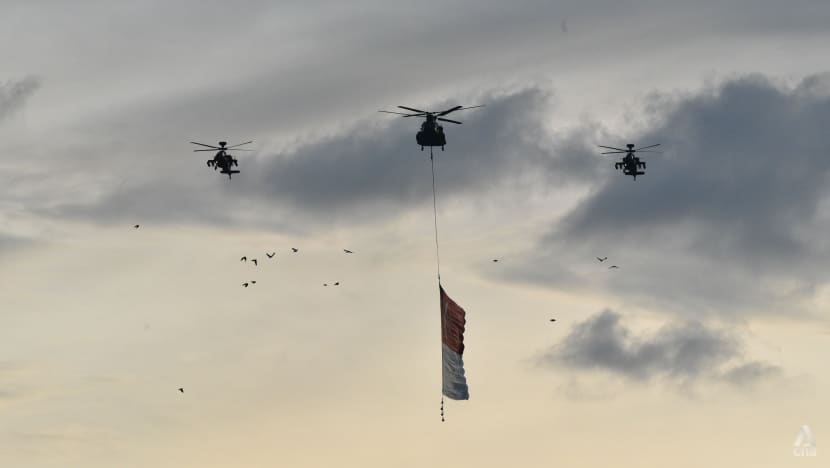 As part of tradition, the RSAF55 Parade will take place at Tengah Air Base on Sep 1 with current and former RSAF personnel, including national servicemen.
In addition, RSAF will launch its RSAF Cares campaign to give back to the community through initiatives such as beach-cleaning activities, fundraising drives, and blood donation drives with the Red Cross. The campaign will run from June to Sep 23.
Beneficiaries of selected RSAF Adopted Homes will get to experience familiarisation flights on RSAF aircraft as well.
TRIAL PROGRAMME FOR PILOT TRAINEES
On Thursday, RSAF also showcased an experimental project using data analytics and artificial intelligence to make pilot training more efficient and targeted.
Under Project SOAR, or the enhanced pilot trainee training and assessment system, pilot trainees make use of a simulator to try out different scenarios and capabilities. It is still in the trial stage and has not been fully operationalised.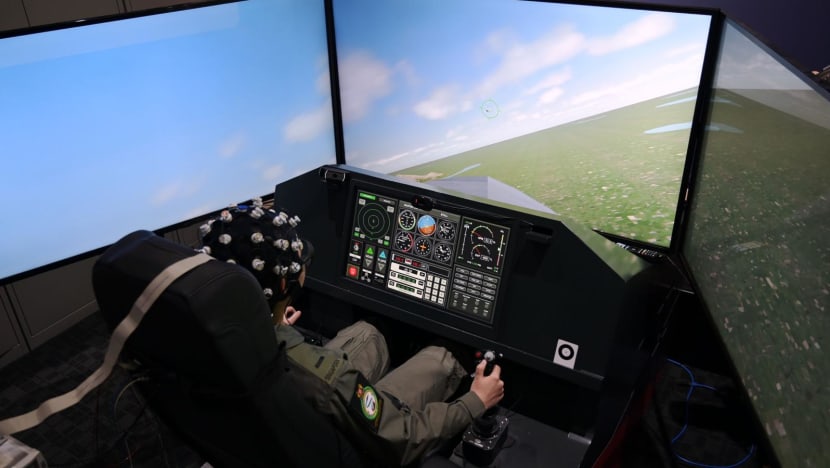 A simulator that aims to make pilot trainees sharper and react faster is part of transformation efforts by the Republic of Singapore Air Force (RSAF), which celebrates its 55th anniversary this year. Alif Amsyar reports.
RSAF pilot trainees typically travel to the Air Grading Center in Australia for four to five weeks where they undergo aptitude tests by flying CT-4B military training aircraft.
Major (MAJ) Jeremy Lim, head of SOAR and a qualified flying instructor who pilots F-16s, said that instructors like himself can only glean "a limited amount of information" by being with trainees "over a one-hour period of flight" and observing what they do. These trainees do not have any flying experience prior to Australia.
With SOAR, trainees undergo a two-week course in Singapore. They will complete simulator flights comprising four missions, such as the general handling of aircraft as well as advanced manoeuvres.
MAJ Lim said that these missions present a "steep learning curve" for trainees and are "quite sufficient" for the moment.
Users of the simulator can perform risker manoeuvres or those that cannot be accomplished on a training aircraft, such as trying to shoot down a target, he added.
Trainees will also put on sports science wearables, allowing instructors and aviation psychologists to monitor and collect psychophysiological measurements like eye movement, heart rate and facial expressions.
"Holistically, all of this information that's being captured in this simulator – down to their altitude, air speed – are all being assessed and put into a machine learning in order to inform us how the trainee has the potential in passing their downstream training," MAJ Lim said.
Preparation for SOAR began in January 2020 when funding was approved. RSAF then officially began collecting data in September 2021.
About four to five trainee pilots have undergone the programme every week on average, with about 250 trainees completing it so far.
To develop SOAR, the RSAF worked with partners such as DSO National Laboratories which helped to develop and analyse the SOAR database.
Feedback from trainees and instructors has been positive so far, MAJ Lim said.
"SOAR was able to give them that (flying) experience prior to live flying, as well as being able to tease out all their strengths and weaknesses. And knowing your weaknesses, you're able to work on them during live flying and emerge as a stronger pilot," he added.