SAF helicopters, soldiers deployed in night-time counter-terrorism exercise at Star Vista mall
SINGAPORE: The usual crowd at a popular mall in suburban Singapore had mostly thinned out, with most of the shops and offices around Buona Vista MRT station closed for the day.
Except for a light pitter-patter from the evening drizzle on Monday (Feb 7), it was almost silent.
Then, just before 10pm, a thrumming sound in the distance, as the unmistakable hum of helicopters grew louder and louder.
Suddenly, two H225M helicopters from the Republic of Singapore Air Force came into sight, swooping in over The Star Vista mall from the northern side of the island.
Unveiled in December last year, it was the first time reporters were seeing the medium lift choppers being used for special forces training.
The first, which had its lights switched off for added stealth, flew in and hovered above the mall.
Against the backdrop of the dark night sky, silhouettes of soldiers fast-roping down from the helicopter and onto the top of the 15-storey building could scarcely be seen.
After unloading its cargo of troopers, the first helicopter executed a sharp turn and swapped places with the second helicopter.
Illuminated by red and green strobe lights, the second helicopter was more visible to reporters placed at a vantage point atop the Ministry of Education building.
Barely two minutes had passed before both choppers unloaded their personnel and flew off into the night, in the same direction they had come from.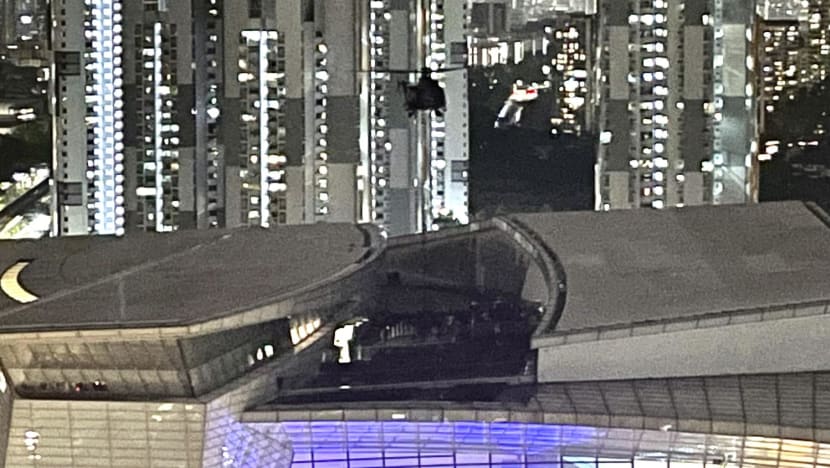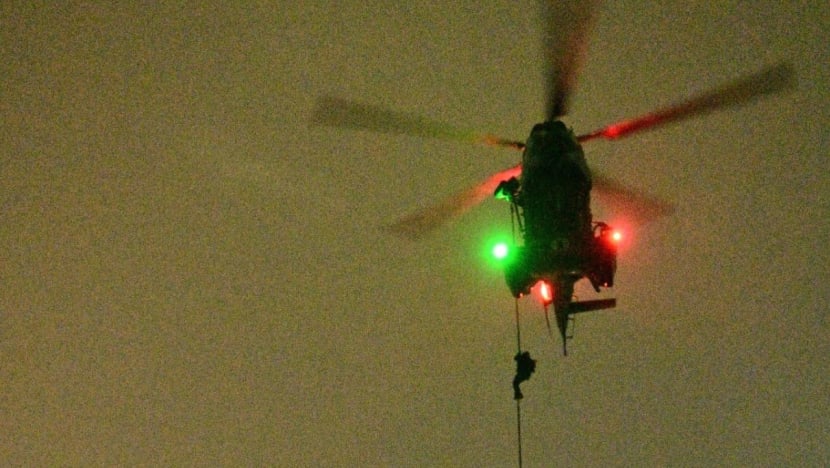 The counter-terrorism exercise, led by the Singapore Armed Forces (SAF) Special Operations Task Force, was aimed at testing the SAF's operational readiness and strengthening its response to a spectrum of threats, said the Ministry of Defence (MINDEF).
The ministry added that exercise scenario required the deployed forces to respond to a simulated hostage situation and swiftly neutralise threats within an urban setting. Reporters were not allowed to view the exercise inside the mall.
"The SAF continues to train and conduct exercises regularly, even amidst the COVID-19 situation, to ensure that it remains operationally ready to safeguard Singapore's sovereignty and security," said MINDEF.