New Balance, Asics or Adidas? How SAF selects running shoes and other personal equipment for servicemen
SINGAPORE: From bland gymnasium footwear to established brands like Asics and Adidas, the Singapore Armed Forces (SAF) has come a long way in selecting physical training (PT) shoes for its servicemen.
In September last year, the SAF unveiled its latest line up of PT shoes from New Balance and Asics, making it the sixth change since servicemen got the black "kungfu" shoes up until 1995.
A PT shoe change usually makes headlines and gets soldiers across generations talking about how the new models compare in comfort and design, judging by the number of news articles and discussion threads online.
On Feb 4, Defence Minister Ng Eng Hen posted a video on Facebook of him trying out the new New Balance and Asics shoes. His verdict: "Tried both and like them very much."
But beyond the views of individuals, how exactly does the SAF choose its PT shoes?
It all starts with an open tender detailing a set of technical requirements for the new shoes, Military Expert (ME) 6 John Tan, head of the System Development Branch at HQ Supply, told CNA on Thursday (Mar 17).
These requirements will consider past feedback on the current shoes and technological advancements on the market, and include how durable and safe the new shoe must be.
"I don't think I would really put it out there, but in the tender, we would be very specific about our requirements," ME6 Tan said, adding that he is unable to reveal too much to preserve the integrity of the tender process.
"The tenderers are well aware of what they need to meet, and some of them will still try even though they may not meet all our requirements."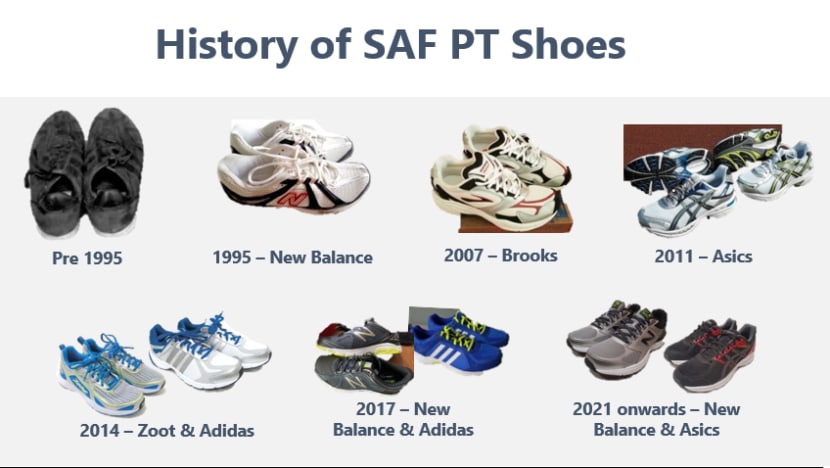 The tender is led by ST Logistics, SAF's procurement arm. There will usually be more than five suppliers offering different brands taking part, although this would depend on the type of personal equipment being purchased.
"Things like PT shoes, there will definitely be a lot of players out there," ME6 Tan said.
A panel comprising SAF and ST Logistics personnel will then study technical documents presented by the suppliers and make a first cut based on whether they meet the "cardinal requirements". At this stage, the products will not be physically tested to minimise manpower requirements.
REAL WORLD TESTING
After the first shortlist is finalised, the suppliers will send SAF their shoes for "human factor trials". They will try to make these test pairs as generic in appearance as possible to reduce brand bias, ME6 Tan said.
The shoes will be issued to more than 30 servicemen, comprising regulars and full-time national servicemen (NSF), for at least two months to use during day-to-day training. This includes running and static exercises.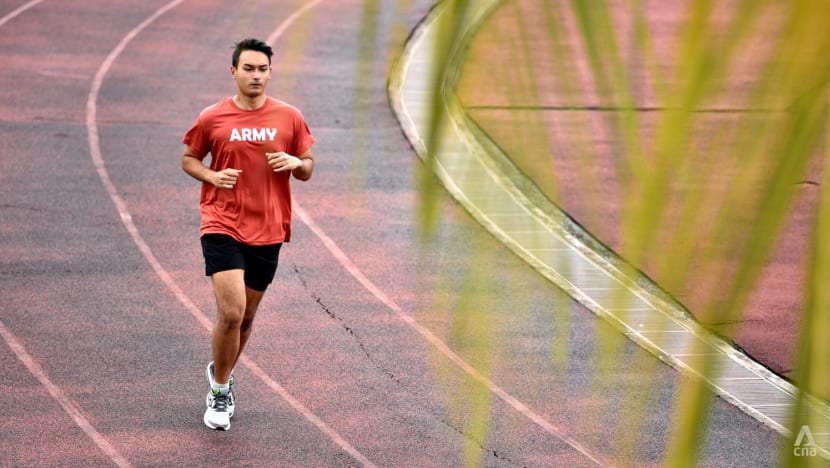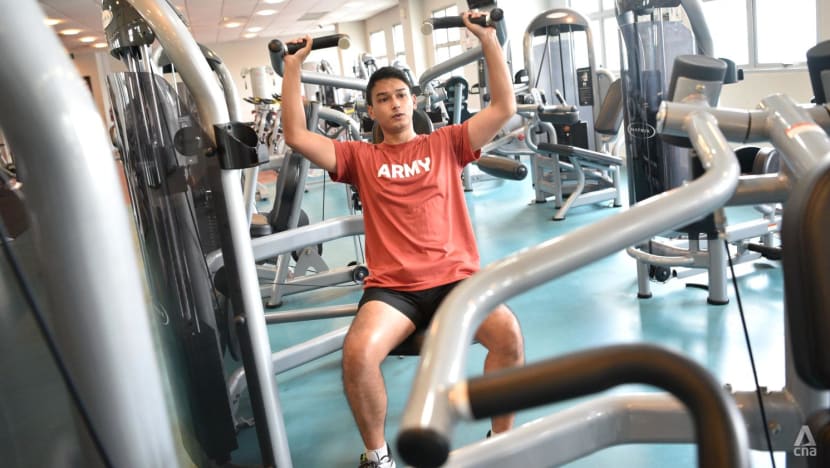 The shoes are evaluated on factors like utility, comfort and design. This includes whether the shoes have good shock absorption and durability, and whether they can allow servicemen to train safely.
"Design-wise we make sure that, for example, when a group sits on a rough surface cross-legged, their shoes can withstand the abrasion and it doesn't create holes after a few months of wearing," ME6 Tan said.
"We also make sure that we include reflective prints as a safety feature so that at night they are still visible.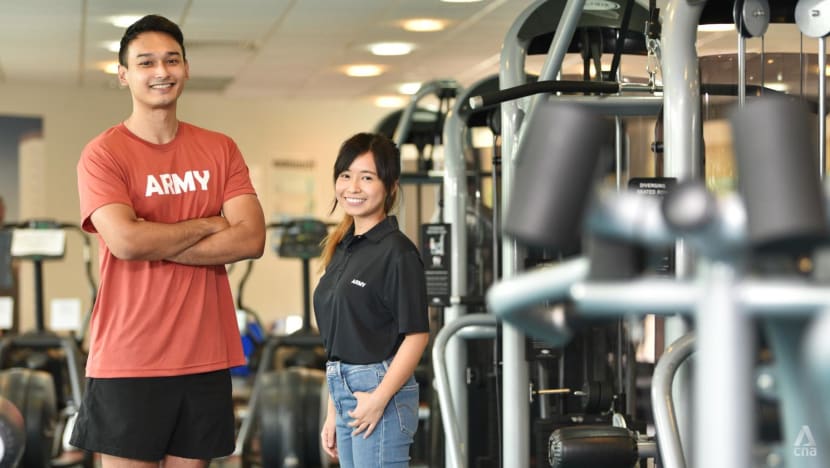 ME6 Tan believes the shoes' safety, in terms of ensuring servicemen do not get injured during training, is the most important factor followed by durability.
"There is no point in having a safe shoe that can only last one week or two weeks, especially when our shoes touch everybody from NSFs to NSmen (operationally ready national servicemen), who use them once every year or so," he added.
After the testing period is over, the servicemen will complete a survey with their experiences wearing the different shoes.
The questions are related to the factors being tested, and can include something like whether the shoe provides good cushioning. Trial participants will also state their design preference.
SUPPLIER RELIABILITY AND PRICE
Beyond these user tests, the SAF will assess the reliability and financial health of the suppliers, which ME6 Tan said is "very important".
"Having a reliable supplier also means that we'll have a constant supply of our PT shoe, especially in times of COVID and with supply chain issues being faced by everyone all over the world," he said.
"Generally, we really look at the background of the contractor ... So, it's not just about the best shoe they bring forward, but it's about the reputation and how the company has been doing."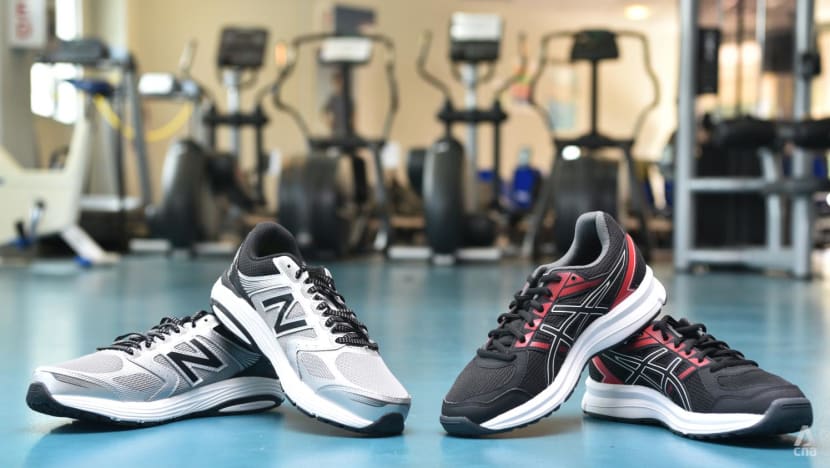 Once these evaluations are completed, the final factor is the cost of the shoes.
"We will then open up the price envelope and do a comparison," ME6 Tan said, stressing that the procurement process does not depend on price alone.
"With a good mix of price and our evaluation, we ensure that as a baseline everything meets our our cardinal requirements. Then, through certain metrics we will then select the best value-for-money product."
The New Balance and Asics shoes cost S$43.55 and S$35.90 respectively at the SAF e-mart. While servicemen can choose to wear other brands, the models selected by SAF are sold  cheaper than retail prices. They can be paid for with cash or credit.
FINAL DECISION
The same panel then makes the final decision on which shoes get selected. The current practice is to select two models – for high arc and low arc feet – to cater to two "distinct" groups of runners, ME6 Tan said.
"(The decision is made by) an entire board ... so that it is definitely fair. We have a report that we also table out to ensure that everything we say is backed up with data, and ensure that things are done in a transparent and fair manner," he added.
ST Logistics will then enter into a purchase-on-demand agreement with the supplier, meaning it will bulk buy the shoes based on a "steady stream of demand", like when new recruits enlist every quarter.
"It basically reduces the need to stockpile," ME6 Tan said, pointing out that this minimises the storage space needed.
"You should be aware that running shoes have got shelf life. If we buy too much (without people using them), the rubber (on the soles) will deteriorate and all that."
The procurement process, from tender launch to product delivery, takes about a year.
ME6 Tan said the SAF's other personal equipment, like the army polo T-shirts and standard-issue admin T-shirts, go through the same process, although there will be some variation depending on the quantity and value of the products.
For instance, some personal equipment like combat boots will go through lab tests on top of user trials to ensure their specifications match international standards, while other combat-related personal equipment could also be developed in house.
"For things like PT shoes, we don't need to do that because who else is better than the commercial sector? They are having the latest technology and developing it," ME6 Tan added.
"So, there is no need for us to waste effort, and probably we will not be as fast as them in this aspect as this is not our core business to develop, say, running shoes."
As for how often the SAF refreshes its personal equipment, ME6 Tan said this would depend on the equipment and the contractual agreement with the supplier.
For PT shoes, it is typically around four years, he said, although there are clauses in the contract to allow for design changes, like a tweak in colour, every two years.
"The SAF constantly reviews our personal equipment to improve the NS experience of our servicemen," he added. "Our range and designs have evolved to meet utility and comfort needs."