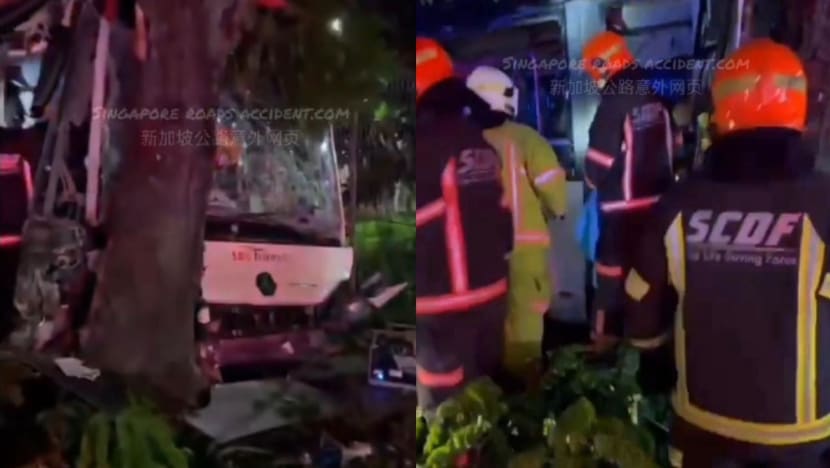 SINGAPORE: A 54-year-old bus driver was found dead on Sunday (Oct 9) morning after crashing into a tree outside Hougang depot. 
The Singapore Civil Defence Force (SCDF) and the Singapore Police Force (SPF) were alerted to a road traffic accident at around 2.40am on Sunday at 4 Defu Avenue 1. 
"A person found trapped in the driver seat of a bus was extricated by SCDF and pronounced dead by a paramedic," added SCDF. 
The bus captain was driving the empty employee bus back to the Hougang depot on Sunday morning when the vehicle lost control and hit a tree outside the bus depot, said Mrs Grace Wu, vice president of Customer Experience and Communications at SBS Transit in response to CNA's queries. 
"We are deeply saddened by his passing and have extended our heartfelt condolences to his family. We are in close contact with them during this very difficult time and will render all support needed," she added.
In a video circulating online, a bus is seen with a shattered windscreen after hitting a tree, with SCDF officers at the scene.
Police investigations are ongoing. 
The bus driver's death marked the 39th workplace fatality this year, said the Ministry of Manpower (MOM) in a statement on Monday. This exceeds the 37 workplace deaths reported for the whole of last year. 
The Singaporean man had been driving to Hougang Bus Depot to pick up other bus drivers when he crashed into a tree, added the ministry. 
Last month, in response to the string of workplace fatalities this year, the ministry imposed a mandatory safety time-out for the first time.
A higher rate of workplace fatalities was reported in the first half of 2022, even as the number of reported workplace injuries fell. In response, MOM called for a six-month period of heightened safety from Sep 1 to Feb 28, 2023, citing its concerns with the high fatality rate. 
LOVING FATHER, RESPECTED UNION LEADER
In a Facebook post on Monday, NTUC Assistant Secretary-General Melvin Yong said that the bus captain, who was a Union Representative, had been with SBS Transit for more than 20 years. 
He leaves behind a wife and three school-going children, added Mr Yong. 
Mr Yong, who is also the National Transport Workers' Union Executive Secretary, said he visited the man's family together with other National Transport Workers' Union leaders on Monday. 
"I assured the family that the Union is working closely with the company and we will do all we can to support them during this difficult time," he said.
"We join the family to grieve for the loss of our Union Brother, who was not just a loving father and husband, but also a respected union leader."