SCDF's advance team arrives in southern Türkiye to assist with quake rescue efforts
An additional 48 SCDF personnel will leave for Adana within the next 48 hours to provide humanitarian assistance.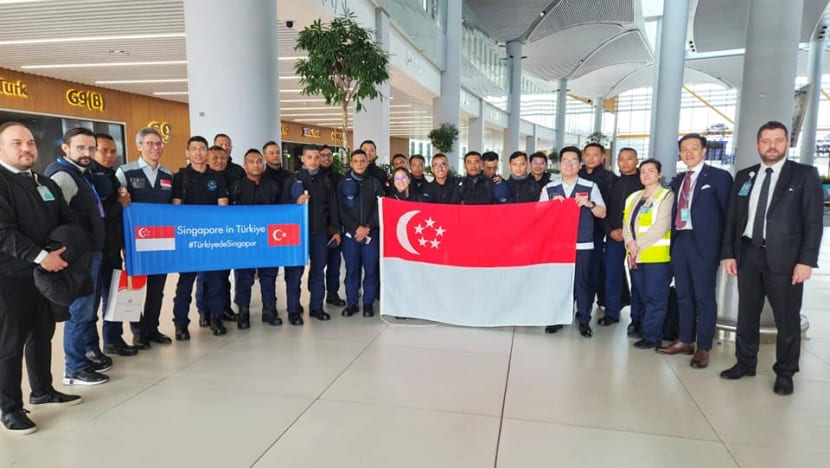 SINGAPORE: An advance team of 20 Singapore Civil Defence Force (SCDF) officers has arrived in southern Türkiye on Wednesday (Feb 8) to help with rescue efforts following a deadly earthquake.
"The Operation Lionheart advance team arrived in İstanbul earlier today and are now in Adana, a city in Southern Türkiye," SCDF said in a Facebook post.
"From Adana, the team will be deployed to the affected areas to commence search and rescue operations," it added.
The advance team comprises officers from the elite Disaster Assistance and Rescue Team (DART), paramedic specialists and a doctor.
An additional 48 SCDF personnel will also leave for Adana "within the next 48 hours" to help with rescue efforts, said SCDF.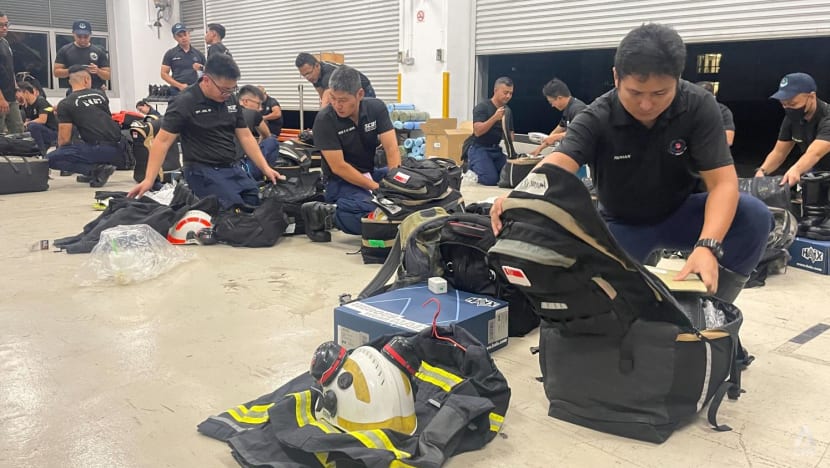 The team is from a contingent known as Operation Lionheart. The on standby round-the-clock contingent, with 79 members, was formed in 1990 and has since been deployed on 19 search and rescue or humanitarian relief assistance missions.
The 68-member contingent will be led by Col Chew Keng Tok.
The 68-member contingent
The 68-member contingent comprises of:
37 DART officers
Two operations officers
Two Full-time NSF medical doctors
Four paramedics
Four search specialist (with four canines)
Four Hazardous Material Assessment Officers
13 support officers
One ASEAN Emergency Response and Assessment Team officer
The contingent will work closely with local authorities upon arrival in Adana, said SCDF in a news release.
This will be the 20th Operation Lionheart overseas deployment since 1990, and its first one in the European region.
The contingent will bring portable urban search and rescue equipment such as electric saws, life detection devices and fibreoptic scopes.
Speaking to reporters at SCDF's headquarters in Ubi on Wednesday evening, Col Chew said that the Singapore team has been tasked by the United Nations to travel to the city of Kahramanmaras, which is about 180km away from Adana airport.
The contingent has already made contact with UN coordinators, and the second wave of SCDF officers will meet the advance team at Adana airport.
Of the 68 officers, Col Chew said that some will focus on operations, planning and logistics, while there are some who will perform search and rescue functions.
The contingent will stay in Türkiye for a minimum of 10 days but this is subject to the country's needs, Col Chew added.
The Singapore Red Cross is sending a team of volunteers to earthquake-hit Türkiye in the coming days to help distribute relief items and assess the needs of survivors. It will also consider sending another team to Syria, where relief efforts are more complicated. The Singapore Civil Defence Force, meanwhile, is deploying a team to assist with rescue efforts in southern Türkiye as part of Operation Lionheart. Lauren Ong reports.
Captain Nicholas Tan Yun Feng, 27, said he could not sleep last night out of excitement after learning he would be deployed to Türkiye. He is one of two NSF medical doctors who will look after the contingent's welfare as well as tend to any casualties.
"I think Türkiye will be interesting, definitely challenging. Temperatures were around zero degrees. I expect a lot of rubble and casualties, so I'm mentally prepared," he added.
Officials and medics said 8,574 people had died in Türkiye and 2,662 in Syria from Monday's tremor, bringing the total to 11,236 - but that could yet double if the worst fears of experts are realised.
World Health Organization (WHO) chief Tedros Adhanom Ghebreyesus had also warned that time is running out for the thousands injured and those still feared trapped.