SINGAPORE: A large blaze that broke out in industrial buildings in Tuas South was brought under control by firefighters on Monday (Mar 13) night.
Two people suffered minor injuries and about 40 people who were in the buildings have been accounted for, said the Singapore Civil Defence Force (SCDF), which was alerted to the fire at about 6.15pm.
The blaze spanned an area the size of about one-and-a-half football fields and involved solvents and flammable construction materials in a warehouse and the connecting production areas, including a six-storey production unit, said SCDF. 
A total of 26 emergency vehicles and about 80 personnel were deployed for this incident, SCDF added.
Speaking to the media at around 9.45pm when damping down operations were already under way, Colonel Goh Boon Han, 4th SCDF Division commander said firefighters used eight water jets and an unmanned firefighting machine to combat the blaze.
"We adopted a defensive firefighting operation so as to not commit our firefighters into the risk area for prolonged periods,"  said Col Goh. "So we made use of the unmanned firefighting machine in the risk areas."
He added that there was also a safety issue as the roof was buckling.
Two workers were assessed by an SCDF paramedic for blisters on their hands and forehead. They refused to be taken to hospital, said SCDF.
Col Goh said SCDF had confirmed with the company earlier that up to 40 workers had self-evacuated, and were all accounted for.
 A video posted on Facebook showed huge plumes of smoke coming from a building in the area.
According to the caption, the fire broke out at a factory. The address, 28 Tuas South Avenue 8, is listed by manufacturer Sika Singapore as the location for its head office and factory.
Sika Singapore's website says it "supplies the building and construction industry as well as manufacturing industries" with processing materials used in sealing, bonding, damping, reinforcing and protecting load-bearing structures.
When CNA got to the scene around 8.15pm, multiple SCDF and police vehicles were present. Firefighters streamed in and out of the building while flames were visible from a room on a higher floor.
Mr Aminul, a 49-year-old metal workshop worker from Bangladesh who has worked in Singapore since 1998, told reporters that he saw black smoke rising from the building at around 7pm. He was in his dormitory located at Tuas South Avenue 1.
He went to the scene with several other foreign workers and sat on a grass verge across the blaze. He said he did not see anyone who was injured.
He noted that there was a "strong chemical smell" and that it was the first time he had seen a fire in the area.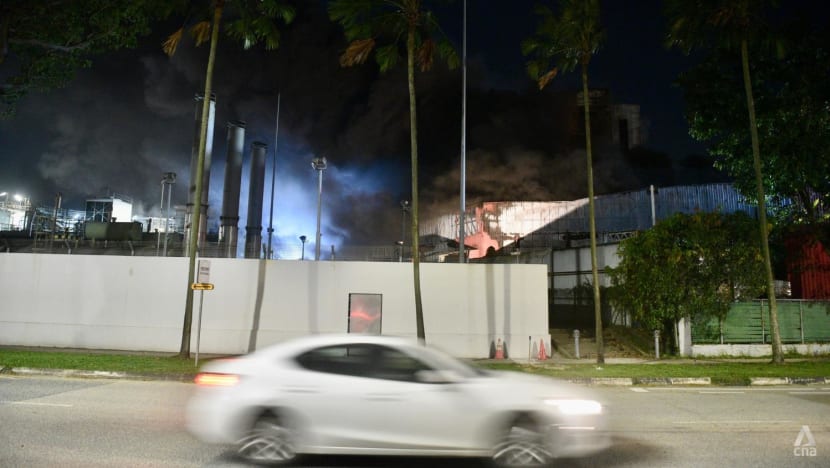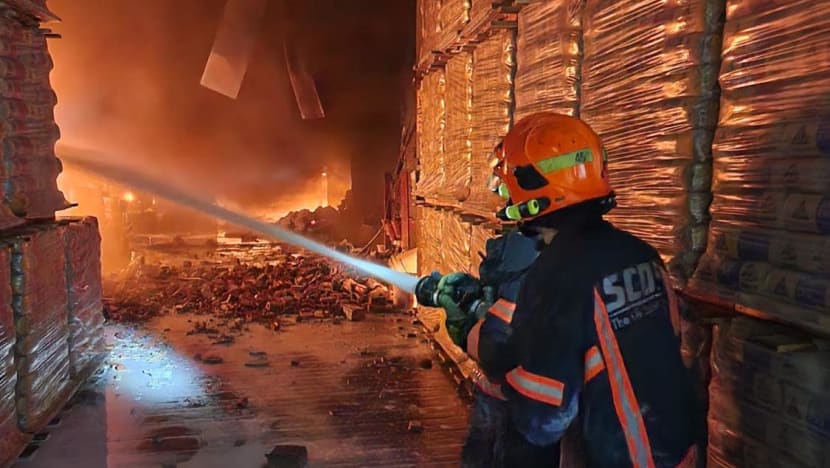 Earlier in the evening, SCDF sent an SMS through the SMS Public Alert System and a message via the SGSecure app to advise members of public to avoid the area.
The message was sent to people within the vicinity of the incident location.