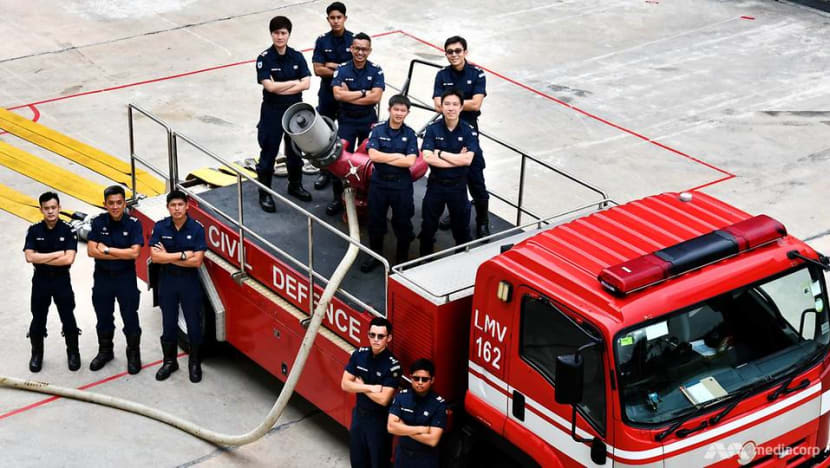 SINGAPORE: On Mar 20, the Singapore Civil Defence Force (SCDF) personnel of Banyan Fire Station on Jurong Island were working out in the gym late in the day when they saw thick plumes of smoke rising from next-door Pulau Busing.
The officers did not wait for the alarm to ring. They dropped their weights and prepared their equipment, which included a "big gun" that shoots 23,000 litres of water a minute.
This gun, also known as a "large monitor", is specifically stationed at Banyan due to the high risk of industrial fires on Jurong Island. Such large-scale fires cannot be fought with standard equipment.
Soon enough, the emergency alarm was activated. It was a high-level code for an oil tank fire on Pulau Busing. The officers sprang into action, drove their big gun to Pasir Panjang Ferry Terminal and hopped on a speedboat.
When they reached Pulau Busing, what greeted them was "probably the biggest fire" that many SCDF firefighters have seen, said Colonel (COL) Alan Chow. The commander of the 1st SCDF Division, which covers Pulau Busing, was speaking to reporters during a media session on Thursday (Mar 29) where they recapped the events of that fateful day.

It wasn't just personnel from Banyan Fire Station who were deployed; their colleagues from Alexandra Fire Station on the mainland were activated as well. One of them, Sergeant (SGT) Muhammad Hud Ayub, 19, said he felt an "adrenaline rush". He had seen conventional household fires, but this was a different monster.
"The first thing was to gather my cool, ready the equipment and take instructions from the senior officers," the full-time national serviceman said. He was already sweating heavily under his hefty bunker gear, but "I needed to focus on my task".
The task was challenging because of the logistics, COL Chow said, pointing out that the equipment had to be brought over on a barge.
"Offshore is definitely more challenging than onshore because of the time needed for transport," he added. "Timing was very important because any delays meant the tank would continue burning for a longer period of time, which means tank failure will become even more imminent."
That was not the only consideration. Officers first had to determine everyone was safe, then prevent the fire from spreading to two adjacent oil tanks. This was done by spraying water to lower their temperatures, which had risen to extreme levels.

Water, however, could not be used on the tank fire as it sinks in oil. This is where the big gun, which sprays a foam solution, comes in. The foam forms a layer on the oil that deprives the flames of oxygen.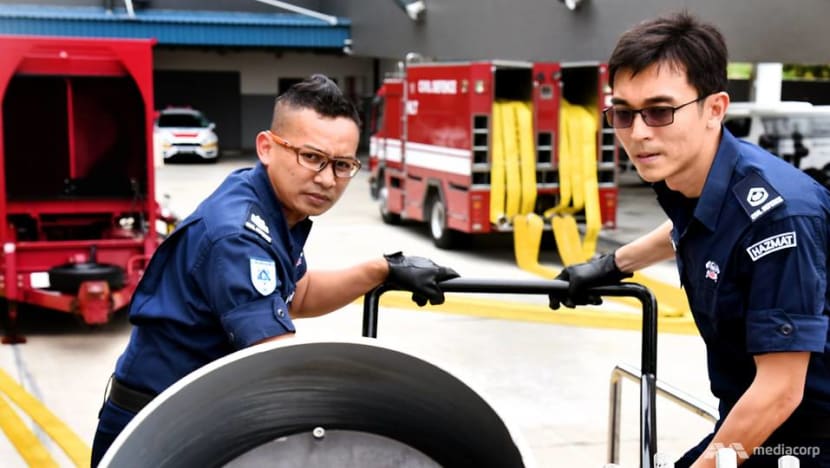 SCDF deployed two big guns, one of which was manned by Staff Sergeant (SSG) Mohamed Noor Abdul Kahar. It was his first time operating the gun during an actual operation. This was a huge responsibility because he had to ensure everything clicked, but he said he took it well.
"While there was adrenaline and apprehension, there was a clear plan that had emerged as well," said Captain (CPT) Leon Yip, 26, one of the first responders. "This is very much within the scope of the training we have done."
The training also prepared the officers for the gruelling hours that followed. While SCDF had released photos of officers sprawled on the ground during water breaks, those involved said fatigue was the last thing on their minds.
"Even though we were resting, we were uneasy because the fire was blazing," SGT Afiq Abdul Malik, 23, said. "We just had to see from afar and trust our men."
Lieutenant Jerome Giam, 21, said it was a team effort. "We know that our guys inside the fire ground were exhausted, so we replenished our fluids and grabbed a bite before going back in to take over from them," he added.
The fire was extinguished after six hours, in an operation that involved 128 personnel and 31 firefighting and support vehicles. After the flames were put out, SCDF personnel still had to stick around to empty the tank and prevent reignition.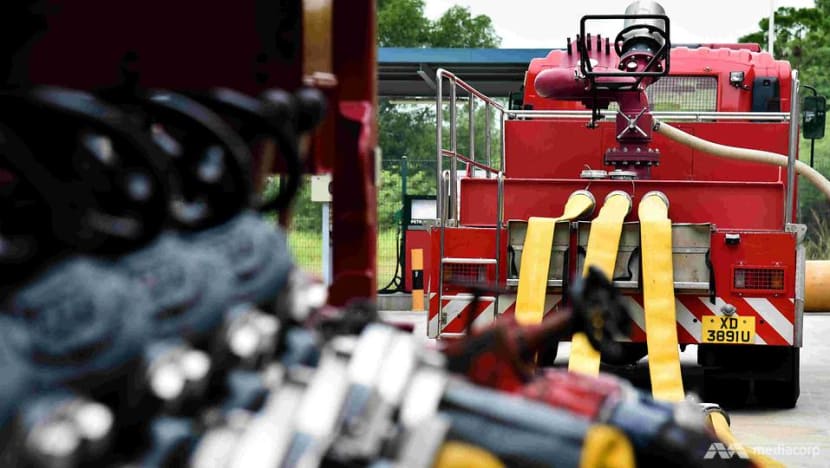 SSG Noor was one of those who stayed on the island for more than 12 hours. Like the rest he had not had dinner, but "nobody thought about dinner". He got home only in the afternoon the next day, hours after he was supposed to end his shift.
CPT Yip said that he was flooded with text messages from those who knew. He also texted his family, and they replied: "Stay safe." "My family has accepted that this is an inherent risk of the job," he said. "They also trust the force."
There's more than trust. Those involved also drew praise from netizens, Home Affairs Minister K Shanmugam and even the Prime Minister himself. How does that make them feel?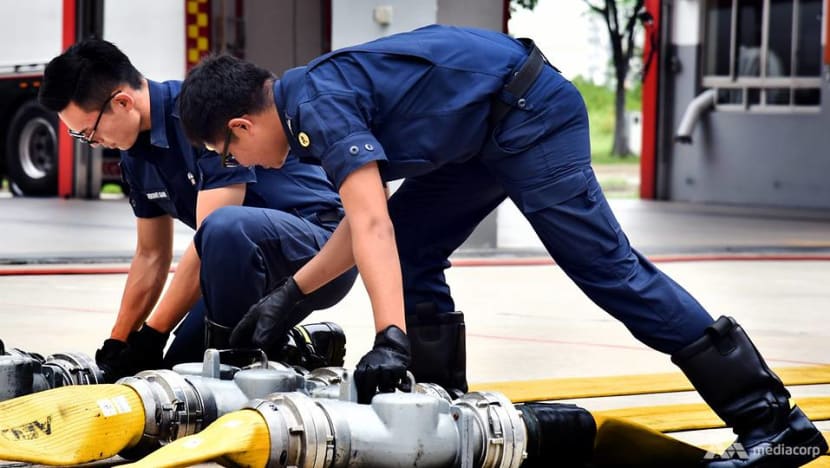 "Of course I feel very proud," said Warrant Officer 2 Chryss Tan, 36. "To go for this fire is definitely a big challenge and a big battle."
COL Chow said the battle was won with a "good team" that had the experience of fighting oil tank fires. Some of them responded to a similar incident in 2016 involving an oil tank on Jurong Island.
"So, we had confidence that we were able to deal with this situation," he said.