Cabin crew 'extremely professional' putting out fire from power bank on Scoot flight, says passenger
Scoot flight TR993 did not take off from Taiwan Taoyuan International Airport after the incident.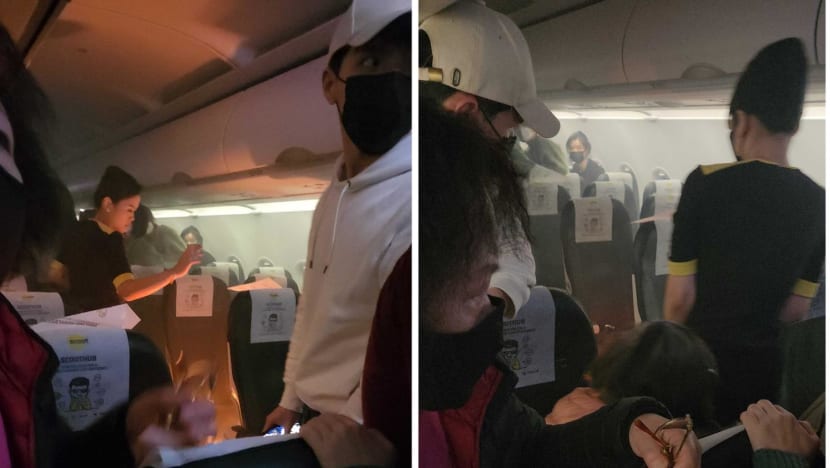 SINGAPORE: Cabin crew "knew exactly what to do" and were "extremely professional" when putting out a fire that erupted on a Scoot flight from Taiwan to Singapore, a passenger on the flight told CNA on Wednesday (Jan 11).
Angie Ton, 28, was planning to transit through Singapore to Malaysia, but her flight did not take off from Taiwan Taoyuan International Airport after the incident on Tuesday night.
Instead, TR993 returned to the gate after a passenger's power bank overheated while the aircraft was still on the ground, Scoot said.
Speaking to CNA by phone from Taiwan, Ms Ton said the incident happened after the plane had taxied to a long runway in preparation for take-off, which was scheduled for 7.35pm.
She was sitting in row 13 in economy class. The plane's engine was "just about to start going" when she heard people's voices exclaiming "ooh" and "ahh" behind her.
She also saw scared faces. Turning around, she saw bright orange flames three rows behind her, in row 16.
"The people started backing up and then people were screaming: 'Help, help! There's a fire,'" said Ms Ton. A flight attendant came running.
"Props to those flight attendants because they knew exactly what to do," she said. "They deserve recognition for their training, hard work, and calm attitude."
The flight attendant told passengers to step back from the fire and calm down. Videos also captured passengers asking each other to make way.
Another flight attendant then brought a fire extinguisher and the fire was put out within three minutes, said Ms Ton.
The cabin filled with smoke after that but the crew made sure that ventilators were switched on and the air inside the cabin cleared quickly, she added.
Scoot said that the owner of the power bank and his companion suffered "minor burns to their fingers" and received medical assistance.
Ms Ton said that an older woman on the flight was also crying and seeking medical attention as she was hurt when people pushed away from the fire when it initially erupted.
WAITED FOR FLIGHT TO TAKE OFF
Passengers were scared after the fire was put out and the smoke cleared, but they remained on the flight as it was believed it would still take off, said Ms Ton.
About an hour later, the pilot said that passengers who did not feel safe on the flight could leave but that they were still expecting the flight to depart that night. Some people left at that point, said Ms Ton.
"(The pilot) still was planning to fly because apparently the engineers checked it and they said that the plane is totally fine, it's just the burn on the carpet," she added.
However, sometime after 10pm, after passengers had waited around three hours, the pilot said that Taiwan's authorities would not allow the flight to take off, so passengers had to disembark.
Ms Ton said that Scoot offered a full refund for the flight. If passengers wanted to take the flight the next day instead, they were offered a night's stay at a hotel with breakfast, lunch and transportation to the airport, or S$100 if they had their own accommodation in Taiwan.
Her own plans, which involved visiting family for three weeks in Malaysia, were minimally affected. But Ms Ton said other passengers were "really pissed off" about what happened.
People started to complain during the long wait on the tarmac, she said. "We were just stuck for hours and they wouldn't tell us what's happening. People were complaining that you got to tell us something because we're all delayed, we all need to go somewhere."
Reflecting on the incident, she said that if the fire had happened just a few minutes later, the plane would already have been in the air.
"It's not the airline's fault, it's also not the passenger's. It's kind of nobody's fault," she said.
She also noted that the possibility of overheating might explain why power banks cannot be checked in and had one word of advice for fellow travellers.
"If you buy a power bank, you better buy a good quality one, not a cheap one," she said.