Rapidly ageing Singapore urges seniors to use tech in managing their health
A shift in Singapore's healthcare strategy towards preventive care aims to get Singaporeans to actively manage their health, such as with the use of mobile applications.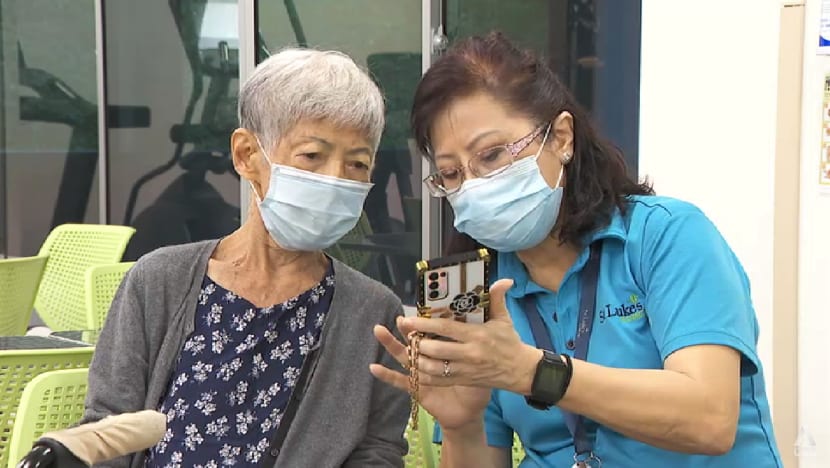 SINGAPORE: While 76-year-old Pauline Tong is game enough to try tech-based activities to keep active, the senior still has a hard time figuring out mobile applications.
"I think there's too many programmes to learn," she said. "After I've learnt it and go home and open a programme, I have to think of all the steps I have to take first. It's too complicated."
To make life simpler for them, more than 190,000 seniors have been taught basic digital skills by the Infocomm Media Development Authority (IMDA). Digital literacy is also a staple for seniors, like Ms Tong, who attend active ageing centres. 
This comes as Singapore's healthcare strategy shifts towards preventive care and aims to get Singaporeans to actively manage their health, such as with the use of mobile applications. 
Only one in five seniors above the age of 55 are currently using these apps like HealthHub, even as the nation grapples with an ageing population. 
Seniors said a better user experience and more language options will encourage more to get on board.
ENCOURAGING SENIORS TO USE TECH
At one activity centre, volunteers encourage seniors to engage with technology daily by simplifying its usage. 
"We try to incorporate as much of this use of digital devices into our programmes itself," said St. Luke's ElderCare senior manager Bernard Wan. 
"So for example, if they come down for a cooking class, then we want to get them to try to download recipes, and perhaps have one of the sessions over Zoom to ensure that they are continually using some of the skills that they have picked up."
While these centres are playing a bigger role to engage elders, ground-up efforts to reach those who live alone are also important.
For instance, Madam Ho Seh Moh was unaware of health apps until she was introduced to them by a volunteer. 
But her biggest challenge is the language barrier. 
"Like at Changi General Hospital, you need to book the appointments yourself. I can do it myself because there are Mandarin options. So this language issue is actually very important," said Madam Ho. 
"If there's Mandarin, I can figure out how to do it. There's no chance if it's all in English."
GUIDING SENIORS THROUGH TECH
Ms Maggie Chan, a volunteer under the Singapore Red Cross' ElderAid programme, said seniors may not know how to use the apps, even if these are beneficial and easily available, as there may not be people to introduce and guide them through. 
But Silver Generation Ambassadors, who are appointed by the Agency for Integrated Care (AIC), may well plug the gap. These volunteers inform seniors on relevant policies and initiatives, and impart digital know-hows. 
AIC is also partnering with groups such as Youth Corps Singapore to recruit more volunteers to engage seniors. 
Ms Jacqueline Au Yong, senior assistant director of volunteer management at the AIC's Silver Generation Office, said: "With the focus on preventive health, we have actually changed or transformed our outreach modality into preventive health visits. 
"So through these visits, our (ambassadors) actually engage our seniors by communicating to them the various active ageing programmes that they have."