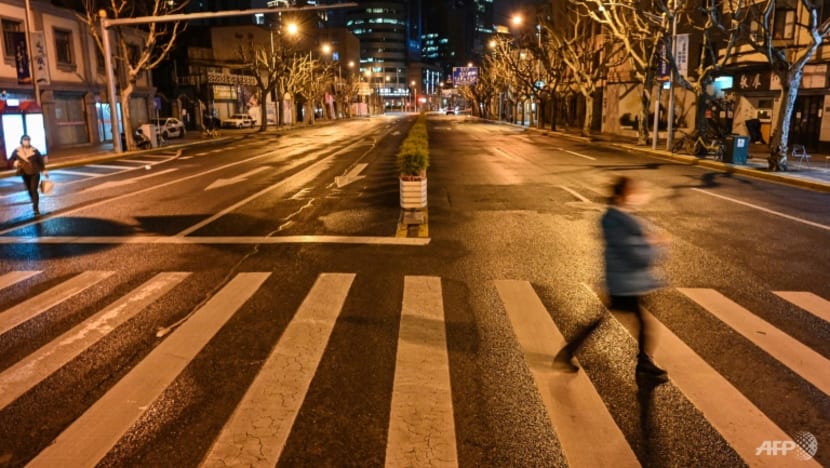 SINGAPORE: Just before 8.30pm on Mar 27, Singaporean designer and Shanghai resident Kent Lau got a WeChat message from the city's municipal government account.
The official-looking notice stated that Shanghai would be locked down in two stages after it reported a new daily record for asymptomatic COVID-19 infections.
The city of 26 million people, which had battled a new coronavirus surge for nearly a month, recorded 2,631 new asymptomatic cases on Mar 26. This accounted for nearly 60 per cent of China's new asymptomatic cases that day.
Shanghai authorities ordered everyone to stay at home and said they would carry out COVID-19 testing in the city's eastern and western districts from Mar 28 to Apr 1 and from Apr 1 to Apr 5, respectively. 
Mr Lau, 54, has lived in China – mostly in Shanghai – for the past 16 years, so he was familiar with the country's "zero-COVID" strategy.
In fact, in November, his apartment block in west Shanghai was locked down for two days and tested after a close contact of a case was reported there.
But the latest tightening of measures left Mr Lau drawing comparisons with the situation back home.
"It was just ironic," he told CNA on Wednesday (Apr 5), pointing out that Shanghai's daily caseload at the time was lower than Singapore's.
"Singapore has more cases than Shanghai with a population that is a fifth of Shanghai's. And while Singapore opens up cautiously, Shanghai locks down. I felt very happy for Singaporeans ... yet at the same time I felt very sad about what was to happen in Shanghai." 
Singaporeans living in Shanghai told CNA they have been taking lockdown in stride by keeping busy at home. Residents are not allowed to leave their homes, even to buy essentials or dispose of trash.
Food delivery services remain limited and groceries sell out quickly online, so the local government delivers free care packs of meat and vegetables every few days. 
Working from home has become the default, while exercise is usually high-intensity interval training indoors. The streets are empty, save for the odd delivery scooter and people in white protective suits, they said. A big part of it is the uncertainty: Nobody knows when the lockdown will end.
Late on Mar 30, the Shanghai government said it would extend the lockdown in the east just as western districts shut down, effectively grinding the entire city to a halt.
Even before the scheduled end of the lockdown on Apr 5, the central government sent the military and thousands of healthcare workers into Shanghai to help administer COVID-19 tests.
China's vice-premier in charge of COVID-19 prevention Sun Chunlan was also sent to the city and called for "resolute and swift" action to contain the outbreak.
For Mr Lau, these developments hinted that the lockdown was not going away. "Living in China basically means we are resigned to our fate," he said.
On Tuesday evening, Mr Lau got the message he dreaded but expected: The lockdown would be extended until further notice after city-wide testing saw new COVID-19 cases spike to more than 13,000.
"It has got everything to do with keeping resolute with the zero-COVID approach. So, no surprise," he added.
Mr Melvin Tan, who moved to Shanghai in April last year as deputy director of finance at Raffles Medical Group, felt the same.
"To be honest, when they said it was going to be five days for each area, I was a little sceptical already," the 38-year-old said on Thursday.
"I don't think it is going to be that short. In Singapore with like a 5 million population, we had a 'circuit breaker' for a month. This is a city with 25 million people. Nevertheless, we just complied and we want to follow what the local government has in place."
GETTING FOOD
As Shanghai's cases rose in March, Mr Tan and his partner Ms Cynthia Ko, who manages clinic operations at Raffles Hospital in Shanghai, started stockpiling groceries in anticipation of a lockdown.
So, they did not have to panic buy just before the second stage of lockdown, when residents cleared supermarket shelves. "I have friends who go to five or six different supermarkets to get stuff. Some were really wiped out," said Ms Ko, 35.
Still, their groceries are running low after cooking every day, so Ms Ko has tried to buy them online. To cater to demand, some delivery apps only let users buy during designated time slots, like at midnight and 6am. Ms Ko has not had much success.
"I woke up at 5-ish to get into the app, but the number of people here is so overwhelming that it was busy and I couldn't order anything. And then everything was out of stock," she said with a sigh.
Ms Ko said she has managed to get into a chat group that does group buys for groceries. She has placed an order but does not yet know when it will arrive.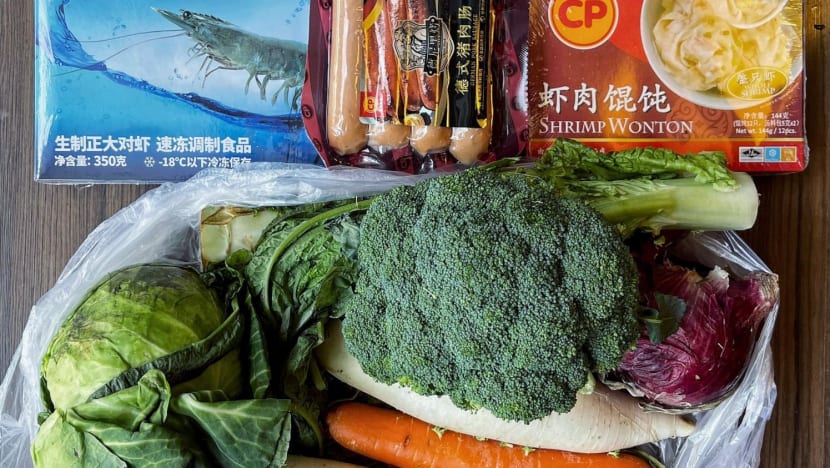 Beyond self purchases, Mr Lau said the authorities deliver free packets of meat and vegetables. The supplies range from shrimp and hot dogs to carrots and broccoli, and vary across neighbourhoods.
Mr Lau said this has become a running joke among different communities that compare what they get. "The lesser ones basically get potatoes," he said. 
Some fast-food outlets like McDonald's and KFC still deliver, he said, although these also experience high demand. "Tonight, we're going to try Pizza Hut, but we will be pleasantly surprised if we actually get our order in place. So, life has been very painful," he added.
Ms Kelly Ang, who has lived in Shanghai for almost two decades, said she is in a chat group with neighbours who leave groceries on their doorstep for those who have ran out. "They're very helpful," she said. "It's a very (strong) kampung spirit, actually."
Ms Ang, who is the general manager of corporate communications at Forbes China, is also in another chat group with other Singaporeans. Some of them are cooks and homemakers, and they post pictures of their meals and share tips on ingredients.
All the Singaporeans said their cooking skills have improved. Mr Tan's first time cooking a steak turned out okay, Ms Ko said. Ms Ang feels like an expert at cooking. "You name it, I cook it," she said confidently.
SOME INCONVENIENCES
The Singaporeans have also had to make other lifestyle tweaks.
Ms Ang said her rescued dog Geena is used to relieving itself outdoors, so she has to use treats and other methods to make it comfortable at home. Geena also goes to the balcony and stares outside, willing Ms Ang to take it for a walk.
"My first reaction (to the extended lockdown) was: 'Oh my God, what is going to happen to my Geena.' She's one very active pet and she loves going out for walks or hikes, but she has been stuck for so many days together with me.
"She doesn't understand why we are always at home and can't go out at all. I keep telling her that you cannot go gai gai (Singlish for going for a walk)."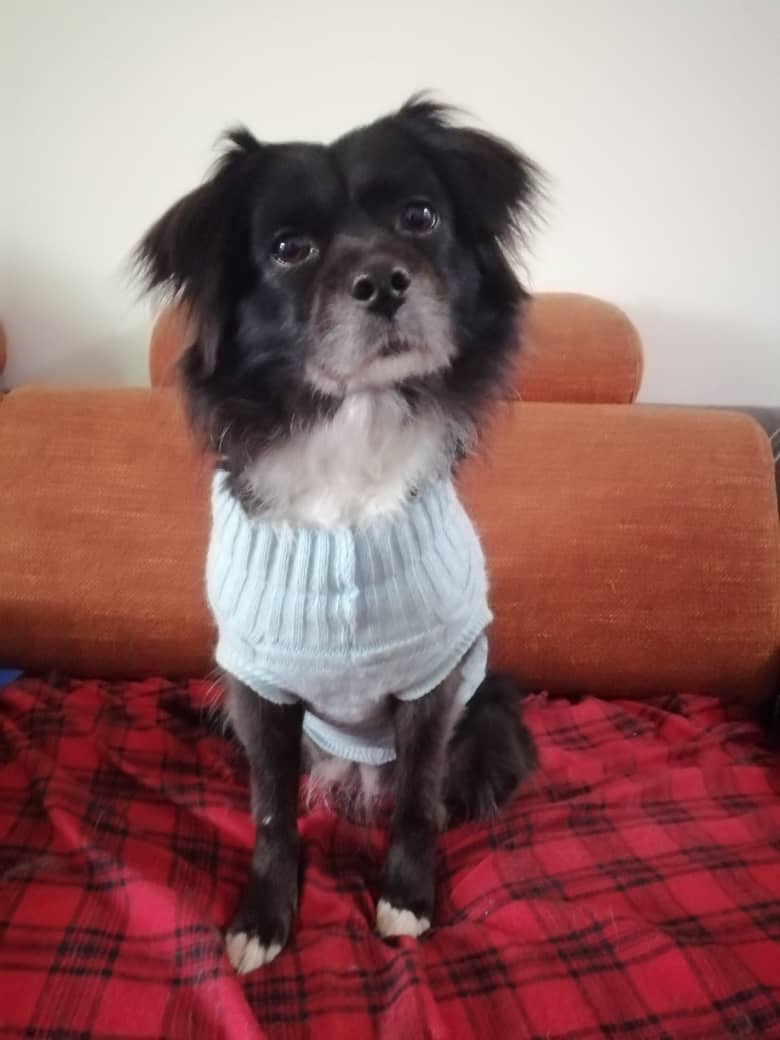 Mr Lau said the no-stepping-out rule is enforced strictly, so rubbish is placed outside the door and collected by volunteers in full protective equipment every day. This also means no exercising outdoors.
It is something that Mr Lau has had to adjust to. Before the lockdown, he used to run six days a week. So on swab test days when residents are allowed to go downstairs, he takes the opportunity to run up and down the staircase. His record is 123 floors "just to get some exercise".
He once tried doing the same on a non-swab day, but was told by the property's management to go home the moment he got to the ground floor.
More worryingly, the executive director of design company MadAboutDesign said the lockdown means his projects and gigs have been cancelled or postponed indefinitely, hurting his bottom line.
"To sum it all, we are basically just living by the day, without any expectations," he said. "This, to me, is the most painful part. We can't plan for anything."
Mr Lau said he has stayed in China because the business opportunities are better, but acknowledged that the lockdown has made him seriously consider returning home for good.
Going back to Singapore temporarily is rarely an option as the harsh quarantine rules for those returning to China raise concerns about being absent from work for so long.
"In the end, I did realise that this (persistence with the zero-COVID strategy) is a political battle, rather than a healthcare one," Mr Lau said.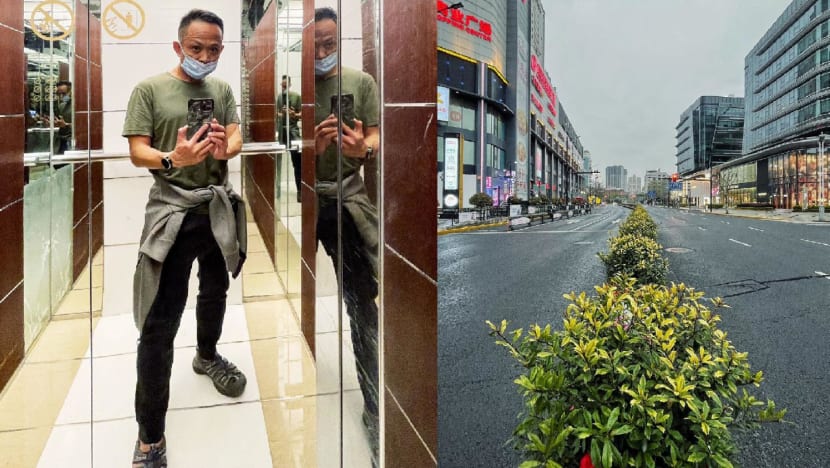 When asked whether he was feeling cooped up, Mr Tan said "it hasn't sunk in yet".
"But it will, if this gets extended indefinitely. We are also keeping a lookout in terms of news of an extended lockdown and what needs to be done," he said, adding that the Singapore embassy in Shanghai has been of great help.
Mr Tan admitted feeling some jealousy when Singapore opened up, but highlighted that he enjoyed life in Shanghai with few restrictions before the recent spike in cases.
"With no expectations, there will be no disappointments. I think we just want to take things a day at a time right now," he said, adding that he and Ms Ko are trying to live as normal a life as possible.
"The situation is very fluid; it's always evolving. We wouldn't know what's going to happen. Because for all you know, we took a test this morning and we might end up positive."
Ms Ang, who described herself as "happy-go-lucky", chose to look on the brighter side.
Family members back home send her messages of encouragement, and she keeps up with friends in China over calls and WeChat. The only thing she misses is shopping.
"I think life just goes on; life is just as good. The inconvenience is only for this period for a better tomorrow. So, why not just (comply)," she said.
"If you're unhappy, you affect your work, neighbour and dog. Why stay unhappy?"