Holiday season sales off to a good start with Black Friday, say retailers in Singapore
Sales were however "somewhat muted" for some brick-and-mortar stores that held their first physical Black Friday sales after two years.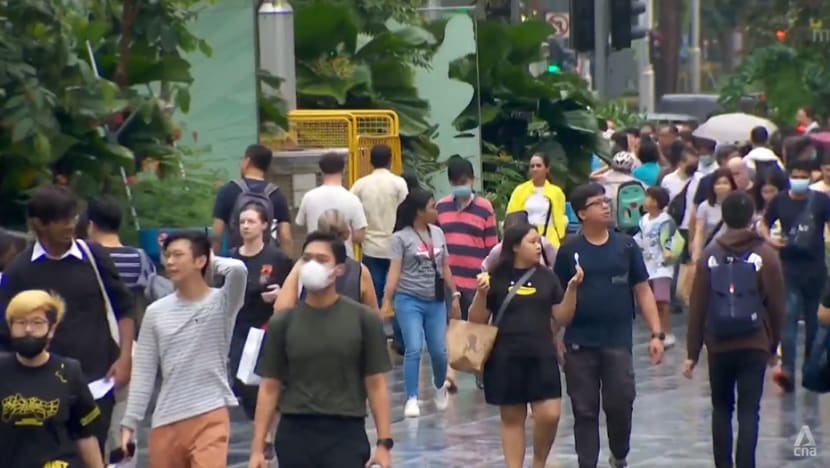 SINGAPORE: The start of the holiday shopping season kicked off with a big bang over the Black Friday weekend for many retailers in Singapore.
Among them was e-commerce platform Lazada, whose sales in the first two hours outperformed its entire volume on an average day.
Big-ticket items like television sets and daily essentials like towels were among the top-selling items, a spokesperson said.
"We can see that shoppers are taking advantage of the year-end sales before the GST (Goods and Services Tax) increase in 2023," he added.
GST will increase from 7 per cent to 8 per cent from Jan 1 next year.
Amazon Singapore had started preparing months in advance for Black Friday, which fell on Nov 25. The firm saw more big-ticket item purchases from customers, including products from the PC, wireless, and home categories.
A spokesperson added that with the easing of travel restrictions, the luggage category saw the highest growth.
It was not just online retailers who experienced the boom from Black Friday, a sales period made popular in the US.  Department store chain BHG Singapore reported a three-fold increase in sales over the weekend, compared to 2019. Beauty and home goods were the most popular categories, along with home appliances, said the chain's general manager Vivien Lim.
But for other brick-and-mortar stores, what could have been a roaring shopping weekend started instead with a whimper.
SALES "SOMEWHAT MUTED" FOR SOME
Executive director of the Singapore Retail Association, Ms Rose Tong, said this year's Black Friday sales were "somewhat muted" and fell below expectations for some retailers. This was despite it being the first physical Black Friday sales after a two-year hiatus.
Part of the reason could be that "belts are tightened for discretionary purchases given inflation and job uncertainty", she said.
"It is also the first time after two years that many are able to travel overseas and hence the 'leakage' (in potential customers). Margins are also eroded due to increased business costs," she told CNA.
However, shoppers told CNA there are advantages to browsing in physical stores, such as feeling the quality of the clothing materials and being able to try on sizes before committing to a purchase.
"Especially for clothes and bags and stuff like that, how it will look online on a model will be different in real life," said one shopper.
SHOPPING FOR BETTER PRICES
The shopping buzz despite global inflation and a gloomy economic outlook could be due to shoppers opting to make their purchases earlier, rather than later, said Dr Lau Kong Cheen, senior lecturer from the Marketing Programme at the Singapore University of Social Sciences.
"Why do we want to miss out on such good deals when we can see it now, it may not come again, right? Even though we get another 50 per cent discount next year, the same as now, the price will have increased due to inflation and … GST hikes," he said.
People may also be influenced to buy earlier because of the availability of "buy now, pay later" schemes, he added.
"People can actually stretch the amount of money they have now, buy things that they want, particularly the big-ticket items, where 1 per cent of GST increase could be quite substantial," he said.
Dr Lau also cited recent efforts to increase the wages of lower-income workers, as well as bonus announcements in the civil service sector, as factors that could propel consumer demand this holiday season.
Lazada, for one, is anticipating the holiday sales cheer to continue.
"We expect demand to continue into December for the upcoming 12.12 campaign and Year-End Festival, which marks the final nationwide sale event of the year," a spokesperson said.