Two Singapore Airlines A380s towed along public road to be scrapped at Changi Exhibition Centre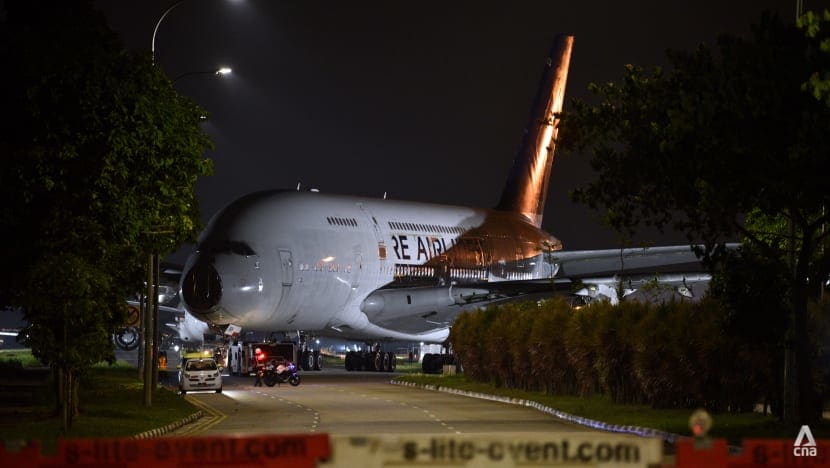 SINGAPORE: It was already past 10.30pm on Monday evening (Oct 4) along the remote Aviation Park Road, but at one of the gates that lead to the numerous taxiways of Changi Airport, a couple of automated road sweepers were still hard at work.
The machines created wisps of steam as they chugged along and picked up debris. Auxiliary police officers on white motorcycles completed a final sweep. Behind the fences, the dark silhouette of a large plane glided silently to the gate.
At 11pm sharp, a roughly 2km-stretch of the road was blocked off. It had earlier been stripped of its lamp posts and fitted with low floodlights on either side. Everything was now ready for the operation to commence.
In an operation lasting a few hours, two Singapore Airlines' (SIA) Airbus A380s were towed on their final trip to Changi Exhibition Centre, where they will be taken apart. This is the first time that SIA is scrapping its superjumbos locally.
The planes, registration numbers 9V-SKH and 9V-SKG, are among seven A380s that SIA had announced in November last year it would retire, amid a first half net loss of S$3.5 billion as passenger numbers fell by almost 99 per cent due to the COVID-19 pandemic.
The aircraft were delivered in May and June 2009, according to data from aviation website Planespotters.
Five A380s that SIA previously retired – all of which had been in service for about a decade – were flown overseas before being stored or parted out.
"From my perspective, usually aircraft are parted out overseas," FlightGlobal Asia managing editor Greg Waldron told CNA. "It's quite a big industrial operation to part out aircraft."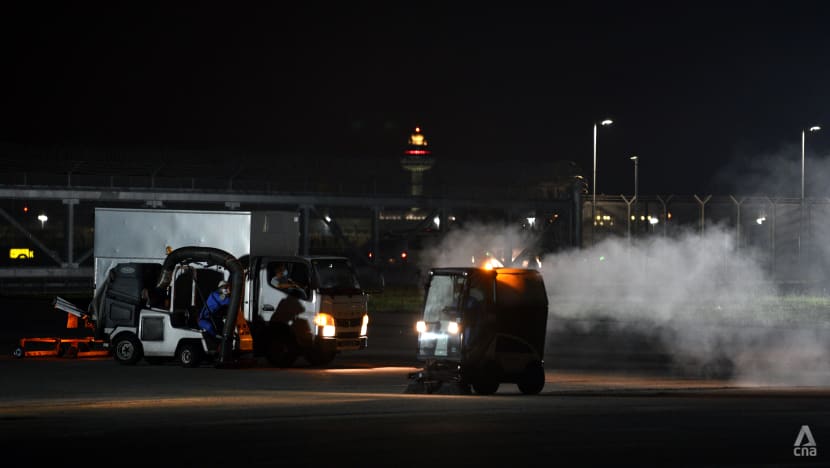 An SIA spokesperson told CNA the decision to scrap the A380s locally was based on factors including the expertise of local and international vendors, the closure of international borders and the cost of dismantling the aircraft.
A road closure notice on the Land Transport Authority's OneMotoring website said the towing operation was organised by Hunt Way Management Consultancy Services.
According to its website, Hunt Way is a project management specialist in areas like construction engineering, repair and redecoration, and interior refurbishment. It has also worked with aerospace maintenance, repair and overhaul (MRO) organisations.
"Generally, (scrapping aircraft) is a fairly specialised operation. You really need to know your way around the airplane, how to do it safely and correctly, and also to retain value, like you don't want to damage the components that you're trying to sell," Mr Waldron said.
"SIA Engineering Company, which is the MRO for SIA, they're a very experienced MRO company. They've maintained all sorts of aircraft over the years, they know their way around the A380. So, somebody like that would certainly have the ability."
THE SUPERJUMBOS EMERGE
While the road was closed to traffic, cyclists and pedestrians, a small group of aviation enthusiasts found a way to catch a glimpse of the unprecedented operation. About 10 people waited near the eastern end of the blockade, armed with tripods, DSLRs and zoom lenses.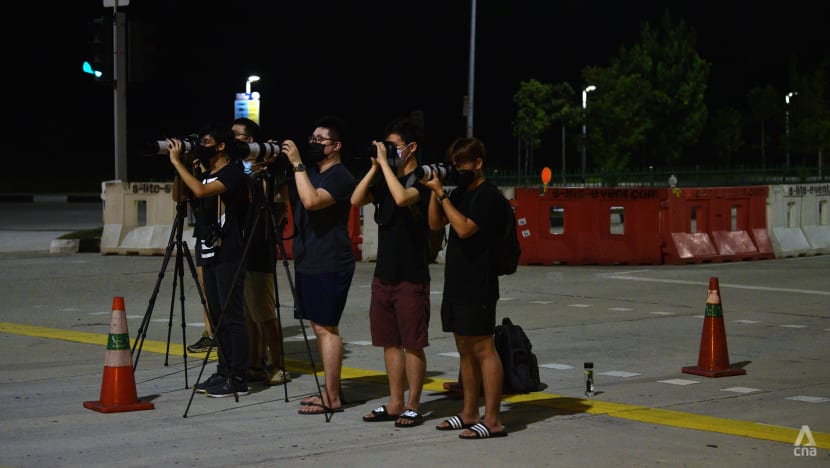 One of them was polytechnic student Yeong Zi Feng, who turned up at around 11.30pm with his camera. The 18-year-old had driven around the area since 10pm to find a good spot.
"The A380 is a big aircraft, so it's not like you get to see this kind of thing in every country. It's quite nice to have a photo of it also," he said.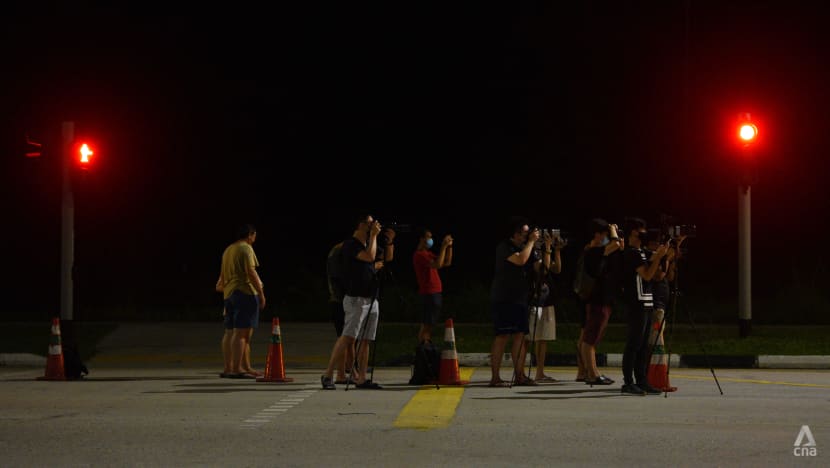 With him was fellow planespotter Teng Joon Seng, 18. The two had met while taking pictures of planes before coincidentally joining the same aviation management course in Temasek Polytechnic.
Mr Teng said many enthusiasts hope to photograph each A380 in SIA's fleet and tick off their unique registration numbers. "We hope to complete the collection," he added.
What came next was a lot of standing and waiting. That was until about 1.15am, when a distinctive shape emerged in the distance.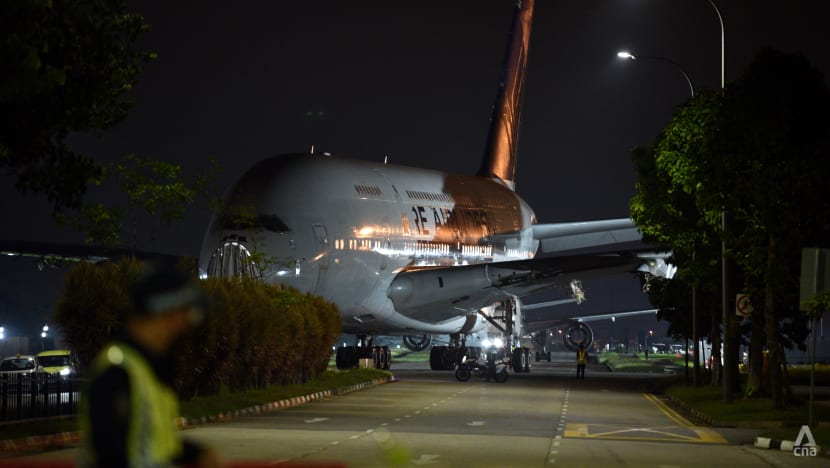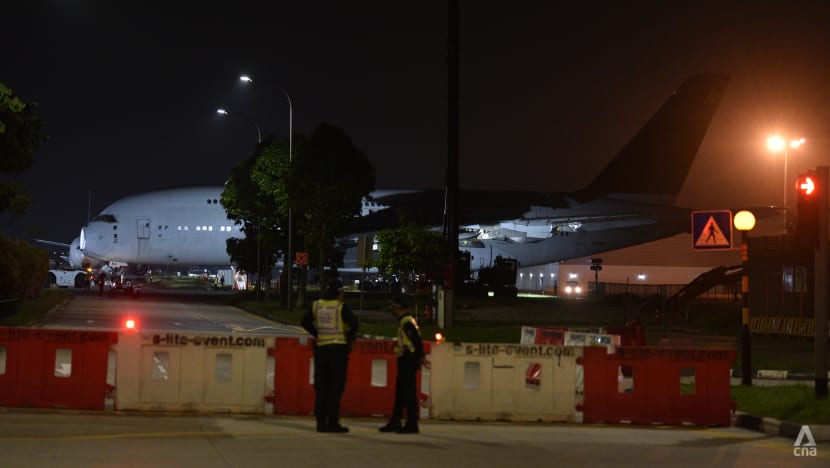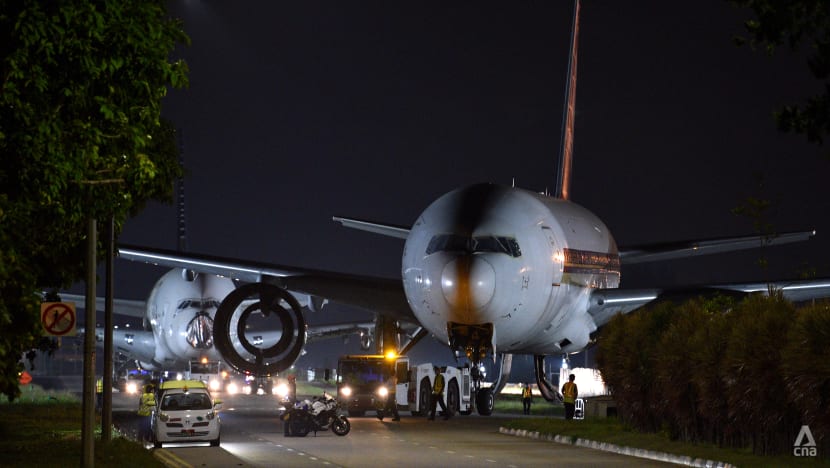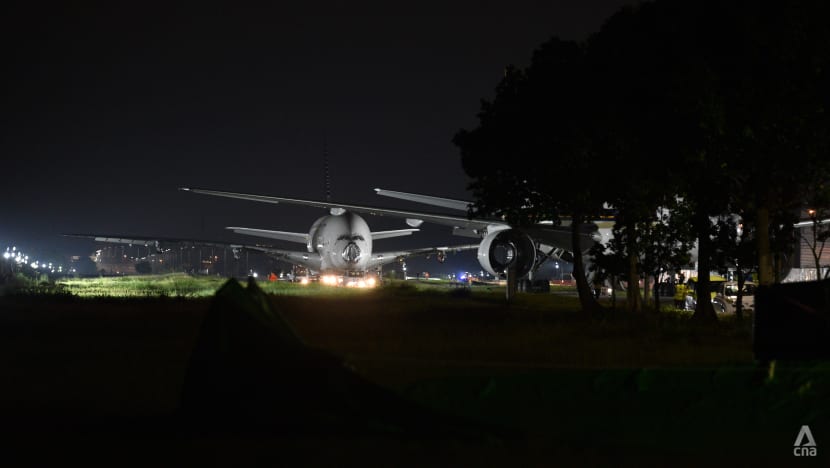 It was the first A380, with its engines and nose cone removed. The SIA livery had also been taken off, save for a strip that still showed part of the airline name. The A380 was positioned diagonally across the road before being pushed back into a cavernous outdoor compound.
Right behind this A380 was an SIA Boeing 777-200ER, which will also be scrapped. The second A380, bringing up the rear, was the only one that entered nose first.
WHERE WILL THE PARTS GO?
Usable parts from the scrapped A380s will be retained as spare parts to maintain its current fleet of operating A380s, the SIA spokesperson said. At the time of its announcement to retire seven A380s, SIA operated a fleet of 19 of the superjumbos.
Suitable aircraft materials, such as parts of the fuselage, cabin windows, overhead compartments, seats, life vests, soft furnishings and linens, as well as galley equipment such as carts and racks, will be repurposed for SIA's upcycling initiative.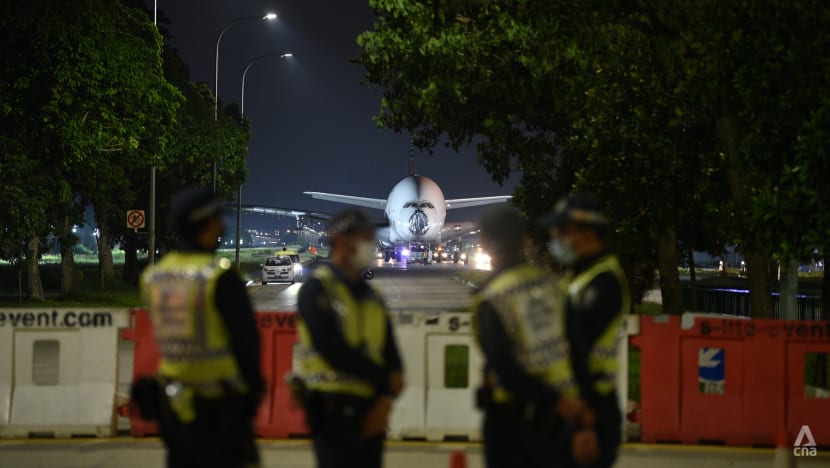 The initiative, launched in August, provides parts and materials from retired SIA commercial aircraft to various Singapore-based organisations and selected global retail brands.
"These parts can be upcycled and repurposed to create unique retail products and art pieces, and will also be used to support educational institutions, artists and persons with disabilities," SIA said in a press release on the initiative.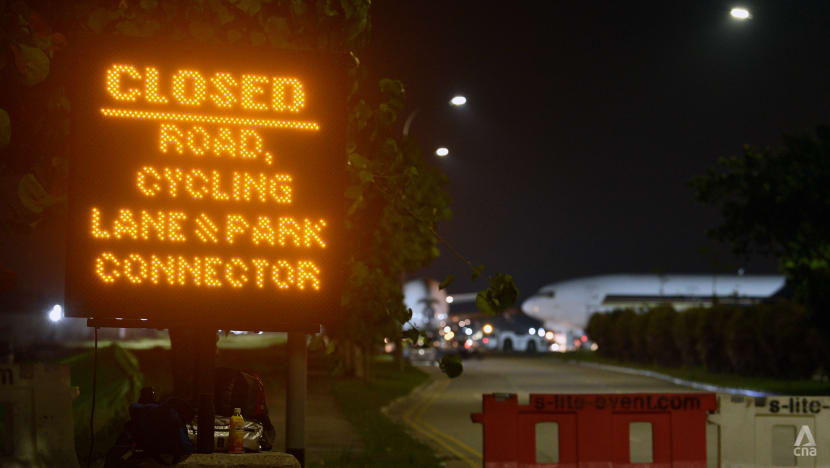 Mr Waldron said "there's a lot of value" in old aircraft, ranging from its engines to spare parts.
"The first thing they'll take off is the engines and those of course can be used on other A380s or can be used for spare parts," he said.
"You're going into the different components and all the different systems, and depending on how much these have been used, these can also be reused in other aircraft as well. It even gets down to the level of like coffee machines."
WHY ARE A380s BEING RETIRED?
SIA became the first airline to launch A380 services amid fanfare in October 2007, but returned the first two aircraft to their German financiers when leases expired about 10 years later.
The SIA spokesperson did not reveal the lease or purchase arrangements of the two A380s that will be scrapped.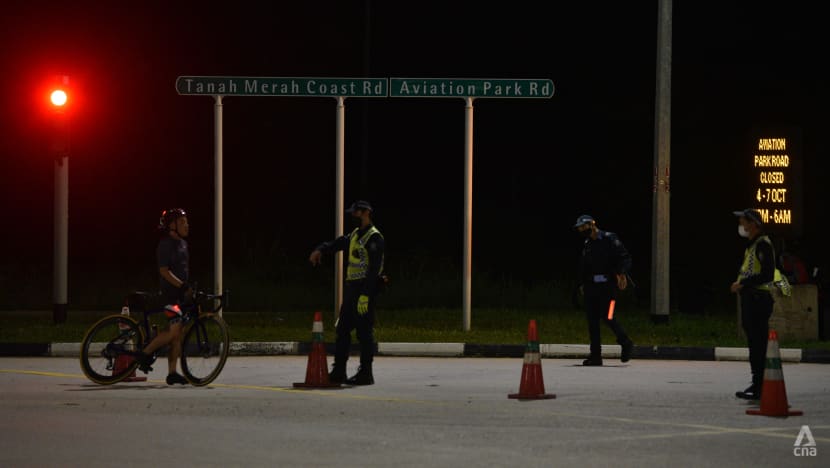 While many have lauded the A380's quiet and spacious cabin, demand for the 544-seater has fallen as many airlines drop the industry's largest four-engined aircraft in favour of smaller twin-engined ones that are more efficient and easier to fill.
"It was a very large aircraft, so airlines had a lot of trouble filling all the seats. And also basically it was really only suited for very specific routes, like between major hubs. You can't put it onto smaller routes because the aircraft is just too big," Mr Waldron said.
"The other issue that's happened too is competing aircraft like the Boeing 777-300ER, and now the Boeing 787 and Airbus A350, have very good seat costs from an airline perspective. So, the cost of operating the other aircraft is significantly lower, and that's been the downfall of the A380."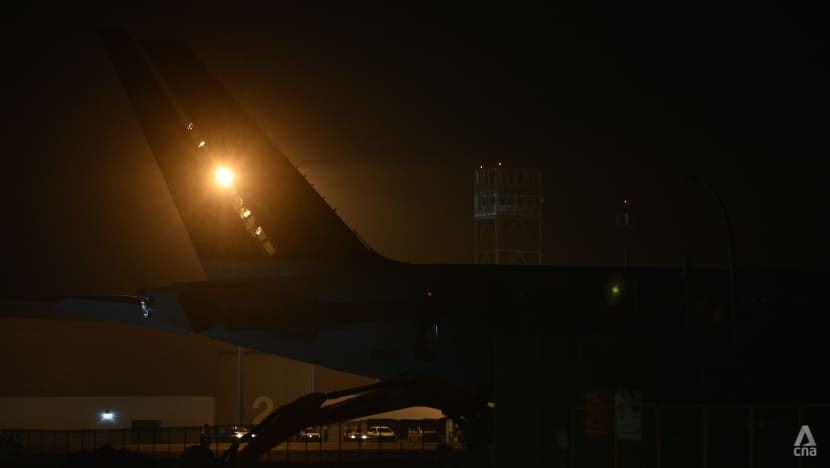 Still, according to air travel website Mainly Miles, SIA has committed to fitting all 12 of its remaining A380s with new cabin products, an indication that they could return to service as demand picks up. Some of these planes are still parked in the aircraft storage facility in Alice Springs, Australia.
"(The A380) remains extremely popular among passengers, because it's big, comfortable and very quiet, so it's definitely an iconic aircraft. But unfortunately, it didn't quite work out for Airbus," Mr Waldron added.