Japan, South Korea flights mostly unaffected by harsh weather: SIA
South Korea and Japan have been hit by freezing temperatures and heavy snow.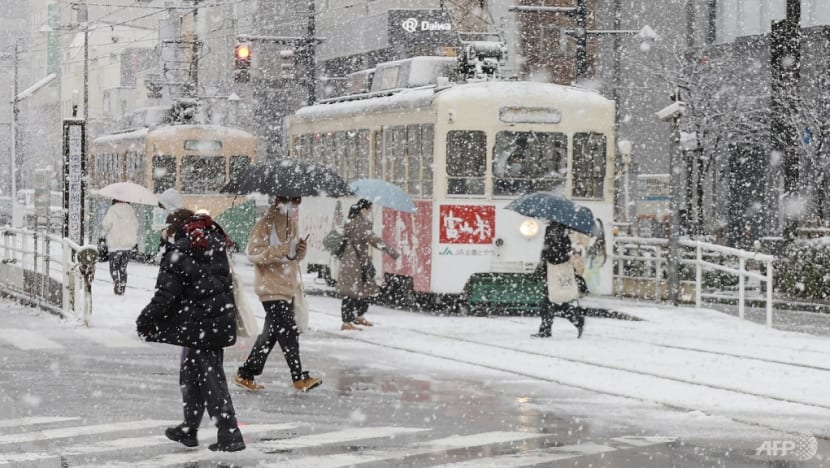 SINGAPORE: Most Singapore Airlines (SIA) flights between Singapore and destinations in Japan and South Korea have not been affected by the harsh weather that has been hitting East Asia.
All flights between Singapore and South Korea are currently unaffected, a spokesperson for the airline said on Thursday (Jan 26) in response to a CNA query.
With the exception of one flight from Osaka to Singapore which departed behind schedule, flights between Singapore and Japan are also operating normally, the spokesperson added.
According to data from flight tracker FlightAware, SIA flight SQ619 left Osaka two hours and 46 minutes late on Wednesday.
The airline said that it will provide updates on affected flights, if any, through its website and social media pages. It also advised customers to update their contact details so that they can receive flight status updates.
"The safety of our customers and crew is our top priority," the spokesperson said. "SIA will continue to monitor the situation closely, and make any adjustments, as necessary."
Sub-zero temperatures and icy conditions have been affecting much of South Korea this week, with Tuesday seeing hundreds of flights in and out of Jeju Island grounded because of snowstorms.
About 540 flights, including nearly 70 that were temporarily added by transportation authorities in an emergency response, were scheduled in and out of Jeju on Wednesday alone, mostly to take passengers back to mainland cities.
The Korea Airports Corporation said that the operating hours at Gimpo airport near Seoul were extended until 1am on Thursday (midnight Singapore time) to accommodate the flights, which were expected to bring back 70 per cent to 80 per cent of the passengers who were stuck in Jeju.
The winter storms appeared to be moving towards the greater Seoul area and nearby regions, where heavy snow was expected from late Wednesday to Thursday afternoon, according to the Safety Ministry, which warned about dangerous road conditions.
In Japan, meanwhile, heavy snow and record cold temperatures also brought widespread disruptions.
Thousands of people using train services in Kyoto and Shiga prefectures in western Japan were forced to stay overnight in carriages or stations, while vehicles on major roads across the country were left stranded and hundreds of flights were cancelled, Kyodo News reported.