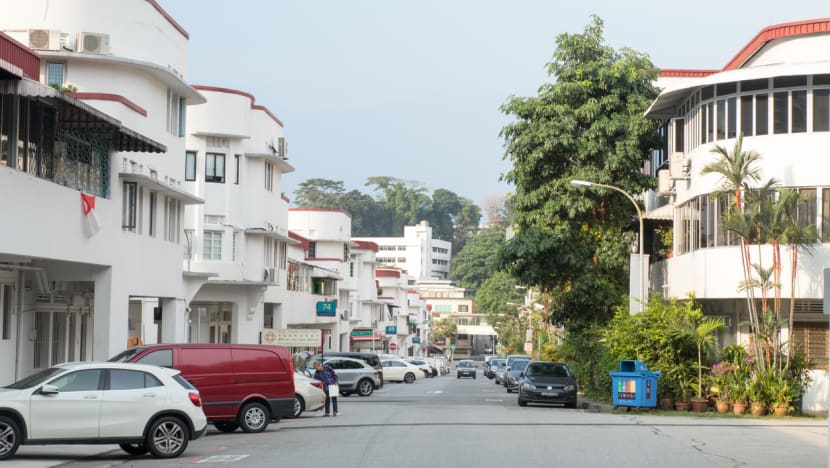 SINGAPORE: New roads will be designed and existing ones repurposed to better support public transport, walking and cycling and the creation of more community spaces in Singapore.
Sin Ming and Tiong Bahru will be among the neighbourhoods where such projects will be launched, said Senior Minister of State for Transport Amy Khor during her ministry's Committee of Supply debate on Wednesday (Mar 9).
The goal is to support commuters' use of greener modes of transport, and eventually get 90 per cent of peak-period trips to be made via walk, cycle or ride modes by 2040.
NEW TRANSIT PRIORITY CORRIDOR IN SIN MING 
Transit Priority Corridors (TPCs) are roads that are integrated with bus lanes, wider footpaths and dedicated cycling paths or shared paths. Dr Khor said the Government plans to grow the TPC network by about 60km by 2030, including the "longest TPC along the North-South Corridor".
"This may not sound like a lot, but each TPC will become the key thoroughfare for the neighbourhood," she added.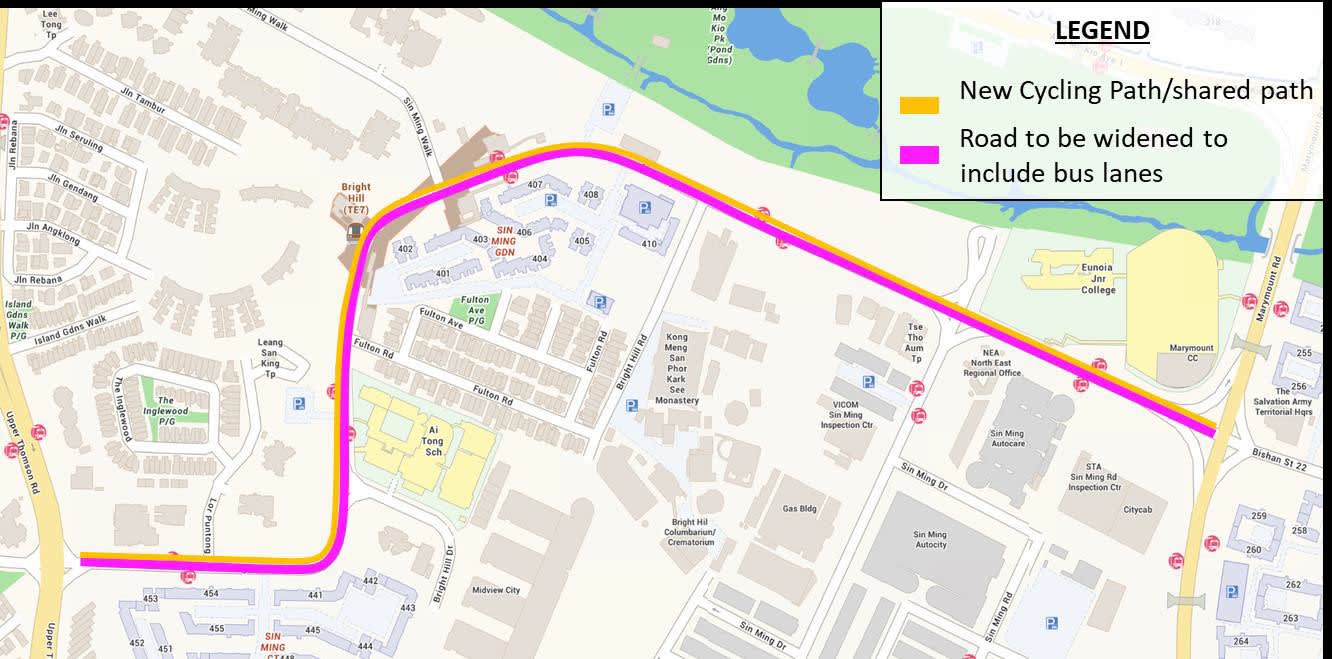 Construction will begin in the second half of this year on a new TPC along Sin Ming Avenue connecting to the North-South Corridor at Marymount Road and Bright Hill MRT station, LTA said in a press release.
The 2km stretch will include a dedicated bus lane, new cycling paths and wider footpaths. 
LTA said that when the TPC is completed in 2029, it will be easier for Sin Ming residents to get to Bright Hill MRT station – one of the interchange stations between the Thomson-East Coast Line and the Cross Island Line. 
Schools like Ai Tong School and Eunoia Junior College, as well as the Bishan-Ang Mo Kio Park, will be within convenient reach by public transport and active mobility modes, LTA added. 
LTA also highlighted a TPC along Tampines Avenue 1 that was completed in 2021. The 1.7km TPC, which has a dedicated bus lane and cycling paths, gives residents smoother bus journeys and enhanced cycling connectivity to Tampines West MRT station. 
REPURPOSED ROADS IN TIONG BAHRU
LTA will launch a six-month trial from the end of March to repurpose several roads in Tiong Bahru – Seng Poh Road, Eng Hoon Street and Lim Liak Street. This will be supported by "traffic calming measures" to slow down traffic and facilitate safer crossings. 
The repurposed roads will make the neighbourhood more pedestrian-friendly, particularly near the popular Tiong Bahru Market. 
For instance, temporary kerbs and planter boxes will be used to close off Eng Hoon Street to create a pedestrianised street. A pedestrianised street is similar to a very wide footpath, where the road is closed off to vehicles and reserved for pedestrians, bicycles and non-motorised personal mobility devices and aids. 
The existing taxi stand at Seng Poh Road will also be relocated to Lim Liak Street. 
Affected motorists can find alternative parking at Seng Poh Lane and Moh Guan Terrace. 
During the six-month trial, LTA will gather feedback from the community. If the changes are supported, they will be made permanent. 
Dr Khor also shared updates on existing and completed road design projects. In December last year, the footpath along Havelock Road was widened by repurposing on-street parking lots, making the Beo Crescent neighbourhood more pedestrian-friendly.
Since December, visitors to the Civic District have also been able to walk between Esplanade Park, Empress Place and Padang, after Connaught Drive and Fullerton Road/Anderson Bridge were closed to vehicular traffic. 
The pedestrianisation of Woodlands Ring Road next to Kampung Admiralty is also on track to be completed by the third quarter of this year, added LTA. 
LTA said it will continue to study other suitable areas for road repurposing to encourage more Singaporeans to embrace public transport and active mobility as a preferred mode of travel. 
CYCLING NETWORK EXPANDED, MORE BICYCLE LOTS
Finally, to encourage more active and sustainable mobility efforts, LTA will expand the islandwide cycling network to around 1,300km by 2030, said Senior Parliamentary Secretary for Transport Baey Yam Keng.
The network is around 500km today. 
Additionally, about 3,000 more bicycle lots will be provided at MRT stations by 2025. 
"We are encouraging workplaces to provide such facilities through the Active Commute Grant, and have awarded the grant to 14 workplaces so far. We hope more workplaces will make good use of this grant when the next round of applications open this year," added Mr Baey.