Singapore-Australia travel arrangement could be established 'within the next week', says PM Scott Morrison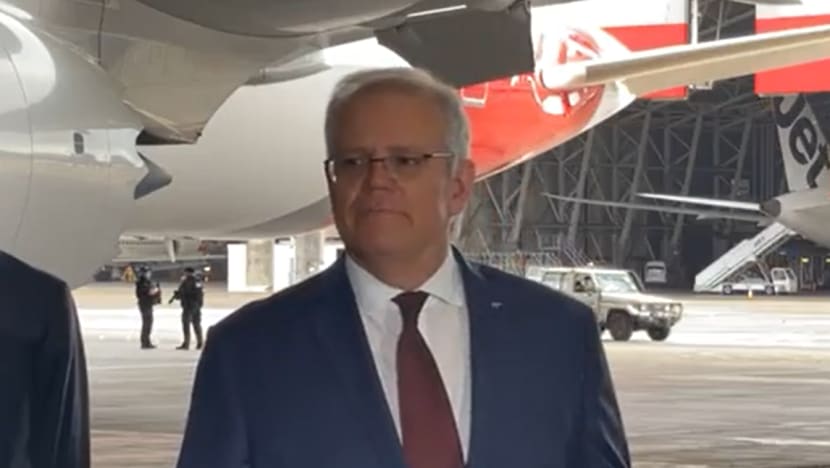 SINGAPORE: Australia is in the "final stages" of talks with Singapore to set up a new travel arrangement between the countries which could be established "within the next week or so", Prime Minister Scott Morrison said on Friday (Oct 22) morning.
The talks are focused on allowing vaccinated students and business travellers to benefit from the arrangement first, before opening up to tourists, The Sydney Morning Herald reported.
The travel bubble will depend on the quarantine arrangements of each state, but New South Wales and Victoria have already ditched mandatory hotel quarantine for vaccinated international travellers from Nov 1, according to the report.
"The first step (is to) bring Australians home," Mr Morrison said at a press conference on Friday. 
The country will then welcome those with student visas, business travellers, skilled migrants and international visitors, in that order, he said. 
Mr Morrison added that Australia may welcome international visitors "before the end of the year" but that the country would not rush its reopening, saying that the aim was to "open safely so we can remain safely open". 
Prime Minister Lee Hsien Loong said in a statement on Facebook after Mr Morrison's announcement that he was "delighted".
"Singapore and Australia have robust economic and investment links, and warm people-to-people ties.
"Look forward to resuming close connectivity between our countries, as we move towards an endemic COVID future," he said.
In March, Singapore confirmed it was in talks on a possible travel bubble with Australia.
SINGAPORE AIRLINES ADDS FLIGHTS TO SYDNEY 
Singapore Airlines (SIA) on Friday announced it would add flights to Sydney from Dec 1. Flights will operate daily between Singapore and Sydney.
Flight SQ231 will depart Changi Airport at 12.45am local time, and arrive in Sydney at 11.50am local time. The return flight SQ222 will depart Sydney at 4.10pm, arriving at Changi Airport at 9.20pm. 
SIA said it has implemented "industry-leading health and safety measures", including extensive cabin cleaning and personal care kits for each customer. 
The plane is also equipped with advanced HEPA filtration systems that "replace all cabin air every three minutes", the airline added. 
All customers and crew are also required to wear masks for the duration of their flight, except during meals.
In a separate media release, Qantas said it will restart flights between Singapore and Sydney on Nov 23, four weeks earlier than planned. 
Flights will initially operate three days a week, with daily flights available from Dec 18. 
Jetstar will fly from Melbourne and Darwin to Singapore from Dec 16. 
Australians have been unable to travel internationally for more than 18 months without a government waiver, and thousands of citizens and permanent residents have been unable to return after Canberra imposed a strict cap on arrivals to slow the spread of COVID-19.