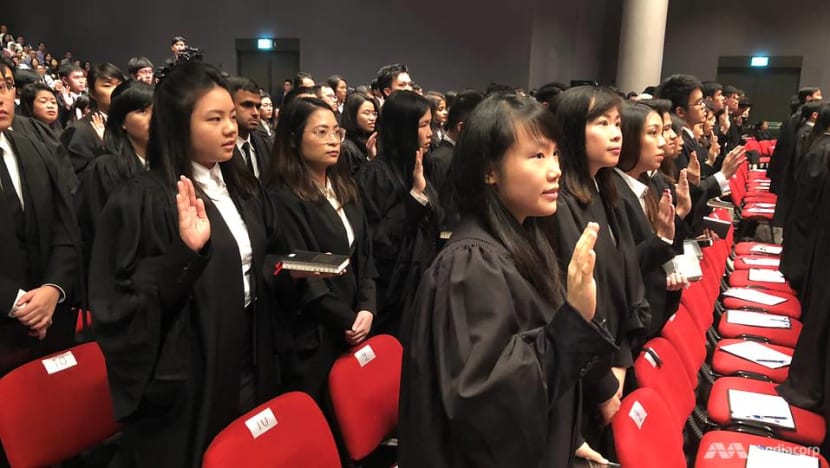 SINGAPORE: From 2023, law graduates who want to be practising lawyers will have to complete one year of practice training with a firm instead of the current six months, after passing the Singapore Bar examinations.
In addition, Part B of the exam will be more stringent, announced Chief Justice Sundaresh Menon in a speech on Thursday (Aug 30). Part B is taken by graduates from both local and overseas universities, while Part A is a requirement only for those from overseas universities.
For law graduates who decide not to become practising lawyers, they can still be called to the Bar after passing the exams – without having to complete the practice training period.
This means a practice training contract will no longer be a pre-condition for admission to the Bar. For these students, they can pursue alternative careers such as becoming an in-house counsel, practice support lawyers, law academics and legal technologists.
"The completion of a practice training contract will only be a pre-requisite for those who intend to practice law," said Chief Justice Menon.

"This proposal recognises that a person who has studied law can contribute to society without becoming a practising lawyer, and that it is not necessary for those who choose to pursue different pathways to first complete a period of practical training before starting work."
The changes, which the Chief Justice described as a "significant restructuring" of the professional training regime, were among the recommendations made by the Committee for the Professional Training of Lawyers.
Formed in August 2016, the committee chaired by Justice Quentin Loh included judges and law practitioners.
The committee's report, which was published on the Supreme Court's website on Thursday afternoon, detailed challenges to the existing training regime of lawyers in Singapore.
Among the findings were: A lack of training information, intense competition for practice training contracts and a lack of consistency in training standards across firms.
Additionally, even after law graduates completed their practice training, there was a perceived "lack of transparency in the decision-making process" on whether or not they were retained in the law firms.

Justice Loh said the committee believes that its recommendations "will raise the quality and consistency of training standards across law firms and provide different pathways and opportunities for the legal profession".
CHANGES WILL GIVE LAW GRADS 'GREATER FLEXIBILITY AND CHOICE'
The Ministry of Law said in a statement that it has accepted in principle the proposals, along with 17 other recommendations on the training of lawyers.
"The proposed change recognises that a legal education can lead to different career pathways, and allows law graduates greater flexibility and choice," said the ministry.
It also pointed out that the practice training period for solicitors in the United Kingdom, France, Germany and Hong Kong is two years.
Implementing the recommendations in 2023 will give the industry "time to adjust", the ministry added, and the majority of students who are currently in law school will not be affected.
Speaking at the first session of this year's mass call, where more than 450 newly appointed law advocates and solicitors will be called to the Bar, Chief Justice Menon touched on the qualities that a lawyer should have, including passionate curiosity and finding solutions with technology.
He also reminded them of former Prime Minister Lee Kuan Yew's definition of the role of a lawyer as a "legal architect" in the nation-building project.