SINGAPORE: Singapore Deputy Prime Minister Lawrence Wong met Chinese Premier Li Qiang in Beijing on Tuesday (May 16), reaffirming the long-standing relationship between the two countries which had recently upgraded to an "All-Round High-Quality Future-Oriented Partnership", said the Prime Minister's Office (PMO).
The two leaders took stock of the comprehensive range and growth of their countries' bilateral cooperation, which includes the three Government-to-Government projects in Suzhou, Tianjin, and Chongqing, as well as other institutionalised platforms such as the Singapore-China Forum on Leadership.
Mr Wong and Mr Li exchanged views on how both sides could further enhance cooperation, especially in new areas like digitalisation, energy and sustainability, said PMO, adding that they also agreed on the need for more people-to-people exchanges and the importance of restoring flight connectivity and facilitating people flows.
Mr Wong, who is also Finance Minister, also met Vice Premier Ding Xuexiang, who hosted him to dinner.
Both men reaffirmed the continued importance of the Joint Council for Bilateral Cooperation (JCBC) at the top platform for overseeing and providing strategic directions to bilateral cooperation, said PMO.
The JCBC is the highest-level annual forum between China and Singapore, and the two men said they looked forward to co-chairing its 19th edition in China later in 2023.
Mr Wong and Mr Ding also looked forward to the signing of the Protocol of the China-Singapore Free Trade Agreement Subsequent Negotiations this year, following its substantive conclusion on Apr 1, said PMO.
"They also welcomed the good progress made on implementing the Regional Comprehensive Economic Partnership (RCEP), and in the ongoing negotiations on the upgrade of the ASEAN-China Free Trade Area," it added.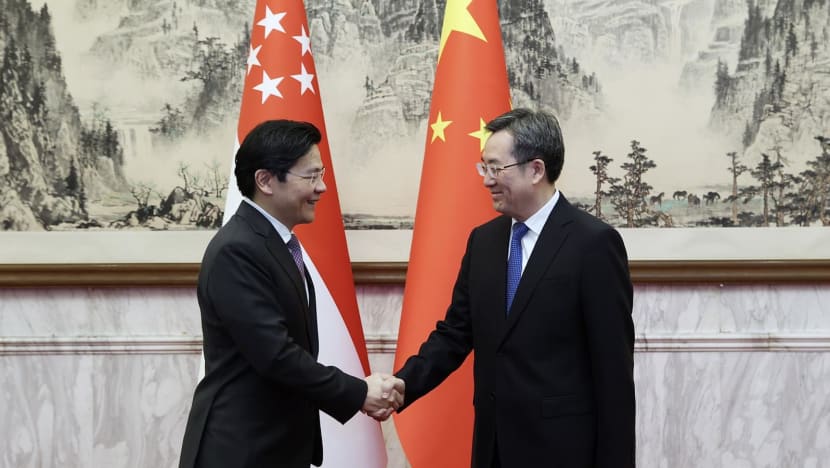 Mr Wong's meetings in Beijing are part of the second leg of his five-day visit to China - taking place from May 13 to May 17 – and is his first visit to the country since he was appointed Deputy Prime Minister in June 2022.
On the first leg in Shanghai, Mr Wong met the Secretary of the Communist Party of China (CPC) Shanghai Municipal Committee Chen Jining and Shanghai Mayor Gong Zheng. He also met Singaporeans based in the city.
On Wednesday, Mr Wong will meet Minister of the CPC Central Organisation Department Li Ganjie.