Singapore, China elevate bilateral ties following PM Lee meeting with Xi Jinping
Singapore Prime Minister Lee Hsien Loong and Chinese President Xi Jinping also agreed that both countries should work towards resuming flight connectivity.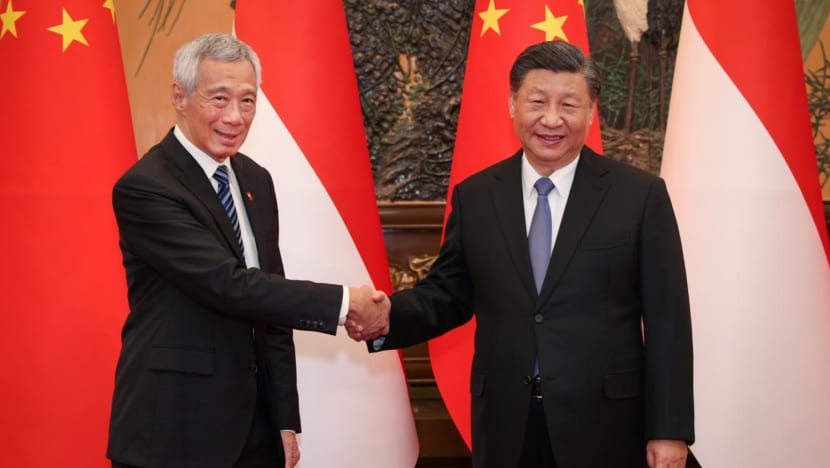 BEIJING: Singapore and China have elevated their bilateral relations and will collaborate in new areas following a meeting between Singapore's Prime Minister Lee Hsien Loong and Chinese President Xi Jinping. 
During the meeting on Friday (Mar 31) at the Great Hall of the People in Beijing, Mr Lee and Mr Xi agreed to upgrade ties between the two countries to an "All-Round High-Quality Future-Oriented Partnership". 

"The upgraded partnership reflects both sides' commitment to continually expand bilateral cooperation, and pursue new collaboration in forward-looking areas such as digital and green economies," Singapore's Ministry of Foreign Affairs (MFA) said in a statement following the meeting.
The two leaders also agreed that both sides should work towards resuming flight connectivity and people-to-people exchanges to pre-pandemic levels. China only reopened its borders to foreign tourists on Mar 15 when it restored the issuance of all types of visas.
In the meeting attended by government officials from both countries and the media, Mr Lee noted that it was timely for Singapore and China to now take their partnership forward. 
Mr Lee, who is on a visit to China that started on Mar 27, added he was glad for the "strong friendship and deep understanding" between both countries. 
"Singapore and China have continued to work with each other and support one another. And our relationship has only grown stronger," the Prime Minister said. 
"Therefore it's timely for us now to look ahead, work together and take our partnership forward," said Mr Lee, who is on the last leg of his trip which earlier took him to Guangdong and Hainan provinces.

Mr Lee also congratulated Mr Xi on his reappointment as president, noting that China's new leadership team laid out its vision and long-term goals for the nation's next stage of development.
"I'm happy to read of China's emphasis on economic growth and resilience. I'm confident that your economy will continue to strengthen," he said.
"Many countries including Singapore are very keen to enhance our economic ties with China. And I hope that my visit will inject a fresh momentum for bilateral cooperation and high-level exchanges between us."

MFA added that Mr Lee welcomed China's growing engagement of the Association of Southeast Asian Nations (ASEAN) and both countries reaffirmed the importance of building an open, peaceful, and inclusive region.
Speaking in Mandarin, Mr Xi said China has always regarded Singapore as an important country to build ties with, and that both Singapore and China "shared a special and close friendship". 
He described bilateral collaborations as forward-looking and driving the development and revitalisation of both countries.
Ties between the two nations have also set an example for the region, the president added.
He said he was willing to continue in-depth communications with Mr Lee, to promote partnerships in different fields.
"This will bring benefits to both countries' people, and will contribute a lot to this region and the world's peaceful and stable development," said Mr Xi.
Mr Lee said he was especially glad to be able to visit China again, since his last visit in 2019. He said he used to visit annually if possible. "I'm glad to have the chance to come and meet old friends and make new ones and to catch up with the latest developments," he added.

On Friday, Mr Lee also had individual meetings with three top leaders: Beijing Party Secretary Yin Li, National People's Party Congress Chairman Zhao Leji and Chinese People's Political Consultative Conference Chairman Wang Huning.
During these meetings, Mr Lee reaffirmed the close ties between Singapore and China, and cited collaborations such as Tianjin Eco City and Suzhou Industrial Park as examples of thriving bilateral projects. Both sides welcomed closer and expanded scopes of engagement for mutual benefit.

It was the first time Mr Lee met Dr Yin, who was appointed to his role by the Communist Party of China (CPC) last year.
Mr Lee previously met Mr Zhao in 2017 and Mr Wang in 1993. They were elected to their current positions last month, after a new leadership slate was announced following Mr Xi's historic reelection as President for a third term.

Mr Zhao is number three in the Politburo Standing Committee while Mr Wang is number four.
On Saturday, Mr Lee will meet number two in China's party hierarchy - new premier Li Qiang - to cap off his first official visit to China since the COVID-19 pandemic.