Heart of the Matter: FAS to leave 'no stone unturned' after Singapore football squad review
Existential questions about the state of Singapore's football have once again come up, after a humiliating defeat at the recent SEA Games where the Young Lions lost 7-0 to Malaysia. Who is responsible and what needs to be done? CNA's Heart of the Matter podcast gets some answers.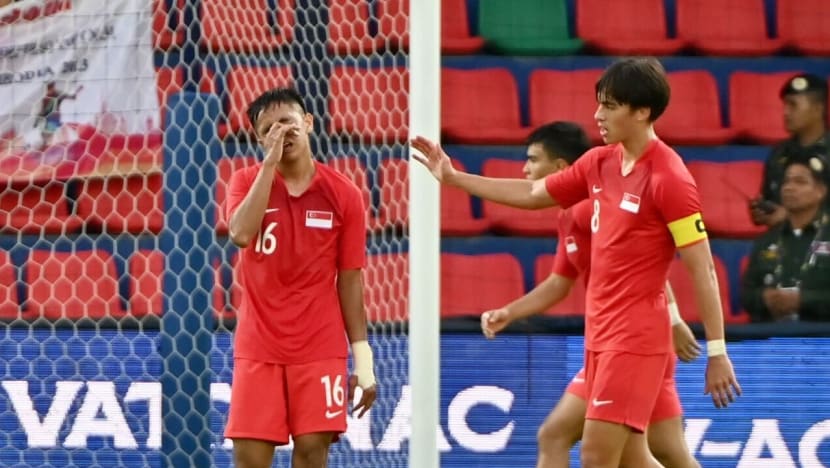 SINGAPORE: When the Young Lions came off the field after a 7-0 drubbing by Malaysia, the brickbats came fast and furious. For seasoned sports journalist Philip Goh, that result summed up the growing chasm of football standards between both countries. 
"We've been losing at the age group competitions for quite a while now. Every single age group competition that we go to, we seem to come back with very adverse results.  
"(The Malaysians) are continuing to progress, but we've been regressing," said Mr Goh, on the latest episode of the Heart of the Matter podcast. 
Mr Bernard Tan, acting president of the Football Association of Singapore (FAS), who was also a guest on the show, did not refute Mr Goh's observation. He agreed that the younger age groups have not been doing well in tournaments and the key is to find out why.  
On the SEA Games loss, he told host Steven Chia: "Never in our wildest dreams (did we think) we would lose 7-0 … some of them can't really explain what went wrong on the field ... the technical team (needs time) to really ask ourselves, what really went wrong?" 
It has been 10 years since the Under-22 football team made it out of the group stages. The last time Singapore made it to the men's football finals at the Games was in 1989. 
Following the recent performance, FAS announced that it will convene a review panel to evaluate the squad's scorecard. The findings and recommendations will be made public – with Mr Tan calling for patience.  
"I know fans are frustrated. I know there is a tremendous amount of scrutiny and criticism of the FAS … At its lowest point ... there is a huge opportunity for introspection, for change. 
"I asked people for patience to wait for the report to come out. I have a sense that there will be serious recommendations for change. And I'm optimistic that we will make some progress,'' said Mr Tan, who has been at the helm for eight months now. 
The third guest, general manager of communications firm SPRG Edwin Yeo, who is also a former sportswriter, said it is important for FAS to explain "to the public a little bit more in terms of how we came (to pick) these people.''  
The review panel will be headed by former national head coach Jita Singh, with three FAS council members: Ex-national footballer and SEA Games assistant chef de mission Lim Tong Hai, former national captain Razali Saad and football academy coach and founder Harman Ali. 
The discussion on the podcast covered a range of factors that needed to be addressed in Singapore football, like the role of coaches, the mindset of players and the structural issues in identifying talent. 
Here are some highlights of the conversation: 
BEING ACCOUNTABLE  
Mr Edwin Yeo: To be honest, if you look at the actual money going to football in Singapore, it's probably the second lowest in all of Southeast Asia … Laos gets four times the money that we are getting. 
Mr Philip Goh:
(The) public wants more accountability. They want to know how the money is being spent. To them, (S$19 million) is a lot of money. It is taxpayers' money, right?
(So) they want to see some results coming from there. And if the results are not forthcoming, they want to see someone stand up and be accountable for it. They just want someone to say: "Look, I didn't do my job properly".
Mr Bernard Tan: I have been in this steering role for eight months. And if you ask me, should people be accountable for the results that happen on the field? They should … I think we can do better.
And certainly, after the review that we've currently launched, we're going to leave no stone unturned.
ON WHETHER COACHES MAKE A DIFFERENCE
Mr Yeo: Ultimately, the coach was hired by FAS … so I think that's important to reflect upon but let's be honest, if we look at football at large, hiring the wrong coach wouldn't be unique to Singapore. 
Mr Goh: I will say we had the right guy (before), we made a massive coup, landing Bernd Stange (who was head coach for the national team) but we just couldn't help him. We couldn't give him the right tools to get his job done properly. 
Mr Tan: I think the more interesting discussion is why the players that we are producing are really far behind those in our region? Could we have done better with a better coach? That's a more near-term issue. The performance on the pitch? That's a more structural problem. 
ON TRAINING FOOTBALL TALENT IN SINGAPORE
Mr Goh: You build your football team from a young age … so when you reach the senior level, you are armed with the proper skills. We don't have a foundation here in Singapore, we don't even allow kids to play football in the void deck.
Mr Yeo:
Letting kids play at a young age in schools is important. But up to a certain point, that can't be the case anymore. It can't be the school system ... putting band aids over each problem isn't really going to solve it.
Mr Tan: If you want to get to the elite level, then you have to look at three things - the duration of practice, the quality of training and the quality of competition. If you're an elite swimmer, you train six to eight times a week. But ask a footballer at the age of 13 onwards, how many times a week do you think he needs to train? Just look at the Europeans, they were very clear that from the age of 13, onwards, it is four to six times a week. 
Listen to the full podcast here.