Singapore has conveyed concerns about US-China trade tensions to both countries: Vivian Balakrishnan
Speaking to reporters at a press conference at the conclusion of the ASEAN Foreign Ministers' Meeting and related meetings, Dr Balakrishnan said that as Singapore says the same thing to both sides, both parties know that Singapore is "being transparent and honest", and not playing games.
SINGAPORE: Singapore has conveyed its concerns to both the US and China about the rising trade tensions between the two powers, Foreign Affairs Minister Vivian Balakrishnan said on Saturday (Aug 4).
Speaking to reporters during a press conference at the conclusion of a series of meetings between members of the Association of Southeast Asian Nations (ASEAN) and external powers, Dr Balakrishnan explained that any trade war or unilateral sanctions will have a "disproportionate impact" on Singapore.
Singapore has good relations with both the US and China, he said, and has "courteously and directly" expressed its position to both of them, he said, in response to questions from reporters.
"Obviously, we don't control the agenda of their decisions, but for what it is worth, we conveyed our concerns."
Dr Balakrishnan's comments come amid escalating trade tensions between the US and China. In early July, the US imposed 25 per cent tariffs on US$34 billion (S$46 billion) of Chinese goods, prompting retaliatory tariffs on an equivalent volume of US exports to China. 

On Friday (Aug 3), China said it was prepared to impose new tariffs on US$60 billion worth of American goods.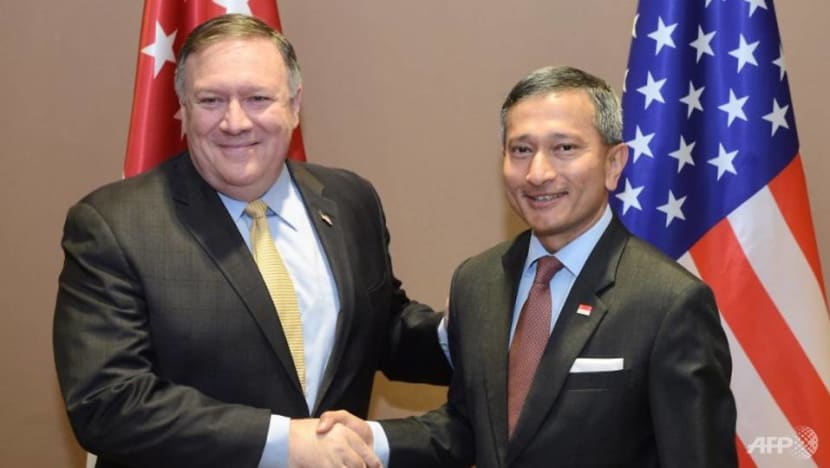 Dr Balakrishnan explained that Singapore believes in a multilateral, rules-based system, and noted that "in an ideal world", everyone resolves their differences on trade through the World Trade Organisation (WTO), or at least in a WTO-compliant fashion.
"It's not exactly identical to what the US or China may want, but Singapore gets to state what we believe in, because we say the same thing to both sides, they know that we are being transparent and honest, and we are not playing games," he said. 
He added that this position is "entirely consistent" with that of the ASEAN regional bloc.
NEED FOR ASEAN TO "DOUBLE DOWN" ON MULTILATERAL TRADE SYSTEMS
During the press conference, Dr Balakrishnan noted that ASEAN acknowledges the escalating trade tensions around the world, and stressed that ASEAN has to "double down" on a multilateral trading system and work with other like-minded partners.
To that end, he said he is glad that there is agreement to redouble efforts to settle the Regional Comprehensive Economic Partnership (RCEP) by the end of the year. The RCEP is a 16-nation pact poised to become the world's largest free-trade agreement. It would bring together the 10 ASEAN member states plus China, India, Japan, South Korea, Australia and New Zealand. 
"It doesn't mean that negotiations are over or that there are no sticky issues, but at least the political will...the acknowledgement that this is something which we need to settle, and all the more so, given the state of the world and the anxiety over trade wars," he said.
In response to a further question on what these "sticky issues" are, Dr Balakrishnan pointed out that the "one missing element" is that China and India do not currently have a bilateral free trade agreement.
"If they agree to the RCEP, in effect they are setting the stage to liberalise the trade of goods and services between India and China," he said. "Now, dealing with two mega continental-sized economies, I think it is entirely reasonable to have to be very, very careful, given the size, that disparity, that diversity."
"There is good reason for them to very carefully calculate what they are agreeing to," he added.
"SMOOTHEST, MOST CONSTRUCTIVE MEETINGS SO FAR"
During the press conference, Dr Balakrishnan described the meetings this week as the "smoothest, least contentious and most constructive, positive meetings so far."
"The tone was far more constructive, far more positive this year," he said. "But at the same time, it allowed all the issues to be discussed very openly." He added that the superpowers present "did not pull any punches", but it nevertheless took place in a "safe, constructive and comfortable forum".
This, he said, illustrates the importance of ASEAN.
Frank discussions, he added, also took place during the meetings, for example on the topic of the Korean Peninsula. Describing the discussions on this issue as "very candid" and "brutally frank", Dr Balakrishnan noted that the US, North Korea and South Korea have "major issues" that they need to resolve.
But nevertheless, he said, people acknowledged that there has been some progress, and the Jun 12 Singapore Summit did "change the tone of the conversation".
Dr Balakrishnan also described ASEAN and China's arrival at a single draft negotiating text on the South China Sea code of conduct as a "significant milestone". 
He added that the single draft made a "big difference" to the tone of the discussion on the topic this time, as compared to previous ASEAN meetings.
NO INTENTION OF ALLOWING ASEAN TO BECOME PROXY STATES
In response to a question from the media on whether ASEAN is at risk of becoming an arena for big power rivalry to play out, Dr Balakrishnan noted that the question alludes to whether there will be a resumption of the old Cold War, and whether ASEAN would end up being proxy states entangled in the "diplomatic, strategic and defence entanglements" of the superpowers.
"We have no intention of allowing that to happen," he said. "And hence, we have ASEAN."
"Hence we will be united, we will be relevant, we will maintain centrality and we will continue to convene these regional and extra-regional platforms," he said.

He added that all the superpowers were represented, and were able to express their demands, anxieties and hopes "quite frankly" during the closed-door sessions.
"Rather than looking at this as a competitive situation where we all just become proxies, our concept of being united, central, open and inclusive, and welcoming trade and investments with all parties is in fact precisely the right response," he said. "And this is what we have communicated unequivocally to all our external partners including the superpowers."
"I think they appreciate our position," he added. "No one has said they would rather have a disunited ASEAN, or that ASEAN breaks up into rival blocs."
"In the case of Singapore, precisely because we are so small, I think our role as an honest broker has been appreciated, and has allowed us to be relevant beyond our geographical boundaries."
Dr Balakrishnan also revealed to reporters that an agreement has been reached to conclude negotiations on the ASEAN-European Union comprehensive Air Transport Agreement by the end of the year. Negotiations for an ASEAN-European Union Free Trade Agreement will also be negotiated.
A Chairman's Statement outlining the discussions and outcomes of the various meetings was also released on Saturday.