Singapore, Indonesia tech professionals to work in each other's industries under new agreement
Singapore and Indonesia signed six agreements at a leaders' retreat, including in emerging areas such as energy and sustainability.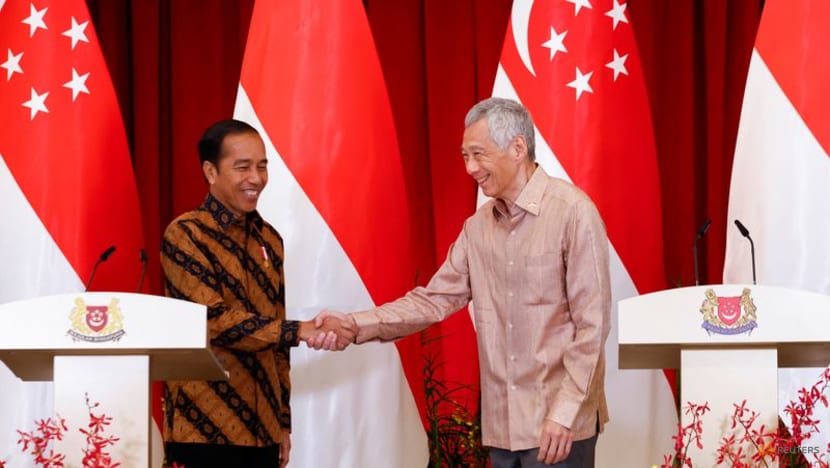 SINGAPORE: Young tech professionals from Singapore and Indonesia can work and gain experience in each other's tech industries, under an agreement signed by the two countries on Thursday (Mar 16).
The Tech:X Programme was among six new Memorandums of Understanding (MOUs) signed at the Singapore-Indonesia Leaders' Retreat. The agreements covered areas such as energy, sustainability, health and human capital development.
In remarks delivered after the signing of the MOUs, Singapore's Prime Minister Lee Hsien Loong also spoke about the progress in bilateral cooperation between the two countries.
He pointed to the ratification of the three agreements under the Expanded Framework, whose signing was witnessed by Mr Lee and Indonesia's President Joko Widodo at the previous retreat.
Mr Lee noted that both countries have "taken a major step forward to resolve three longstanding bilateral issues" and are "ready to break new ground in fresh areas of cooperation". 
TECH EXCHANGE
The Tech:X programme will allow young tech professionals in Singapore and Indonesia to "pursue growing opportunities in each other's digital economies", said Singapore's Ministry of Trade and Industry (MTI). 
The agreement with the Indonesian Coordinating Ministry of Economic Affairs will also "deepen linkages" between the tech ecosystems in both countries, MTI said. 
These professionals from Singapore and Indonesia should be below the age of 30, and have graduated not more than five years prior with at least a bachelor's degree from listed universities in both countries. 
More details on the programme will be released when ready, said MTI.
"Our tech cooperation will strengthen ASEAN collaboration in this emerging sector. This includes working towards a Digital Economy Framework Agreement under Indonesia's ASEAN chairmanship," said Mr Lee. 
Other MOUs signed between Singapore and Indonesia
Renewable energy
Both countries will facilitate investments in the development of renewable energy manufacturing industries, such as solar photovoltaics and battery energy storage systems in Indonesia, and cross-border electricity trading projects between Indonesia and Singapore.
Sustainable urban and housing development 
This will facilitate cooperation in developing innovative financing for smart and sustainable infrastructure development, with Nusantara Capital City in Indonesia as a pilot. 
Knowledge sharing, capacity building and research
This will support the planning and development of Nusantara as a smart and sustainable city. 
Urban search and rescue
Both countries will explore new areas of collaboration in urban search and rescue capacity building, exchange of knowledge and expertise, as well as provision of mutual assistance in the event of a natural disaster.
Health cooperation 
This promotes the exchange of information, knowledge, data and technology in the health sector.
An existing agreement on vocational education and training between the Singapore Ministry of Education and Indonesian Ministry of Industry was also renewed on Thursday. 
In addition, the Bilateral Financial Agreement between the central banks in both countries was extended for the fourth straight year.
Singapore has been Indonesia's top foreign investor since 2014. Last year, Singapore's total investments in Indonesia reached S$17.5 billion (US$13 billion).
Nine business-to-business MOUs were also signed between Singapore and Indonesia, spanning areas like the digital economy and healthcare.
This year's leaders' retreat is Mr Lee's sixth with Mr Widodo, following last year's edition in Bintan, Indonesia.
Mr Widodo was given a special ceremonial welcome, conducted by professional musicians of the Singapore Armed Forces Central Band.
The welcome was arranged in line with the setting of the retreat, "a meeting among old friends", said a spokesperson from the Prime Minister's Office. 
Mr Lee during the joint press conference also said that Singapore and Indonesia last week jointly applied for approval from the International Civil Aviation Organization (ICAO) for the new arrangements under the Flight Information Region (FIR) agreement.
Upon ICAO's approval, both countries will agree on a date for the three agreements to be implemented simultaneously, which will bring "lasting benefits to both sides", he added. 
"The successful outcome reflects our strong bilateral relations, and shows that Singapore and Indonesia can gain substantial mutual benefits through open and constructive engagement." 
Mr Lee on Thursday also hosted lunch for Mr Widodo and the Indonesian delegation, comprising ministers and ministerial-ranked officials.
The Singapore delegation included Deputy Prime Minister and Minister for Finance Lawrence Wong, Senior Minister and Coordinating Minister for National Security Teo Chee Hean and other Cabinet ministers.