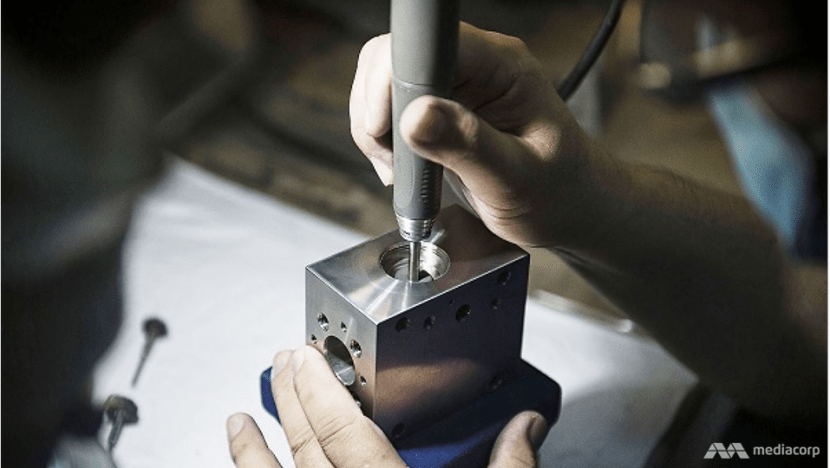 SINGAPORE: Growth in Singapore's manufacturing output slowed to 11.2 per cent in August and was mainly driven by the transport engineering and precision engineering clusters, official data on Friday (Sep 24) showed.
This was down from the 16.3 per cent year-on-year growth in July.
Excluding biomedical manufacturing, output expanded 13.6 per cent in August, according to figures from the Economic Development Board (EDB).
Factory output also increased on a seasonally adjusted month-on-month basis, improving 5.7 per cent in August. This rose to 8.8 per cent when biomedical manufacturing was excluded.
TRANSPORT AND PRECISION ENGINEERING
August's growth was headlined by expansion in transport engineering and precision engineering.
Output in transport engineering jumped by 23.5 per cent in August, down about 10 percentage points from last month.
All segments grew, with the marine and offshore engineering segment rising by 36.9 per cent and the aerospace segment at 22 per cent.
Levels of activity in shipyards and aerospace firms increased from a low base last year, when new orders were impacted by the weak global oil and gas market and international travel restrictions amid the COVID-19 pandemic, said EDB.
For the first eight months of the year, the transport engineering cluster cumulatively grew 4.7 per cent compared to the same period in 2020.
Precision engineering output improved by 22.9 per cent compared to a year ago. This was largely attributed to the machinery and systems segment that saw higher output of semiconductor and industrial process equipment, said EDB.
Year-to-date growth for precision engineering was pegged at 19.9 per cent.
OTHER GROWTH CLUSTERS
Electronics manufacturing increased 15.4 per cent, with all segments recording growth except for computer peripherals and data storage.
Semiconductor output in particular grew 16.8 per cent, supported by demand from 5G markets, EDB highlighted.
The general manufacturing cluster logged a 6.2 per cent increase. The miscellaneous industries segment grew from a low base last year, when the pandemic affected demand for construction-related materials, said EDB.
However, the food, beverage and tobacco as well as printing segments fell, with the former segment recording lower production of milk powder due to weaker export demand.
Chemicals output edged up 0.4 per cent, with the petroleum segment growing 22.1 per cent from the low production base a year ago.
But other segments saw decreases, with petrochemicals in particular recording lower production due to plant maintenance shutdowns, said EDB.
BIOMEDICAL DOWN
Singapore's biomedical manufacturing cluster contracted 0.6 per cent year-on-year in August, after soaring by 86.6 per cent in July.
The medical technology segment grew on the back of higher export demand for medical devices, but the pharmaceuticals segment declined due to a different mix of active pharmaceutical ingredients.
EDB's next monthly manufacturing performance will be released on Oct 26.